The widow of a biker killed in a shootout between cops and members of two motorcycle clubs in a Texas restaurant's parking lot has filed a negligence lawsuit against the chain's parent company.
Mary Rodriguez, whose husband Jesus Delgado Rodriguez died after he was shot multiple times during the May 17 incident, claims that Waco's Twin Peaks restaurant was negligent in allowing a biker meeting to take place because they disregarded law enforcement warnings that tensions were rising between the clubs, the Associated Press reported.
Just after the shooting, Rodriguez' son, Vincent Ramirez, told NBC News that his father was "in the wrong place at the wrong time." Rodriguez, a veteran of the Vietnam War, was regularly invited to charity runs, Ramirez said.
"He's been invited to a lot of runs — all the charity runs." adding that his dad even did 'Crime Stopper' runs. "He never carried any kind of weapons. He didn't even wear colors or anything like that. He used to carry a small pocket knife but he was told he couldn't bring it into a convention once - so, he stopped carrying, even that," Ramirez said.
Rodriguez' widow, Mary, told the AP her husband's death was, "something that shouldn't have happened," adding that the police should've done something to stop the rumble between Bandidos and Cossacks motorcycle club members from happening in the first place.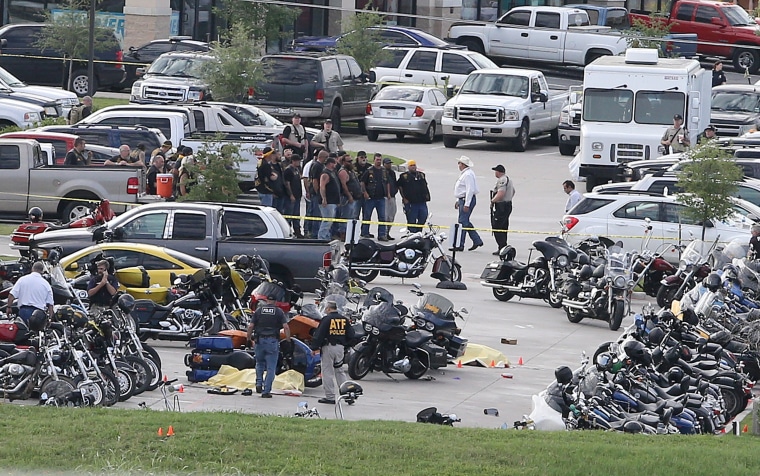 Rodriguez, a grandfather to 19, was one of nine people — all bikers — killed in the shooting. Another 18 bikers were hurt, and more than 170 were arrested in the melee. Only four of the 177 people held on $1 million dollar bonds for engaging in organized crime, remain in custody — most of the others have been released on reduced bonds or have not been indicted.