Lori Gilbert Kaye, who was killed Saturday at Chabad of Poway when a man opened fire during a service on the last day of Passover, was many things to many people.
To her congregants, Kaye, 60, was a loyal friend and follower of the Jewish faith and a founding member of Chabad of Poway, north of San Diego.
"She is a steadfast member, supporter, philanthropist — just a kind soul," Rabbi Yisroel Goldstein, who was injured in the shooting, told host Willie Geist on "Sunday Today."
Goldstein had planned to deliver a sermon inside the synagogue Saturday to mark the final day of Passover, a weeklong holiday marking the deliverance of the Jewish people from slavery in ancient Egypt.
"Passover is about celebration, about unity and freedom, and for this to occur on the last day of Passover was just so heart wrenching and heartbreaking," he said.
John T. Earnest, 19, of San Diego, surrendered to police after opening fire on the 100 or so people inside Chabad of Poway, authorities said. Earnest was being held without bond in the San Diego Central Jail on one count of first-degree murder and three counts of first-degree attempted murder.
"There is no indication at this point in the investigation that Earnest was part of an organized group," San Diego County Sheriff Bill Gore said Sunday afternoon. "We believe he acted alone and without outside support in carrying out the attack."
Earnest is also being investigated in connection with an arson attack on a mosque in nearby Escondido on March 24. A person identifying as John Earnest posted an anti-Jewish open letter on a far-right message board hours before the attack.
Goldstein continued his sermon outside of the synagogue Saturday as the congregation sought shelter.
"I got out there and just spoke from my heart, just giving everyone the courage to know it was just about 70 years ago during the Holocaust that we were gunned down like this," he said. "And I just want to let our fellow Americans know we aren't going to let this happen here. Not here in San Diego, not here in Poway, not in the United States of America."
Goldstein said he started the congregation 35 years ago with Kaye's help, when he was 22.
"Lori helped secure the construction loan," he said.
Goldstein, Noya Dahan, 8, and Almog Peretz, 34, were among at least three people who were injured in the shooting, authorities said.
Goldstein told reporters on Sunday afternoon that he'd greeted Kaye and had walked only two or three steps "when I heard a long bang."
"There was a young man standing there," he said, adding: "He had sunglasses on. I couldn't see his eyes. I couldn't see his soul."
There were more shots. "I lifted up my hands. I lost the my index finger on this hand," he said, indicating his arm. And then, he said, "miraculously, the gun jammed."
Goldstein began to weep as he related what he called "the most heart-wrenching sight in my life."
"My granddaughter, 4½ years old, she sees her grandfather with a bleeding hand and shouting, 'Get out! Get out!'" he said. "She didn't need to see that."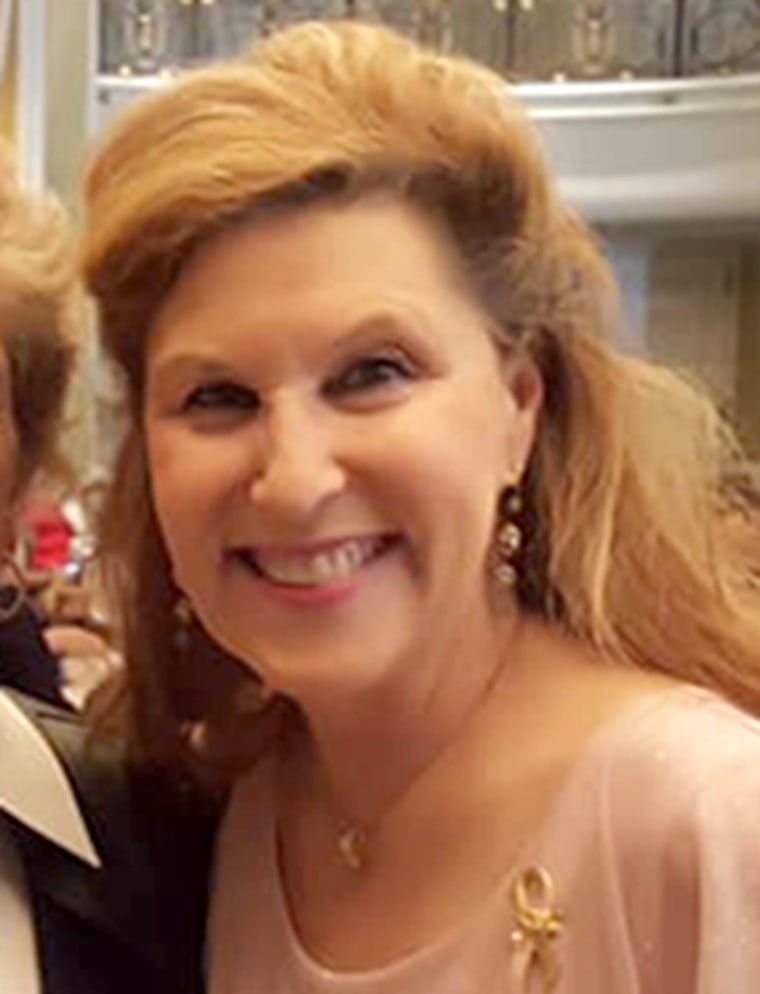 Oscar Stewart, a congregant who confronted the gunman, told NBC News that as a veteran — he served in Iraq while in the Army — he ran toward the gunfire without thinking.
"I didn't plan it," he said. "It's just what I did."
Stewart wasn't sure whether the firearm, which Gore described as an "AR-type assault weapon," malfunctioned, but the gunman didn't fire at him as he ran. Stewart said he yelled an expletive at the shooter and told him he'd kill him.
"I must've scared him, because he dropped his weapon ... and he ran away," Stewart said, adding that the gunman appeared to be wearing a tactical "sling" that acted like a holster, allowing him to let the rifle down without losing it.
Stewart said that as he chased the shooter outside and banged on his car, a border patrol agent who's also a congregant appeared and fired at the vehicle's wheels. The shooter drove off; Earnest was later taken into custody by a California Highway Patrol officer.
Stewart said that back inside the synagogue, he and others administered cardiopulmonary resuscitation to Kaye. Among them was a man who identified himself as her husband — although he didn't immediately recognize that it was his wife who had been shot, Stewart said.
"He said: 'She not breathing. She's not breathing,'" Stewart said. "So he went to check her pulse and ... realized it was his wife."
"It's horrible," he added.
Goldstein said Sunday afternoon that President Donald Trump called him and "spent close to 10, 15 minutes with me on the phone."
"He shared with me condolences on behalf of the United States of America," said Goldstein, who said he'd never before spoke to the president.
"He was just so comforting," Goldstein said. "I'm really grateful to our president for taking the time to share with us his comfort and consolation."
Goldstein said that while he was heartbroken by the "senseless killing" of his dear friend of more than three decades, he hoped her death would inspire goodness.
"I pray for healing in this time of pain and grief, and I ask that we all do something to add more light to combat this evil darkness that's out there," he said. "That can happen through acts of compassion and loving kindness."
CORRECTION (April 28, 2019, 12:40 p.m.): An earlier version of this article misidentified the television program on which Rabbi Yisroel Goldstein appeared. He was interviewed on "Sunday Today," not MSNBC.