Chicago widow Sheila von Wiese-Mack had traded in her Starwood travel points to go on vacation halfway around the world to the posh and popular St. Regis Bali Resort in Indonesia. She took her 19-year-old daughter, Heather, as she had on every getaway, friends said.
But the pair had their tempestuous moments, and those same friends begged von Wiese-Mack not to travel with her daughter this time.
"She overindulged the child," Mark Bacharach, a close friend for a quarter-century, told NBC News.
The mother and daughter arrived Saturday for their 10-day-plus trip. On Tuesday, von Wiese-Mack's half-naked body was found stuffed inside of a suitcase that had been left in the trunk of a taxi parked in front of the hotel, police said Wednesday.
Now, Heather Mack and her 21-year-old boyfriend, Tommy Schaefer, who checked into the hotel Monday, have been detained in the grisly murder. No charges have been filed.
Von Wiese-Mack, 62, didn't hide the rocky relationship she had with her only child, and friends say she struggled as a single mom after her husband died in 2006. She had appreciated her late husband's love of music and the arts. James L. Mack was a composer and producer who worked with well-known jazz musicians and symphonies both in Chicago and internationally.
The family had lived in the affluent Chicago suburb of Oak Park, but von Wiese-Mack only recently moved to a high-rise condo in the city after taking a financial hit from the real estate market in 2008, reported NBC Chicago. Von Wiese-Mack continued to patronize the arts and had amassed degrees in business and social work.
In 2013, she was featured in a newsletter of a local bibliophilic society called the Caxton Club. She spoke about how she had once majored in political science at Simmons College in Boston and worked for Sen. Ted Kennedy.
"He had me doing research for him, and lots of miscellaneous jobs the political life requires," von Wiese-Mack told the Caxtonian. "I even poured tea for Rose Kennedy a time or two."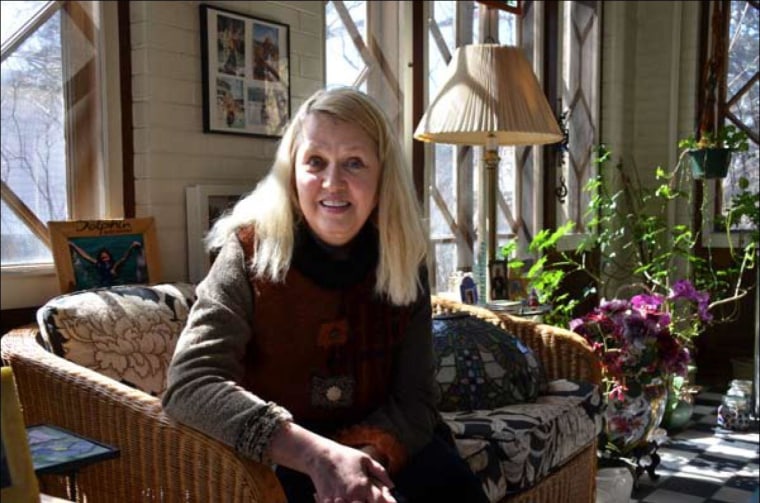 Club president Susan Hanes had nominated von Wiese-Mack to join the society about two years ago.
"She was a cultured lady, and just a lovely person," Hanes told NBC News.
All the while, von Wiese-Mack complained that her daughter had become a handful and would disappear for days without word, Bacharach said.
"At least four or five of us would say to kick her out. She was hanging out with a bad crowd," Bacharach told NBC News. "But Sheila always took her back. [Heather] could be as charming and self-effacingly sweet one minute, and then a vicious little monster the next."
Von Wiese-Mack didn't think much of her daughter's boyfriend, friends said. Schaefer, a hip-hop artist, goes by the stage name "Mr. Exx," and says on his website that he dropped out of college to focus on his music.
Records indicate there is an outstanding warrant for his arrest after failing to appear in court on marijuana possession charge in Monroe County, Indiana, from February 2013.
"We're shocked what happened, but nobody's surprised."
Before leaving for Bali, the mother and daughter had been fighting. Heather Mack had dropped out of college, moved out of the house and was living in a hotel, von Wiese-Mack told her friends. She managed to track the teen down, but barely recognized her anymore, Bacharach said.
"She tried to hope when it came [to Heather]," he added. "That was my friend's most outstanding characteristic."
CCTV footage showed von Wiese-Mack in an argument with Schaefer in the lobby of the St. Regis on the day he checked into the hotel, said local police Col. Djoko Hari Utomo, according to The Associated Press.
Heather Mack and Schaefer were arrested Wednesday morning after they were found at a hotel about 6 miles away from the St. Regis. Both were being questioned but were refusing to talk until being joined by attorneys, Utomo said.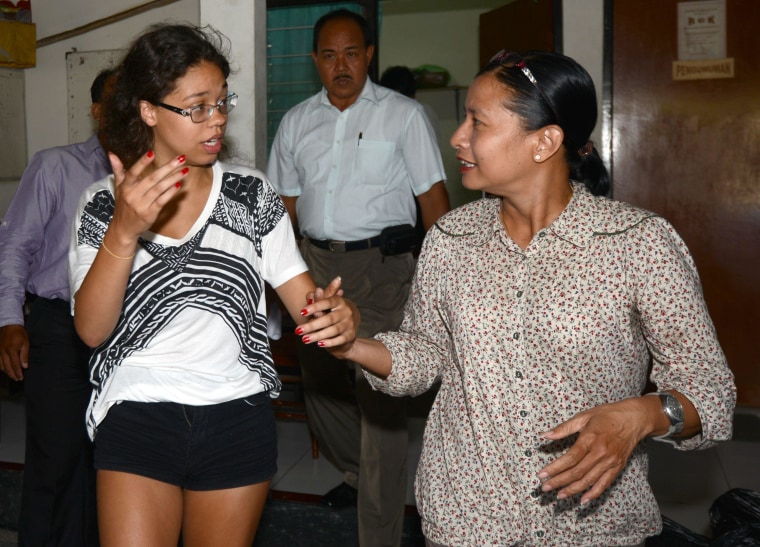 The U.S. Embassy in Jakarta confirmed that von Wiese-Mack's body had been found, but did not give details.
Utomo said that Mack and Schaefer had hired the taxi and then placed the suitcase inside the car's trunk. The two then told the taxi driver that they were going to check out of the hotel and would return, he added.
However, after two hours, Mack and Schaefer had not reappeared, Utomo said. Hotel security guards found blood spots on the suitcase, and suggested that the taxi driver take the luggage to the police station. Officers there opened the suitcase and discovered the battered body.
The cause of death wasn't immediately known.
Friends say they wish von Wiese-Mack had heeded their pleas not to go to Bali with her daughter. In the end, her "kind heart" may have been her demise, they said.
"We're shocked what happened," Bacharach said, "but nobody's surprised."
NBC News' Alexander Smith and Polly DeFrank and The Associated Press contributed to this report.