The details are straight out of a Hollywood thriller.
The killer crab-walked his way up and out of a medium-security prison, pushing through razor wire. He hijacked a dairy delivery van, keys left dangling in the ignition. He cut off his beard and changed his clothes, showing up on a doorbell camera with a clean-shaven smirk. He stole a .22 rifle from a rural homeowner's garage, dodging gunshots as he darted away into the night.
In the 13 days between Danelo Cavalcante's escape from prison and his capture on Wednesday, the convicted murderer led authorities on an intense manhunt across southeastern Pennsylvania, riveting the nation and alarming the state.
The sprawling search operation included hundreds of heavily armed officers scouring the region with dogs, horses, drones, heat-sensing devices and other tactical equipment.
And yet Cavalcante managed to elude capture for close to two weeks, surviving on watermelon, water from a stream and by burying his own feces to avoid detection.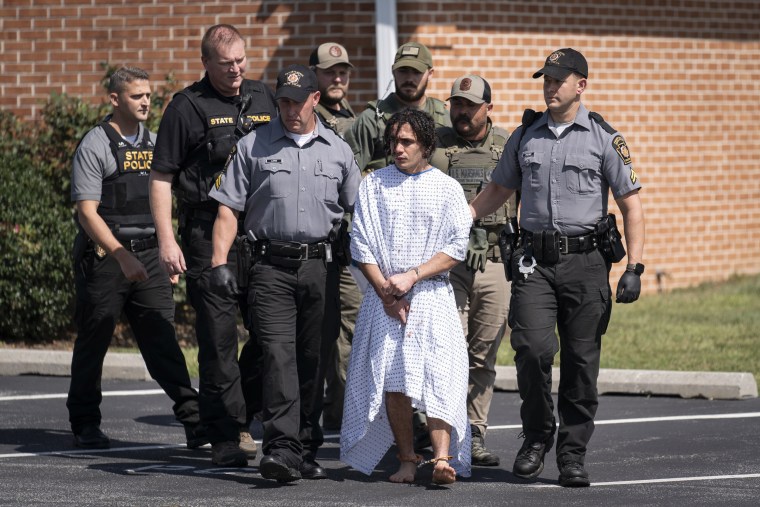 Authorities repeatedly defended their strategy, pushing back against reporters who raised questions about how, for example, the fugitive skirted around the search perimeter over the weekend. Officials insisted they were frequently stymied by tough weather conditions — heat and humidity — and faced grueling terrain, from heavy woods to drainage ditches.
The manhunt was ultimately successful, culminating in a dramatic arrest on Wednesday morning. In the preceding days, however, there were key moments in which Cavalcante nonetheless seemed to gain the upper hand, putting residents on edge.
"He was desperate," Pennsylvania State Police Lt. Col. George Bivens told reporters Wednesday after Cavalcante was apprehended. "You have an individual whose choice is go back to prison and spend the rest of your life in a place you don't want to, or continue to try and evade capture. 
"He chose to evade capture," he said.
The breakout
Danelo Cavalcante was one of more than 1,000 men locked up at Chester County Prison, a suburban facility an hour's drive west of Philadelphia. In late August, he was sentenced to life behind bars for the murder of Deborah Brandao, his girlfriend of two years, who he fatally stabbed in front of her children at her home in April 2021. (He is also wanted in Brazil in connection with a 2017 homicide.)
On the morning of Aug. 31, the 5-foot, 120-pound prisoner fled — and the brazen escape was captured on surveillance footage that was later released by authorities. Cavalcante, dressed in a white T-shirt and sneakers, casually walked between a pair of parallel walls at 8:51 a.m., taking a quick glance over his shoulder.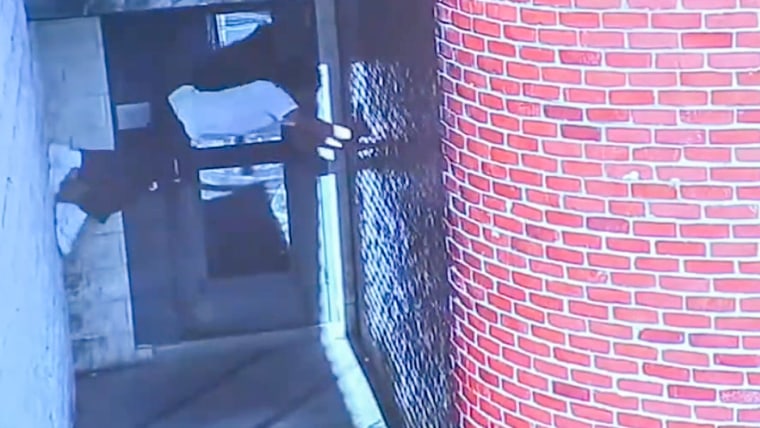 In that shaded and seemingly secluded area near the prison yard, Cavalcante placed his hands on a brick wall and pressed his feet against a cinderblock wall. He then started "crab-walking" upward, scaling the walls until he vanished from the surveillance camera's view. Officials say he then pushed through razor wires, sprinted across the roof, jumped over a fence and took off.
Prison officials did not realize he was gone for an hour. The guard who was on duty at the time of his escape was fired.
The sightings
The day after the escape, a man who lives in a heavily wooded area in Pocopson Township, near the prison, saw an intruder in his house whom he believed to be Cavalcante. The homeowner, Ryan Drummond, flickered the lights to send the ominous figure a message: I know you're there.
"Then he flipped the light switch back a few times, which was a real panic moment," Drummond told NBC News correspondent George Solis on the "TODAY" show. He and his wife called 911, and then he watched the intruder leave his house.
"It was like a moment of disbelief," Drummond said. "Yes, my heart was beating fast."
In the days that followed, Cavalcante was briefly but repeatedly captured on security cameras and spotted by locals. The manhunt centered on Longwood Gardens, a 1,000-acre botanical garden in the Brandywine Creek Valley where the fugitive was believed to be hiding. 
Cavalcante was filmed on a trail camera around the gardens on Sept. 6 and twice in the area on Sept. 8, for example. 
"He was in a place that was very rural," said Joseph Giacalone, a retired sergeant with the New York Police Department and an adjunct professor at the John Jay College of Criminal Justice. "I think a lot of people don't realize that outside the city, Pennsylvania is a lot of farmland. You have a huge area with plenty of hiding spots: culverts, barns, empty houses."
Officers worked around the clock searching for Cavalcante, combing through the area relentlessly, Pennsylvania State Police Lt. Col. George Bivens said. He pointed to several factors that made the operation "very challenging": Longwood's dense vegetation and large drainage system; the heat and high humidity; the sheer weight of the officers' equipment.
"They are wearing uniforms with bullet-resistant vests, carrying a lot of equipment. It certainly adds to the challenge," Bivens said on Sept. 7. "With that said, I have not heard a single complaint, and I believe our people are up to the task."
The van
On the night of Sept. 9, Cavalcante pulled off one of his boldest gambits. He somehow managed to break out of the search perimeter and stumble on an unlocked van, keys left inside. He jumped in and sped away, with a refrigeration unit still on top. The owners of the van were dairy farmers at Baily's Dairy of Pocopson Meadow Farm.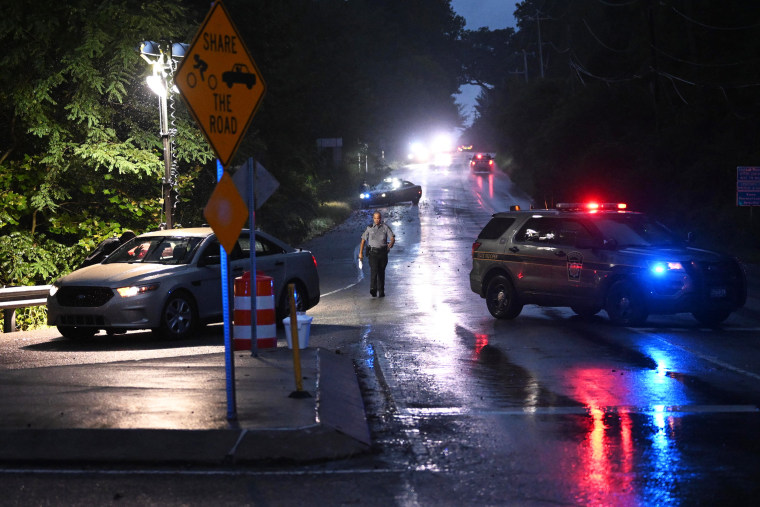 "Friends," the farmers said in a Facebook post, "our delivery van was stolen last night between 7-10PM while we were still here working. It is believed that Cavalcante used it to flee the Pocopson area." 
Cavalcante drove the 2020 Ford van some 20 miles north to East Pikeland Township and Phoenixville, where he tried to get in touch with old acquaintances, according to Bivens. He was recorded on a doorbell camera yet again, this time without a dark scraggly beard and mustache. He was clean-shaven, sporting a green hoodie sweatshirt and a dark cap.
The van was found abandoned in a field behind a barn in East Nantmeal Township on Sunday morning, state police said. The vehicle had run out of gas, Bivens told reporters.
The incident raised questions about how Cavalcante was able to breach the search perimeter that had centered on the botanical gardens.
"No perimeter is 100% secure," Bivens told reporters Monday. "It's not a wall. It doesn't have a ceiling. It doesn't have, you know, all of the things that you might normally use if you're trying to contain someone. We use the human element. We use technology and so forth to be able to try and secure the perimeter as best we can. I am aware of some of the weaknesses."
"Longwood Gardens presented some very unique challenges, and I believe he exploited one of those weaknesses," Bivens added.
Giacalone, the retired NYPD sergeant, explained the nature of a search perimeter in similar terms: "It's not like you're putting a literal fence around the place. It's not a cage match in a wrestling ring."
The rifle
On Monday night, the fugitive's time on the run took an even more harrowing turn.
Around 10:10 p.m. ET, a homeowner called police and reported that a short, shirtless man had snuck into his garage and grabbed a .22-caliber rifle leaning in the corner, Bivens told reporters, confirming that the intruder was Cavalcante. The homeowner, who was in the garage at the time, opened fire at Cavalcante as he "fled with the rifle" into the night, Bivens said.
Police responded to the home on Coventryville Road minutes later — but by then, Cavalcante was gone. Near the edge of the driveway, officers found a green sweatshirt and a white T-shirt.
That wasn't the only tip that officers got on Monday night. Around 8 p.m., a motorist reported seeing a male crouched in the wood line along the south side of Fairview Road, west of Route 100. She turned her car around to get a better look, but by then he wasn't there.
In a news conference on Monday after Cavalcante was confirmed to be armed with the rifle, Bivens was asked what had "gone wrong" with the manhunt and again defended officers in the field.
"Sir, I don't know why you would think something has gone wrong," Bivens replied. "Our law enforcement people have done an amazing job tracking him and locating him — that proverbial needle in the haystack, and they've located that needle repeatedly."
"I believe we will be successful in the long run," he added.
The capture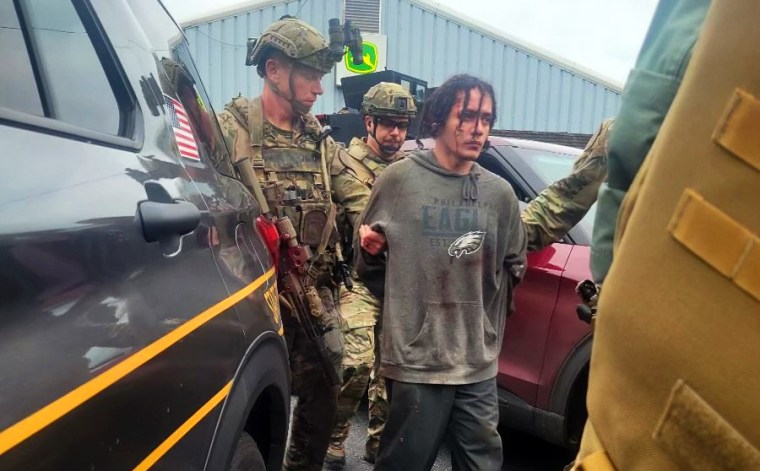 Two days later, in the early hours of Wednesday, Bivens was proven correct: Law enforcement officers finally started to zero in on their target.
Close to 1 a.m., a U.S. Drug Enforcement Administration aircraft hovering over the wooded search area picked up a heat signal that it began to track, Bivens told reporters. At one point, a burst of lightning forced the aircraft to retreat. But a few hours later, tactical teams converged on the area where the heat source had been detected.
"They were able to move in very quickly," Bivens said. "They had the element of surprise." 
Officers surrounded Cavalcante, but he still seemed to think he could get away. He started to crawl through a thick underbrush, stolen .22 rifle in tow. The officers released a U.S. Border Patrol tactical unit dog, who chased after the fugitive and "subdued" him. The officers moved in.
Cavalvante "continued to resist," Bivens said, but was "forcibly taken into custody." Nobody was injured in the arrest, though the killer "sustained a minor bite wound" from the K-9. 
Photos and videos showed him being taken inside Avondale State Police barracks, shirtless and wrapped in a foil blanket.
"He was desperate, and it was just a matter of time," Gov. Josh Shapiro told reporters.
And the timing couldn't have been better, according to Robert Clark, the supervisory deputy U.S. Marshal in the eastern district of Pennsylvania.
Cavalcante's "end game" was to carjack someone, Clark said on NBC News' Top Story with Tom Llamas Wednesday night.
"That's why he needed to obtain a weapon, that's why he held onto that rifle ... He decided he wanted to carjack somebody and head north either towards Canada or he intended to get to Puerto Rico," he said. "That was his plan in the next 24 hours so there wasn't a better time for us to locate and apprehend him."