After gaining speed slowly over the last two decades, a movement to start the school day later for middle and high school students just got a massive boost from California.
When Gov. Gavin Newsom last week signed the nation's first state law mandating later school start times, which have been associated with a slew of health benefits for teens, he turned what has long been a local issue into one that could soon be hotly debated in statehouses across the nation.
"This is huge," said Judith Owens, a neurology professor at Harvard Medical School and the lead author of a 2014 policy statement from the American Academy of Pediatrics that called for schools to let students get more rest by better aligning school start times with teens' biological sleep rhythms. "Right now all of these school districts are … debating this within their own communities and it's a very painful process, but if we can get this done on a statewide level, then a lot of the objections go away."
Advocates hope that California's new law, which over the next three years will bar most high schools from starting classes before 8:30 a.m., and most middle schools from starting before 8 a.m, will supercharge a public health campaign that has until now reached schools on a piecemeal basis, one district at a time.
But even as the new law has the potential to trigger sweeping policy changes across the country, it could also have the opposite effect. If too many California districts struggle with the logistical ramifications of the mandated change, it might spur a backlash that could imperil the effort.
"Everyone is going to be watching to see what the results are going to be," said Deborah Temkin, senior director of the education program at Child Trends, a Washington-based research organization. "California, as one of the largest states in the country, can really define policy movements across the country. If this turns out to be successful, with relatively few consequences, then I think it's something that other states will likely consider."
But, Temkin warned, "if this is implemented where it's sort of just sprung on a community without taking the time to build in the necessary child care support and thinking through transportation issues, then I think we are much more likely to see negative consequences."
Research shows that later school start times can increase the duration and quality of adolescent sleep, which has been linked to health benefits such as lower rates of depression and a reduced chance a teen will be involved in a car crash. But the debate over school start times asks districts to balance those benefits against economic and social consequences for parents, students and teachers whose lives may be disrupted by changes to their schedules.
A later start to class can force parents to scramble for early morning child care before starting long commutes. In some districts that have moved start times, teens have struggled to find after-school jobs and were no longer available after school to watch younger siblings. Other communities grappled with scheduling sports practices, especially in the early darkness of winter, and districts have had to come up with extra funds to adjust bus routes or provide child care.
That's why California's major education groups, including those representing teachers and school administrators, opposed the new law.
"We don't oppose later school start times," said Troy Flint, a spokesman for the California School Boards Association, which represents most of the state's more than 900 school districts. "We actually encourage districts to examine school start times to see if later times make sense for them. But what we object to is a one-size-fits-all unfunded mandate that discourages parental choice and doesn't take into account the diverse needs of various communities across the state."
'I was dumbfounded'
Researchers started documenting the benefits of later school start times in the mid-1990s when a small, affluent district in Edina, Minnesota, was among the first to experiment with shifting the start of the school day, moving the high school's morning bell from 7:20 a.m. to 8:30 a.m.
Kyla Wahlstrom, a senior research fellow at the University of Minnesota's College of Education, said she was skeptical when the Edina superintendent first reached out her in 1996 to ask if she'd study the effect of the new schedule.
She was familiar with what was then new research showing that adolescent sleep patterns were different from those of adults or younger children, with teens more likely to go to bed later at night and to get their most high-quality REM sleep later in the morning. "Teens do not wake up and function until 8 in the morning," she said.
But she doubted that a 50-minute change to a school's bell schedule would have much of an impact.
Then she started gathering research. Parents reported that their children were easier to live with and teachers found more assignments were coming in on time and that their students were more alert in class. The principal reported fewer disruptions in hallways and in the lunchroom.
"I was dumbfounded," Wahlstrom said. "I'd walk into the school and the nurse would say: 'Are you the one doing the research? I've gotta tell you, I have fewer kids coming into the nurse's office.'"
And the counselor said she had fewer kids coming in with mental health issues, Wahlstrom said.
Those promising results led one of the state's largest school districts, the Minneapolis Public Schools, to make similar changes. That enabled Wahlstrom to compare data from before and after a time change. In 2002, she published the first study in a major education journal that documented the connection between later school start times and improvements such as higher attendance rates, less sleeping in class and less depression.
"It really started to show that this was a public health policy as much as an academic policy," she said. "When I did the first study in 1996, the district was looking for it to improve academics, but while we found improvements in kids completing homework, more importantly, we were seeing incredibly important improvements in the physical and mental health of kids."
'It's going to be interesting'
Since then, hundreds of school districts have pushed back their start times, including major cities like Seattle and large suburban districts like the Fairfax County schools in Virginia. As ongoing research has continued to document the benefits, many of the nation's leading health organizations have endorsed the idea. In addition to the pediatricians group, the American Medical Association, the American Psychological Association and the Centers for Disease Control and Prevention have all issued statements calling on schools to push back start times.
But so far, all of the districts that have adopted these policies have done so voluntarily. Experts say the ones that have been most successful are those that have held extensive conversations with parents and teachers to work through logistics before making a change.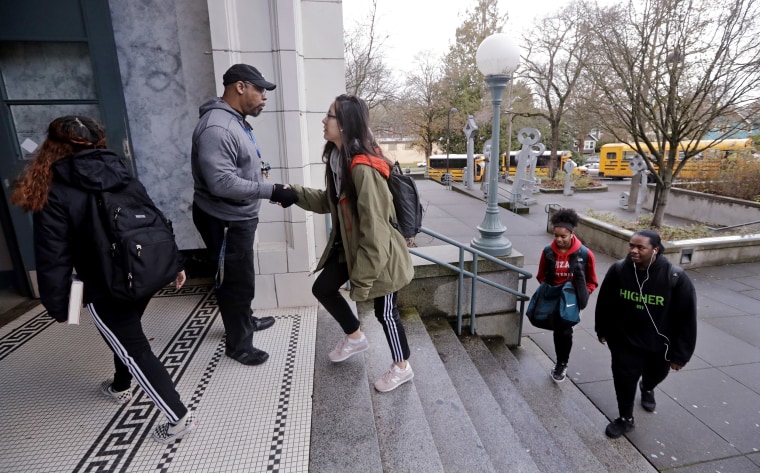 Temkin, from Child Trends, was among the researchers who documented the impact of the switch in Fairfax County. She said most of the concerns about transportation or child care were addressed with the community before changes were made. Schools then worked to respond to unanticipated issues such as students being dropped off at school before the doors had opened.
Other districts have had to come up with less-than-optimal solutions to new schedules, such as moving sports practices to before school, which defeats the purpose for students who participate in sports, or putting young children on the same buses with older kids.
Temkin worries that California's decision to mandate school start times could create issues for communities that aren't fully on board.
"It's going to be interesting to observe how school communities react when they haven't gone through a buy-in process and have been forced to do this through the legislation," Temkin said.
Such concerns are why mandatory school start time legislation hasn't yet caught on in other states.
Bills that would have required later school start times have failed in Minnesota, Maine and Rhode Island, said Sarah Pompelia, a policy researcher with the Education Commission of the States, a nonpartisan organization that tracks state education policy legislation. Other states, including Indiana and New Jersey, have passed laws calling for further study of the issue, while Maryland passed a law creating a program that recognizes schools with an orange ribbon for "healthy school hours" if they start elementary school after 8 a.m. or middle or high school after 8:30 a.m.
Now that California has become the first state to mandate these changes, Flint, from the California school board association, said his organization plans to provide resources to districts to help them adapt, but he worries that some communities will struggle. (The law provides an exemption for rural communities but doesn't define "rural," so it's not clear how many districts must comply.)
He notes that several California districts have experimented with a later school day only to return to their earlier schedules.
That also happened in Youngstown, Ohio, where the district's state-appointed CEO pushed high school start times to 9:15 a.m. two years ago in hopes of seeing academic and health benefits for students. But the later start time wasn't popular and the district dropped it this year. Now, school starts at 7:30 a.m and gets out at 2:32 p.m.
"I definitely understand the research" about the health benefits of a later start time, said Jeremy Batchelor, principal of Youngstown's East High School. "But what we saw was almost an opposite effect here in Youngstown, for whatever reason."
The school saw absences and tardies climb rather than decline as they have elsewhere, he said, and students struggled to find after-school jobs since classes didn't end until 4:24 p.m. and many students had to wait for city buses to reach their jobs. The school wasn't able to implement the after-school tutoring program it thought students needed.
Batchelor said his students seemed to want to get to school early.
"I think the early time is motivating for them," he said. "They can come get done what needs to be done and can get out, can get jobs."
As the new California law is implemented over the next three years, opponents may try to highlight districts like these, but advocates say some of the challenges will be addressed through statewide implementation. A school district that is the only one in its area to change its schedule might put athletes in the position of missing class to attend games that are earlier in the day, and might put students looking for jobs at a disadvantage compared to students who could come to work earlier. But those problems go away if the whole state adopts a later schedule.
Advocates say they're hopeful that the benefits will outweigh the negatives.
"A bad implementation of something good does not negate the good and does not negate the truth of the matter, which is that this is a public health issue," said Maribel Ibrahim, operations director and co-founder of the Start School Later organization, which has lobbied districts and legislatures to back these changes.
"The biggest obstacle to this change has always been fear of change."