CHICAGO — Kim Dooley called over 50 babysitters in the last few weeks to try to find childcare for her fifth-grade, special needs daughter before a potential teacher's strike would cancel all classes in the Chicago Public Schools system.
But with other parents in the same predicament, securing someone was a challenge.
She was still interviewing candidates late Wednesday when the Chicago Teachers Union voted to strike. Panicked, she called someone last-minute who she met in person for the first time right before leaving her daughter to go to work Thursday morning.
"It was a very stressful situation because we don't have family nearby, and I don't have the option of working from home," she said. "Plus, I have a special needs child who is off her normal routine."
Chicago teachers hit picket lines on Thursday after months of failed negotiations with the city over salary class sizes and other issues, leaving thousands of parents scrambling to find day care for their children.
"Figuring out childcare has been a bit of an issue because we have after-school care, but right now they are home with me," said Rupa Vora, the mother of children who attend Skinner West Elementary School in the West Loop neighborhood. "We're a little nervous because we are unsure if they will come to an agreement and how long that will take."
Vora, who is self-employed, has not only shifted her work schedule but also started booking extra childcare as backup. She's worried that if the strike stretches on, so will expenses.
"The hours are going to add up and that's not something we can get into, so I will have to do a juggling act of staying with my kids while cutting into my work time," she said. "But me not working is me not getting paid."
Vora said she is "pro-teacher" and supports the union because she has seen how hard teachers work.
"I really hope they come to a fair agreement because our teachers should be paid fairly," she said.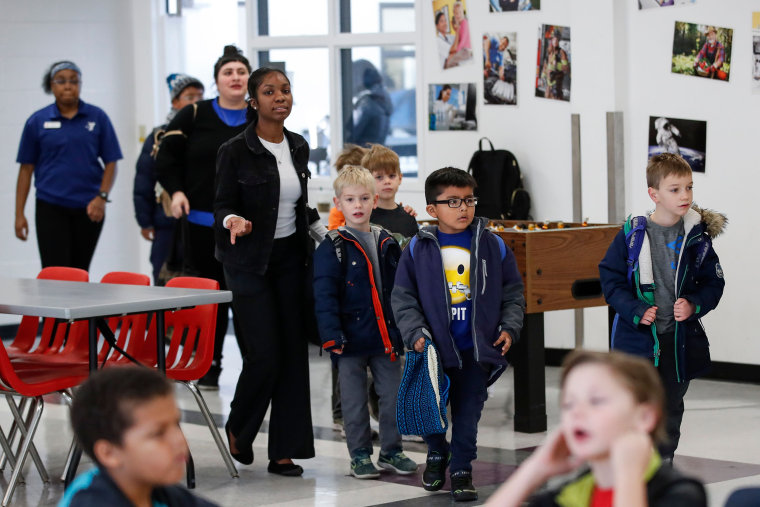 Although classes are canceled, school buildings remain open to provide students a safe place to go during the day, and meals are being served, according to Mayor Lori Lightfoot's office. The buildings are being staffed by non-union school district employees, and nurses and principals remain on campus, Lightfoot said on Thursday.
But no educational instruction is being provided. Instead, children have crafts and other activities to occupy their time. Apparently, many parents decided not to use that option because several schools reported having light attendance.
Simòn Weffer, a father of four kids who attend elementary school to high school, decided to keep his children home Thursday.
"They are better off here, where they can read, color, or do other things, rather than being at an empty school with a principal," he said.
Weffer, who lives on Chicago's North Side, is working from home to stay with his kids and will punt kid-watching shifts with his wife, who will also work from home. But the arrangement will only last until next week. After that, the situation will become "pretty difficult."
But Weffer supports the strike and said the union is doing the right thing by "fighting for equity across the city."
Lightfoot has said strike days would not be made up at the end of the year, leaving parents concerned about playing a game of catch-up if the strike drags on.
"I'm not too thrilled my kids are missing class time," said Amy Wenders, a parent of a fourth grader at South Loop Elementary School. "It could have a real effect on the curriculum if they are out for too long."
Chicago Teachers Union President Jesse Sharkey said he did not want a long strike, but he would not back down from demanding what he said teachers deserve.
"We want to make this a short strike," he said. "But we want to make this a strike that wins improvements for our schools, wins the dignity and respect for our teachers."
Lightfoot said she also hopes for a swift resolution but some demands cannot be met due to a lack of resources.
"My hope is that they will come back to the table, we will get a sense of urgency, and return our children to our classes and the schools where they can learn and flourish," she said. "We're not going any further on money. We can't."
Meantime, parents and children wait for an end to a labor strike that has disrupted their lives.
"We haven't made long-term preparations," Vora said. "This week has just been tossing and turning and we don't want to get into a situation like this for longer. That makes me really nervous."