Monticello, Maine — It's a blink-and-you-miss-it kind of place, pop. 790, a potato-farming community in northern Maine that kisses the border of Canada. The downtown is made up of a few structures dotted along a horseshoe-shaped road: the Country Store, where farmers, mechanics, and contractors get their morning coffee and midday sandwiches; a modest, ranch-style town office; a slightly decrepit 1920s barn bearing the faded words "Monticello Grange"; and the Wellington School, perched at the rear of an overgrown baseball field.
On a recent Tuesday morning, seemingly every car in town was parked outside the elementary school in the center of Monticello. Inside, Wellington's principal, Cindy Peterson, was high-fiving winners of perfect-attendance awards and ski-club certificates given to many of the school's 66 pupils. On one side of the room, it was a celebration: a giant cake's icing-letters cheering on the graduating 3rd graders. On the other side, a funeral: jagged stacks of cardboard boxes, adorned with Sharpie notes, reminding the audience that after the festivities, Monticello's only school would be closing its doors after six decades.
The Wellington School's closure wasn't a surprise to anyone; the RSU 29 School District had been threatening to shutter the small school since the early 1980s, citing its meager student body and the area's tight education budget. In 2011, the school narrowly escaped closure when the town rallied around it. But in February, the board voted 10-2 to close Wellington for good after a school board member crunched the numbers and realized they'd save an annual $188,000 in the process. The town reaffirmed the board's decision in a referendum earlier this month, with a vote of 83-63.
Jennifer Johnston, a Wellington parent and one of the school board members who voted to keep the school open, said it feels like the "big black cloud" hanging over the school for many years has finally burst.
"It's the heart of the community," said Johnston, who also attended Wellington. "It's the center. This is going to turn Monticello into a little ghost town."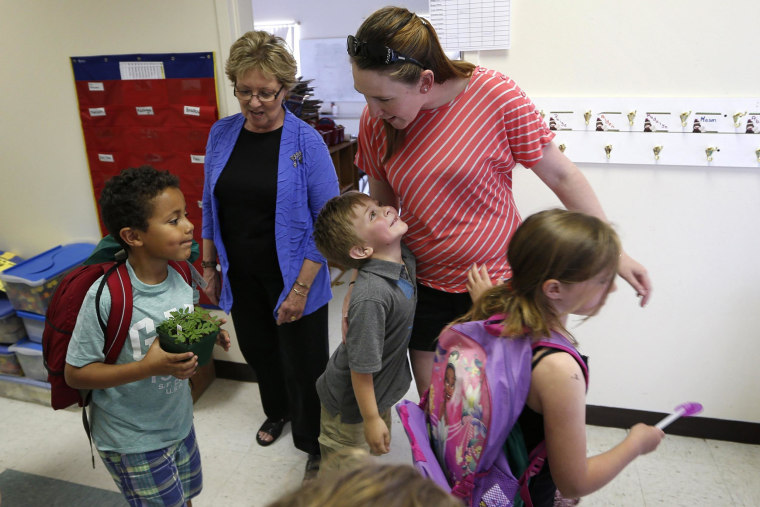 In the past few decades, rural school districts, especially those in the Midwest, Southwest, and Deep South, have been folding their smaller schools into bigger ones, which are often many miles away. These schools close because of shrinking state funding, low enrollment, or simply a desire for efficiency—even as studies show small schools often have higher test scores, higher graduation rates, and better student participation in extracurriculars. Post-closure, Johnston's ghost-town fears often become reality. Experts say that closing these schools can be counter-productive not just for the students, but for the entire population. Not only does the town fail to attract young families, who would rather live near a school, it often loses one of its main hubs of activity and community interaction.
"You're yanking a key community structure out of these towns," said Brian Depew, executive director of the Center for Rural Affairs, whose research shows that rural areas are experiencing a new uptick of school closures. "They're places of education, but they also serve this larger civic function."
Wellington hosted picnics, movie nights, plays, and Little League games that attracted generations of Monticello residents. The school had Water Day, Flag Day, an annual Christmas party, and the Valentine's Day social. Every year, the kids made flower boxes for a local restaurant to usher in spring and holiday baskets for the senior housing unit up the road.
It's been years since Jay Brewer, Wellington's principal for 14 years in the 1950s and 60s, had children or grandchildren at the elementary school. Now 85 years old, he still attends school events five or six times a year—including Wellington's farewell event that Tuesday. He feels "at home" there; it's where he "fits right in." Even though he hasn't taught for decades, "I just can't get the place out of my system."
The school has filled a void for Brewer ever since the Monticello Grange, which hosted anything from skits to suppers, closed down in 2010 after nearly a century. Brewer had been a member since 1968. Now that Wellington is closing, too, he fears for Monticello's future.
"A town loses its identity when it loses a school," he said.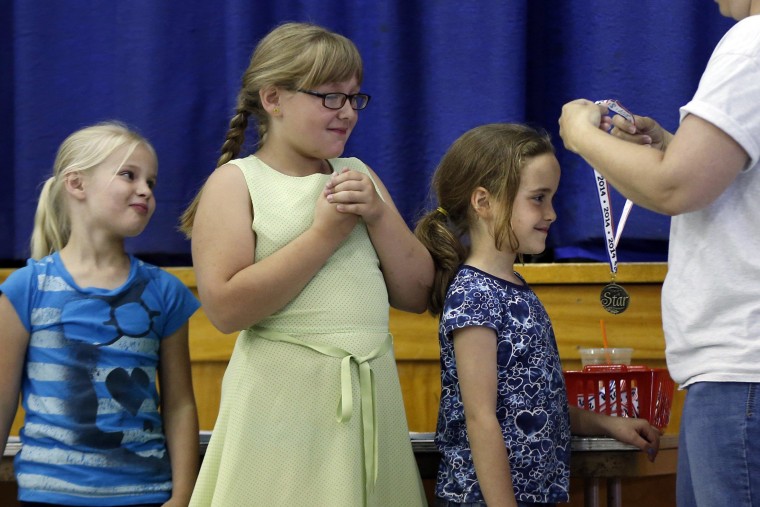 In the weeks before Wellington's final days, the staff took its 66 kids to visit their new school, Houlton Elementary, 14 miles from the center of Monticello. The huge new playground was a major selling point for the children. The fact that they'd see familiar faces next year was comforting, too; every teacher from Wellington had been offered a job in the district, and most accepted.
Sandra Wilkins, a school board member who voted to close the school to take pressure off the budget, is sad the school is closing—she was part of the very first class to attend Wellington—but she thinks the kids will be "resilient" next year.
"It won't change as much as people think," she said.
Cindy Peterson, Wellington's principal, agrees, but worries that a 450-student elementary school "won't be able to replicate the culture and the climate here," she said. "We focus not just on academics but also the emotional child … teaching kids how to properly socialize and communicate. In a big school, it's hard to hone in like that." The statistics of high-performing small schools applied to Wellington, too; the school was consistently ranked among the best in the state.
Sarah Quirk, the president of the Parent-Teacher Council, said she loved that when her older daughter started preschool at Wellington, she "didn't have to worry. If my child was hurt, I knew somebody was kissing boo-boos. I knew somebody was watching out for her."
Quirk is also concerned that her younger daughter, who's starting kindergarten next year, will have an unbearably long time on the bus. Her worries aren't unfounded: In consolidated rural districts, children often endure excruciatingly long rides to school. In places like the Dakotas and Nebraska, the routes may take hours. The bus rides in Monticello can already stretch the length of a class period, and parents are worried it'll take even longer.
"That's too much time for a young kid," Quirk said. "If it's longer than 45 minutes, I'll have to drive [my children] in, but I know not every parent can do that. That's a lot of gas money."
Ronnie Flewelling, who lives next door to the school, worries these longer journeys will be a dealbreaker for new families—not to mention a blow to his property's value. "Who's going to want to move to Monticello now?" he said. "Nobody wants their kid to travel 15 miles every morning."
Wilkins said the district is working on the routes to make sure the bus rides don't get longer.
The morning before Wellington's farewell ceremony, the Country Store's regular lunch customers were buzzing with conversation about the school. Virtually everyone there attended Wellington and had fond memories of its small, intimate environment. But for many residents who voted to close the school, it came down to their bottom line.
Max Good, a 21-year-old potato farmer with earth-stained hands, voted for its closure earlier this month. "It's probably for the better because it's costing more and more money for the town," he said. Tom Good, Max's grandfather, wouldn't say how he voted, but mentioned that since he owned a large amount of farm land, the taxes it would have taken to save Wellington would have affected him "quite a bit," since the money required to keep the school running would be fall to the town's residents.
Even though $188,000 is a tiny fraction of the overall school budget—less than one percent, says the town office—saving Wellington would have still meant an average of $400 more per household come tax season. And in a town where the median income is $23,566, and where 77 percent of school-age children qualify for free or reduced lunch, that's not chump change.
Peterson doesn't blame people for voting with their wallets. "We're more upset with the state and them dropping the ball," she said. "They're supposed to be funding schools, and they're not."
Yet the budget isn't always the reason for school closure. In the rural Midwest, where land values are high and school districts are more dependent on property taxes than state funding, a more intangible cultural shift is afoot. Often the reason for consolidation, Depew said, is the conventional wisdom that bigger is better.
"Our go-to answer as a society is consolidation," even if the budget doesn't require it, he said. "Because it's happened so many times, leaders just think, 'that's just what we have to do'… it's a capitalist drive for efficiency." Eventually, he said, a string of consolidations lead to a self-fulfilling prophecy: a school closes, a town's population declines, and the cycle starts all over again.
Barb Hesse, a researcher at the University of Minnesota-Morris's Center for Small Towns, is a lifelong resident of Cyrus, Minnesota, a town that has gone through multiple cycles of consolidation. Cyrus is even smaller than Monticello; the population at its peak a few decades ago was 389. It's only 288 now, a population loss Hesse partly attributes to the closing of the town's beloved high school in 1989.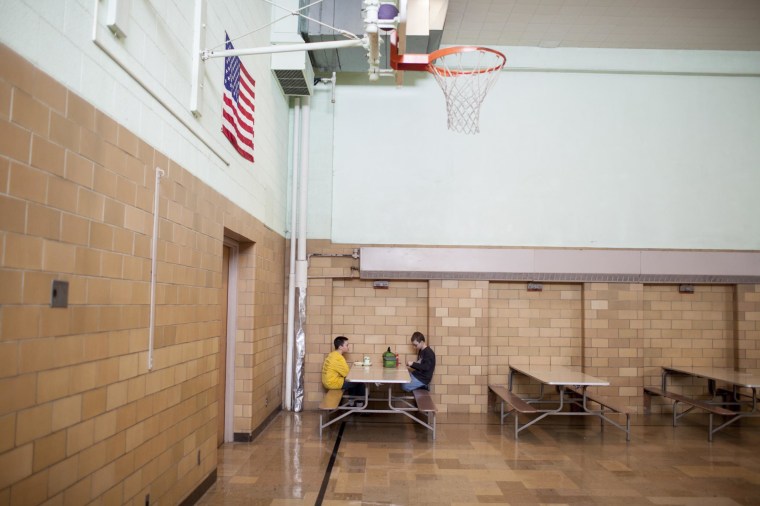 "There were about 25 people in my graduating class, and we were all family," said Hesse. The closure "was a hard and scary thing for the community."
Once the high school was gone, the community "threw themselves into making the elementary school successful. If anybody could do anything to help, they did it." In the nineties, Redbook named Cyrus Technology and Math Elementary School one of "America's Best Schools." The school often ranked among the state's best.
But then last year, following several years of low enrollment, the district decided to close the elementary school, too. Hesse said that although the town is still "alive and kicking," it does feel like it's been dealt another blow, leaving its residents nostalgic for "the way it used to be." Hesse remembered a moment at last year's celebration when her brother, who was DJing the event, told everyone to close their eyes and picture driving through the main street of Cyrus when they were young. All 800 people, she said, were "beaming, smiling, remembering the butcher shop, the telephone office, and the creamery."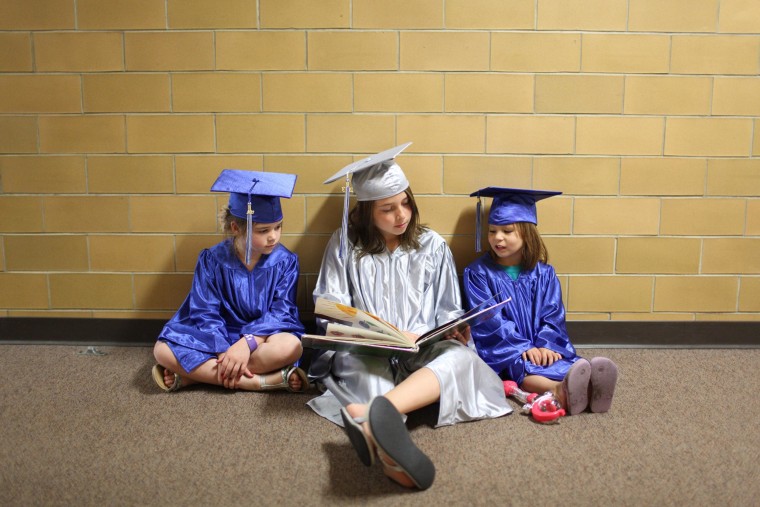 A year later, Cyrus' elementary school has been repurposed by a private entrepreneur as an event space for weddings and concerts. But in Monticello, people are skeptical that anyone will want to buy the former Wellington building. They glance nervously at the erstwhile Grange, hollow and crumbling in the middle of town.
"That building is empty, just falling down," said Johnston. "Can you imagine if that happened to Wellington?"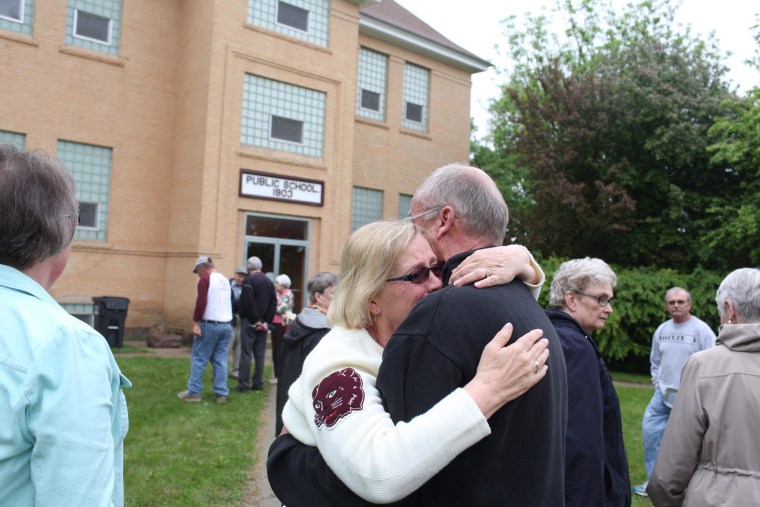 Education coverage for NBCNews.com is supported by a grant from the Bill & Melinda Gates Foundation. NBC News retains sole editorial control over the content of this coverage.