Teachers at Washington state's Northshore school district spent the past week figuring out how to teach students to do science experiments at their kitchen tables, or jumping jacks in their home basements instead of gym class.
After the area saw some of the nation's first confirmed coronavirus infections, Northshore teachers learned two weeks ago that — ready or not — they'd have to lead the way on what's likely to become the largest experiment in online instruction this country has seen.
"It's been a tremendous lift," said Tim Brittell, the president of the Northshore Education Association, the district's teachers union.
Teachers, administrators and parents leaned on each other as they tried to figure things out on the fly.
"It takes a tremendous amount of trust, a tremendous amount of understanding," Brittell said.
As of Monday afternoon, 35 states, including Washington, had mandated school closures in an effort to slow the spread of the virus; at least 35.9 million children are now displaced from their classrooms, according to a tally by Education Week.
Full coverage of the coronavirus outbreak
As school leaders look for ways to minimize the disruption to children's learning — and try to avoid extending the school year through the summer — teachers at thousands of schools all across the country are scrambling for ways to teach children who are holed up at home.
Preparing schools to move instruction online is a massive undertaking, said Keith Krueger, who heads the Consortium for School Networking, a membership organization for school technology leaders.
"Even those of us who are strong advocates of having this option have to believe that it will not be done well or smoothly in many — perhaps most — places," he said. "You can't simply snap your fingers and say, 'Tomorrow you're going fully virtual.' It takes planning and training, and we don't have time for that."
Many teachers and their students are likely to learn — as teachers in Northshore did last week — that there are creative and effective ways to teach and learn remotely.
Brittell, the district's union leader, said he watched a middle school art teacher livestream a still-life drawing class using paper and pencils that kids had at home. He watched a kindergarten teacher read a story aloud on video, then upload it to a website for students.
But he also saw many ways that this approach was deeply inequitable, squeezing out students without access to computers. Not every child has a parent or a caregiver available to keep them on task, and the online approach wasn't able to meet the needs of all students, especially those with disabilities or who aren't fluent in English, he said.
"This shows the inequities in a glaring light," Brittell said.
'You have to adjust your life'
Like most educators who work in traditional K-12 schools, teachers in the 23,000-student Northshore district had very little training in online instruction.
Most had largely used curriculums designed for the classroom, where a teacher can see which kids are struggling by glancing around the room.
But when a number of people who had contact with district schools tested positive for the coronavirus, the teachers didn't have much time to figure it out. They got some quick training, mostly in tools like Google Docs and the videoconference platform Zoom, Brittell said.
That's more than many of their peers in other areas received. In many of the states where governors mandated school closures, the order went into effect immediately or with just a day's notice — not even enough time to learn how many students have access to technology at home.
Northshore was in a better position than many communities. Voters in the affluent district, which stretches from Lake Washington near Seattle to the foothills of the Cascade mountains to the north, had approved several tax hikes to raise money for technology in recent years.
That meant the district had enough computers and internet hot spots to make sure students had access, and teachers worked quickly to put materials online.
"They set it up pretty well," said Takumi Ohno, 45, whose 9-year-old son is a third grader in the district.
Her son's teacher decided not to livestream her classes but rather to post 15-minute videos that showed her, for example, teaching a math lesson. Her son wrote his assignments in Google Docs that his teacher reviewed.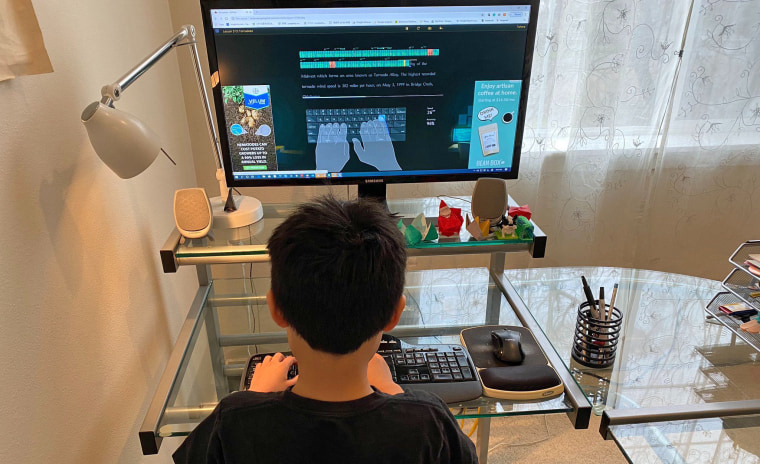 "It's fun," said Ohno's son, whose name she asked not to be published for privacy reasons. "I get to see my mom the whole day."
Ohno is luckier than most. She can do her job running a Japanese language website for the Pacific Northwest from home, and she said her son doesn't need much direction.
"Sometimes I have to remind him that his break time is up," she said.
It was a different story for Northshore father Aaron Keck, who said online education for his two children — a kindergartner and a third grader — was a full-time job. He also has a preschooler who had to be watched.
"I have not sat down much this week," Keck said Friday. "I'm bouncing between the two of them, helping with this or that."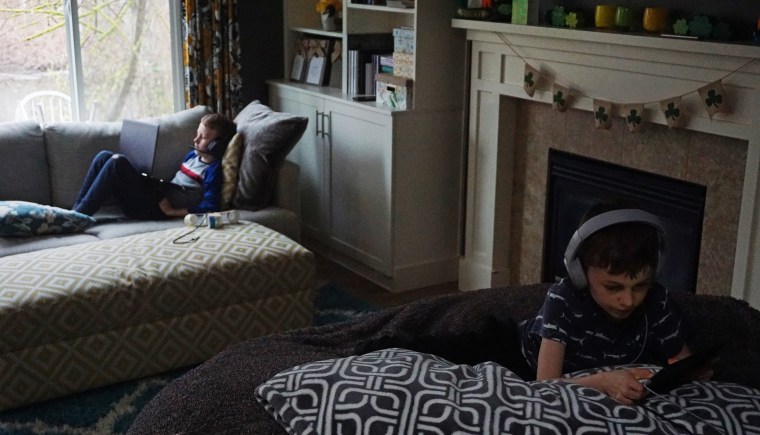 He's been impressed with the quality of instruction. The school's music teacher posted daily videos with musical activities, such as identifying the beat in a song. His son's kindergarten teacher posted a welcome video every day "to greet them and explain what they're doing," Keck said. His kids could write their answers online or take a picture of written work and send it to the teacher.
But this has meant a lot of work for Keck. His third grader struggled with a difficult science lesson. His kindergartner hadn't had much practice using a laptop beyond playing games. There have been technical hiccups with teachers using different platforms that require different logins and passwords.
"It's been easy to resolve but it's definitely a burden," Keck said. "You have to adjust your life to be able to facilitate your child's learning when that's not what you're used to doing."
Keck is an educator who wasn't needed at work last week since area schools were closed, so he could help. "I can't imagine if you're trying to work and do this," he said.
'Better than nothing'
The burden is especially acute for parents whose children have special needs.
Jenny Woods, 42, teaches a special education kindergarten class in the Northshore district with children who have Down syndrome, seizure disorders and developmental delays. Her nine students need so much support that her classroom, under normal circumstances, has a teacher, four classroom aides and a nurse.
When her district went to online instruction, she did the best she could, posting videos of herself reading a story and leading the class through its morning calendar and weather routine.
"But that's all we're able to do," she said. "It's very difficult to get any 5- or 6-year-old to sit down and engage in a lesson without hands-on material when they're not face-to-face with an adult that can connect with them."
With her students, it's even harder, she said. "Without a high level of consistency and structured routines, they just are lost."
It has been difficult — impossible, really — to comply with the students' individualized education plans, which are legal agreements between schools and parents about services a child will receive, she said.
That is one of the reasons her district is reviewing its online program. The U.S. Department of Education issued guidelines last week that said districts don't need to provide required services if they're closed. But if they put instruction online, they need to provide equal access to students with disabilities "to the greatest extent possible."
Download the NBC News app for full coverage of the coronavirus outbreak
Woods believes that for her students, online instruction has been "better than nothing."
But district leaders and teachers had concerns that students like Woods' weren't being served as well as children without special needs.
That's why, even as more districts launch online learning programs this week, Northshore is hitting pause on its virtual instruction while it looks for ways to make these efforts more accessible. The district hasn't announced when or if online classes will resume.
Woods worries about the long-term disruption for her students. Late last week, she stopped by students' homes, dropping off supplies they might need, such as textured materials for children with visual impairments.
'It's a little chaotic'
As districts have shifted to online education, parents and teachers have been sharing stories online about kids using apps to make it look like they're attending a class by videoconference, when really they're out of the room. Some students put their pets in front of the camera or invite their friends from other schools to stop by the video classrooms.
"It's pretty funny to watch. It's a little chaotic," said Brian Kleinhaus, who has an eighth grader and a fifth grader in a private Jewish school in Westchester County, New York, that switched to online instruction two weeks ago after someone in the community tested positive for the virus.
"It's difficult for the teacher," he said. "They have to constantly tell the kids to mute their microphones so the teacher can be heard over the chorus of kids."
Challenges aside, some teachers who are used to teaching online say they're hopeful that this national experiment in online education will encourage schools to use more digital tools and figure out which students lack access to technology.
"This is certainly a stress test," said Bob Harrison, 42, a biology and physiology teacher in the Dearborn school district in Michigan, which started online instruction Monday. "I think it's going to expose a lot of the things that we have been doing in education for better or worse."
Krueger, from the Consortium for School Networking, said the nation's schools are more ready for this experiment than ever before.
Nearly half of U.S. school districts have at least one computer for every student, he said, and they've made strides in getting students access to the internet at home, though issues remain. As schools have closed this week, many districts are working with computer and telecom companies to buy equipment and improve student access.
But getting students online doesn't mean teachers are ready, Krueger said.
"Going to an online environment isn't simply turning on the video camera and doing everything you were doing in a traditional class," he said. "We're in completely uncharted territory with what's being asked of school systems."
His organization is among those providing resources and guidance, but he said, "even for districts that we work with who are leaders of virtual learning, this is still a huge mountain to climb."