The Department of Education on Monday made it easier for the thousands of students, who were displaced when Corinthian Colleges closed 28 of its campuses in April, to receive loan forgiveness.
Students who attended Corinthian's Heald, Everest and WyoTech schools that closed in late April, have the opportunity to get their college loans paid in full, and any money that they already paid reimbursed, if they left their respective school any time after June 20, 2014, according to the Department of Education.
The Department of Education usually only allows the loan forgiveness to students who withdrew from closed schools within 120 days of the closing date — meaning the department has extended the window by about six months.
Corinthian sold all but the 28 colleges that closed in April to a nonprofit education group in 2014 in the midst of Department of Education investigations, including one of which that found Heald College was misrepresenting job placement rates.
In Monday's announcement, the Department of Education also said that any student who felt they were victims of fraud because of the misconduct could also apply for loan forgiveness. According to the Department of Education, the measure has "rarely" been taken in the past.
Students who can prove that they were victims of fraud at any Corinthian College, and most of those who attended Heald campuses, can apply to have their loans dropped no matter what, but for other students, there's a catch.
Related: Corinthian Students Face Tough Choice to Discharge Loans
Students who have already transferred or plan to transfer their credits to complete a program similar to the one they were pursuing at a Corinthian school don't qualify for the loan forgiveness, according to the Department of Education.
Linda Cervantes, 28, a single mother of two, told NBC News Monday night that she was relieved that her $8,000 debt would be cleared, and she had already started the application process.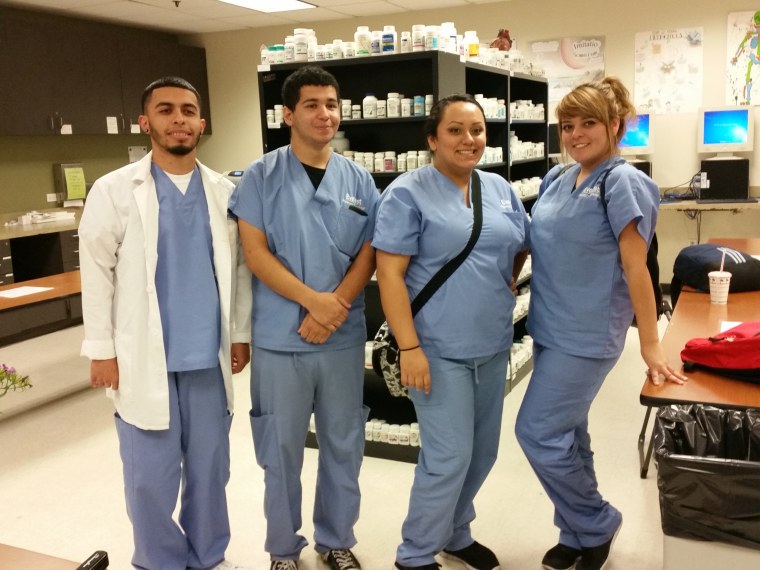 "It was the heaviest thing on my shoulders," she said.
But Cervantes, per the guidelines from the Department of Education, had to decide whether to transfer her pharmacy technician credits from Everest to another school and complete the program or have her debt dropped and forego her diploma.
Cervantes — who was only six weeks away from completing the program when the Everest campus she attended in California closed — received her pharmacy technician license, but said the lack of a degree is keeping her from finding work.
"It looks bad," she said. "I've applied a couple places, but nobody's really calling me back."
Cervantes still feels she made the right decision because if she had transferred her credits, she would have accrued more debt at another school.
Instead of pursuing a diploma, Cervantes is studying to take a pharmacy technician certification test that will allow her to practice in any state.
"At least I have a license," said Cervantes. "And I can start from there."