Nearly half the country allows or doesn't explicitly ban physical discipline in schools — a practice the U.S. education secretary wants to abolish immediately.
John B. King Jr. urged governors in a letter Tuesday to eliminate corporal punishment from America's classrooms, blasting it as an outdated disciplinary method "that educators, civil rights advocates, medical professionals, and researchers agree is harmful to students and which the data show us unequivocally disproportionately impacts students of color and students with disabilities."
While it may seem like an archaic punishment, more than 163,000 children were subject to paddling, spanking, slapping, and other forms of physical discipline during the 2011-2012 school year — the most recent year federal data is available for.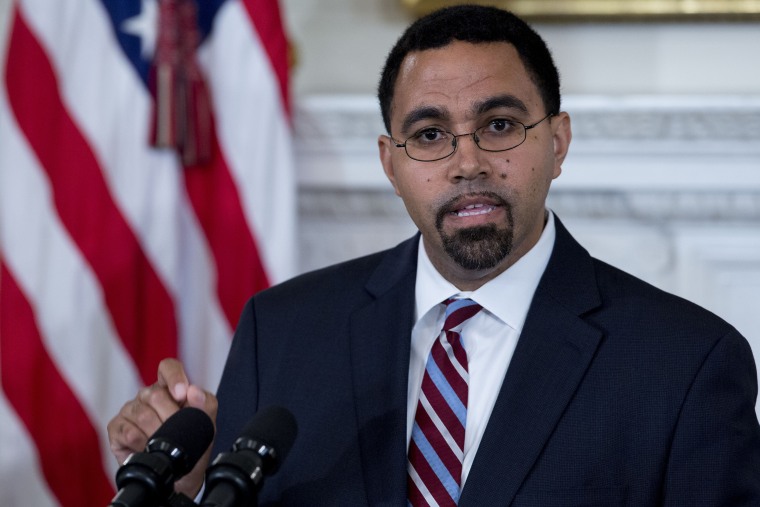 "In the twenty-first century, there is no excuse for caning or paddling children. Just none," Randi Weingarten, president of the American Federation of Teachers, which joined the secretary's call to ban corporal punishment, told NBC News. "When there are behavioral issues, we need to have resources in schools to back up our vision of a positive climate."
Twenty-eight states, plus the District of Columbia, ban corporal punishment. But 19 others still allow it, according to the Gunderson Center for Effective Discipline, and a handful of other states have no specific language prohibiting it — despite studies showing it to not only be an ineffective deterrent for problem behavior, but also harmful to a child's ability to learn.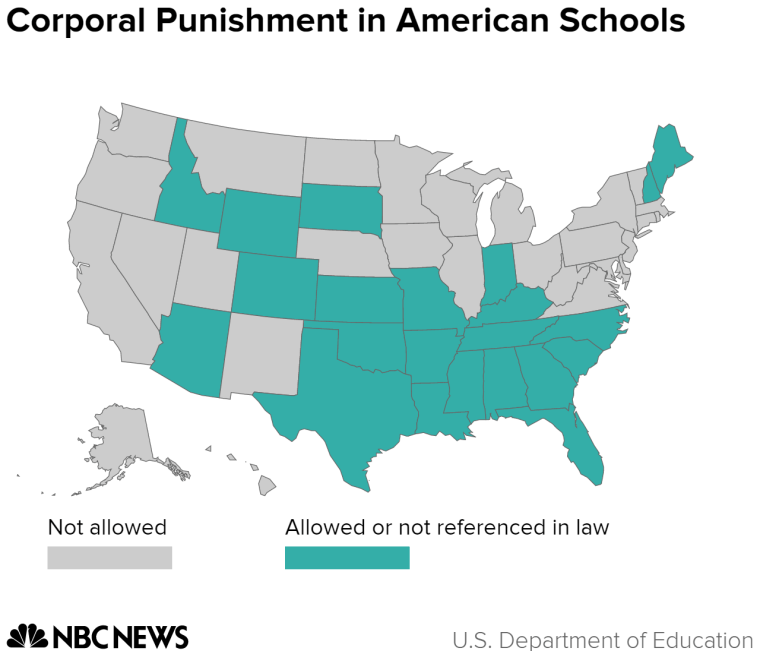 "What we know is that it hinders the creation of a positive learning environment. It affects all students, whether they're the individual who's actually on the receiving end or not," Lacie Ketelhut, Gundersen Center for Effective Discipline's program coordinator, told NBC News. "To have the threat of corporal punishment, that physical pain ... It's going to create an environment of fear."
Related: Corporal Punishment: Legal and Common
Social scientists have discovered that corporal punishment increases aggression, defiance and anti-social skills, and primes kids to be at higher risk for abusing drugs or alcohol later in life.
The majority of states that still allow a teacher or principal to spank a student are clustered in the South. There's no federal ban on corporal punishment in public schools: A 1977 Supreme Court ruling determined that physical discipline, so long as it isn't excessive, doesn't violate the Constitution.
Opponents fear corporal punishment makes learning more difficult for students who already have the most cards stacked against them.
"Students of color and students with disabilities disproportionately experience all forms of discipline. That is the case when you're talking about discipline that takes the form of out-of-school suspension or this especially severe form," said Fatima Goss Graves of the National Women's Law Center, which opposes corporal punishment in schools. She said biases, implicit or explicit, were likely behind the fact that these students are more often targeted.
"Not only does [corporal punishment not do positive things, but it can undermine academic performance. It can make students not want to go to school, it can leave them with feelings of unwelcomeness," she added. "All of those are things that make it harder for students to stay in school and be successful, so rather than supporting and helping students who may or may not be having challenges in school, it does the opposite."