This article about play-based kindergarten was produced by The Hechinger Report, a nonprofit, independent news organization focused on inequality and innovation in education.
EVERETT, Wash. — On a sunny winter morning in Sara Stevens' kindergarten classroom at Pathfinder Kindergarten Center, 5- and 6-year olds learned about colors, shapes, engineering and design.
Not a pencil or worksheet was in sight, however. These kids were playing.
Standing in front of a child-size kitchen in the corner of the classroom, Jamila dropped a plastic tomato, a hot dog, a banana and a fish into a small metal pot.
"The cake's ready!" she proclaimed to her friends.
A few feet away, her classmate Ivan was sprawled on the ground surrounded by blocks and small toy cars.
"This is a house with an invisible force field," he proclaimed, carefully adding a block to the structure. "I didn't build the force field," he clarified. "I imagined it."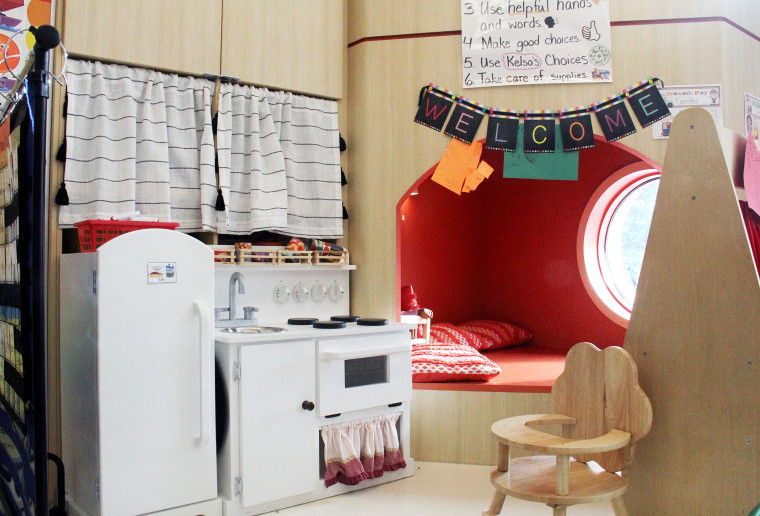 Originally intended to ease overcrowding in schools, the Pathfinder Kindergarten Center, in the Mukilteo School District about 25 miles north of Seattle, is a haven for its 545 kindergartners. The $26 million school opened in 2017 with a central goal: to make kindergarten here more playful and joyful. Classrooms mirror high-quality preschools, with artwork papering the walls, children playing gleefully on colorful carpets and shelves stocked with bins of toys. Heated floors invite the children to play and rest on the ground and multiple play areas both inside and outside the school offer kids opportunities to learn and burn off energy.
It may seem frivolous to spend so much money on a school dedicated to a grade level that students aren't even required to attend in most states, but research shows kindergarten can be one of the most important years in a child's educational career. Positive experiences in kindergarten can improve social and behavioral skills and early test scores, and even increase the likelihood that children will attend college and ultimately make more money as adults.
At last count, 14 states and Washington, D.C., required districts to offer full-day kindergarten, up from 10 states in 2008. As kindergarten has become more widely available in the last several decades, it's also become more academic. In some districts, full-day kindergarten schedules are packed with back-to-back academic activities and lessons.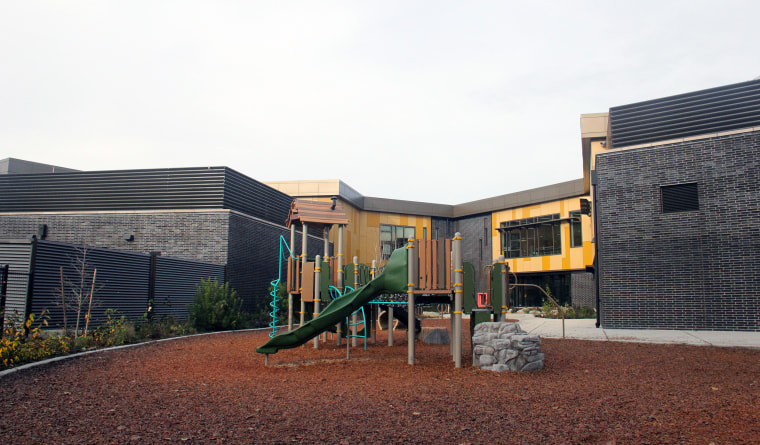 While recent research shows kids can, for the most part, handle more rigorous content in early years, educators and experts are worried that schools have been getting it wrong. Experts say children shouldn't be sitting at desks, completing worksheets or listening to teachers talk for the majority of the time. An older, more extensive body of research suggests children should be playing both within lessons and between lessons, because that's the best way for a 5-year-old to grasp difficult concepts, whether it's working with a classmate or counting to 100.
Now, several states, including Washington, are rethinking the kindergarten curriculum and encouraging districts to revive time for block-building, coloring and imagining invisible force fields.
"Play is not divorced of learning," said Kathy Hirsh-Pasek, an author, professor of psychology at Temple University and senior fellow at the Brookings Institution, who has studied child development and the role of play in learning. "It is the natural way in which we learn."
'They had taken out all the fun'
Play is what Friedrich Froebel imagined when he founded the first kindergarten in Germany in 1837. The kindergarten day started with songs and then transitioned to playtime and included nature study, stories and dramatic play. For more than 100 years, that's what kindergarten was known for.
The first kindergartens in America were play-based and grounded in Froebel's vision; they were meant to build cognitive and social-emotional skills. By the 1960s, subjects like reading, writing, math and science were informally included in the kindergarten day, which typically lasted about two-and-a-half hours. But by the 1980s, after the publication of "A Nation at Risk," a report by the National Commission on Excellence in Education that described America's education system as largely failing and in dire need of reform, many parents called for a more standard, formal curriculum.
States and districts responded. From 1998 to 2010, the time spent on nonacademic subjects in kindergarten, including free play, decreased in favor of more time on academic subjects, such as conventional spelling and writing simple equations, a 2016 study found. During the same time, the percentage of classrooms with a dramatic play area dropped from nearly 90 percent to 58 percent.
Related: Opinion: Kindergarten is more than preparation for first grade, and we need to take it back
More recently, widespread changes in academic standards, like the adoption of the Common Core, further increased the rigor of kindergarten to the point that it has been referred to as "the new first grade." Kindergartners now are expected to count to 100 by ones and tens, for example. Previously some states only required kindergartners to count to 20 or 30. In Mississippi, concepts like plural nouns and three-dimensional shapes shifted down from first grade to kindergarten. Kindergartners must be able to write several sentences about a specific topic and draw a related picture, while pre-Common Core, they were only expected to draw a picture and write a single sentence. And, in some states, Common Core added new concepts young children are supposed to master, like the ability to put two shapes together to form new shapes.
Many teachers at Pathfinder remember a time early in their careers when school and district officials made it clear that kindergarten was to have a new focus. Pathfinder teacher Missy Turtzo, who started teaching in the late 2000s in Florida, recalled walking into her classroom after district officials had removed play kitchens and other furniture. "They had taken out all the fun to make it more academic," Turtzo said.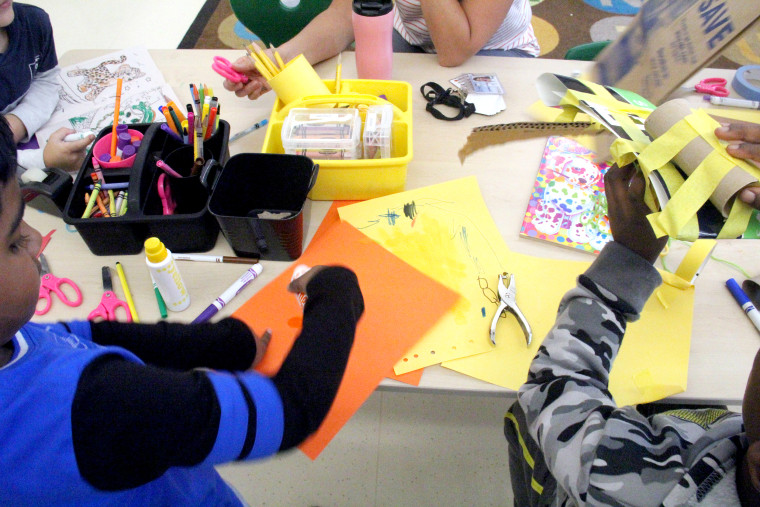 Some states and districts are moving back to a play-based kindergarten classroom after the creation of state early learning standards that emphasize the importance of hands-on experiences. For others, the realization that students were struggling with social-emotional skills in kindergarten was a wake-up call.
The Mukilteo School District's adoption of what officials here describe as a developmentally appropriate and joyful kindergarten experience was also inspired by a state law that mandated full-day kindergarten starting in the 2017-18 school year. To receive funding, districts had to provide experiences in science, arts and physical education, as well as classrooms that "promote creativity." State officials also released a guide that encouraged more time for play.
A similar mindset was behind New Hampshire's move to play-based kindergarten in 2018. "Rigorous structure and heavy curriculum are not intended to be part of the kindergarten experience," New Hampshire education officials said. "Rather, educating kindergarten age children can be done through social imitation, learning through expression, and unstructured play within the classroom setting."
Some districts don't just stop at kindergartners: The Watertown City School District in upstate New York has adopted a play-based curriculum for first graders, too.
The benefits of play
Kids have reaped benefits from such changes. In West Chester, Pennsylvania, district officials noted referrals to occupational therapy are down, which educators there attribute to the increase in time to work on fine motor skills while playing. A 2016 study of two schools in Texas found that when kindergarten and first grade students received additional time to play in the form of extra recess breaks each day, their academic performance on reading and math "significantly increased."
Providing more time for play is a popular decision with 5-year-olds. The youngsters in Sara Stevens' classroom at Pathfinders are unanimous: Playtime is their favorite time of the day. A close second? Recess.
During playtime on the recent winter morning, three students in Stevens' classroom were carefully building a "place for cars" out of magnetic shapes. As one student moved closer to place a square on top of the structure, it suddenly collapsed.
The other two students whipped around and stared at the ruins, both quickly masking their initial look of disappointment. "We can make something else," one of the students said matter-of-factly.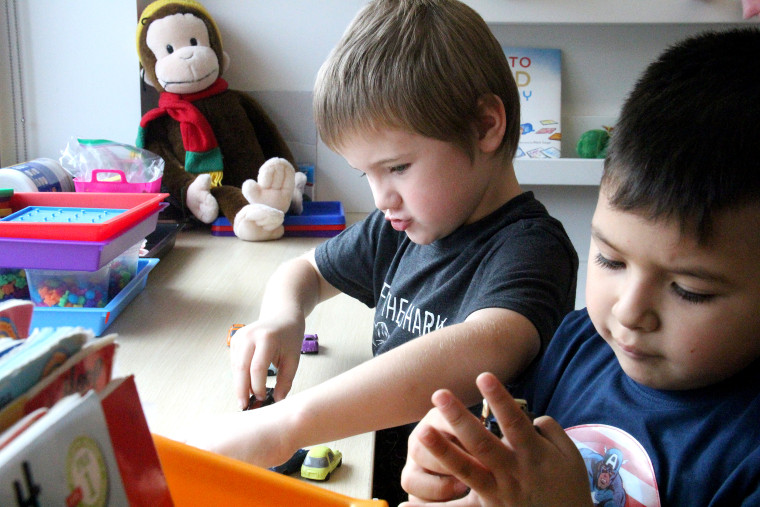 "Or we can share ours!" the other student said, motioning to a second structure.
Research shows play is a proven way for students to learn academic and nonacademic skills. And Stevens said this is evident to her. During playtime, students naturally learn to identify colors and shapes as they draw masks and build towers, and learn to write as they plan pretend birthday parties, complete with invitations and signs. But more important, she said, her students acquire social skills, like how to work together, use kind words and share.
"Sharing is really hard," Stevens said as she watched a group of students eagerly hovering around a game on the floor. "They have to talk it out and take turns."
Related: Making the preschool magic last as children get older
Hirsh-Pasek, the child development expert, cautioned that adding play needs to be done thoughtfully. "Don't just stick play in," she said. "Make it part and parcel of the learning experience." While free play has its benefits, Hirsh-Pasek said if the goal is for children to learn, adults need to set up an environment so kids can "muck around" and play with a purpose. "By doing so, they learn more because it's their learning," she said.
Academics, with flexibility
At Pathfinder and other kindergarten classrooms in the district, playtime is officially called "Play to Learn," a nod to the fact that the two concepts are intertwined. The block of time devoted to play is bookended by a planning time, when children choose an activity, as well as a reflection time, when children share what they did or what they made.
Students at Pathfinder are still learning their letters and numbers and becoming more proficient at writing their names and short sentences. But, in addition to at least 50 minutes of playtime, they also enjoy 35 minutes of recess and 45 minutes of physical education, art, technology or music each day. And teachers say they have freedom to adjust schedules as needed. When they noticed the introduction of writing was leading to meltdowns at the beginning of the year, for example, teachers pushed their lessons back and devoted time to teaching kids how to hold a pencil.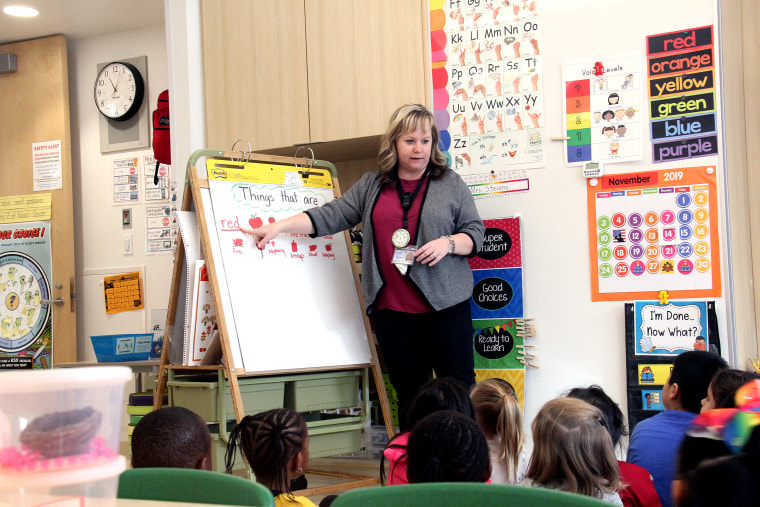 "You hear a lot of people say, 'This kid is not ready for kindergarten,'" said Cheryl Boze, the principal. "It's our job to be ready for the kids no matter where they're coming from. It's our job to meet every single child wherever they are."
Related: Kindergarten behavior predicts adult earning power
Educators here say the intense focus on one grade level is having a positive impact on students, 50 percent of whom are English language learners and 61 percent of whom come from low-income families. The school has an attendance rate of 83 percent, slightly higher than the state average. And 93 percent of Pathfinder's English learners are making progress, according to school officials.
That's not to say Pathfinder is without its challenges. Having a separate school for kindergartners means an extra transition to another school when students start first grade. And while kindergartners at traditional elementary schools can benefit from having older students as mentors, that's not possible at Pathfinder.
Although Pathfinder officials don't have data on how their graduates perform in first grade, Boze said she frequently hears from first grade teachers who say they can pick out the kids who attended Pathfinder.
"They're better prepared, they're further along academically, socially and emotionally. They see our kids as more kind and caring," Boze said. "So I do believe that what we're doing is working."
Sign up for The Hechinger Report's newsletter.