CHICAGO — If Chicago teachers accept the pay raise they've been offered by the city's mayor and school board — a 16 percent bump over five years — they could soon be some of the highest paid big-city teachers in the nation.
But here, in a city where many schools lack resources to help children in poverty cope with trauma and other challenges, and where a strong history of union activism has already triggered two teacher strikes this decade alone, union leaders say a pay raise is not enough.
As educators in the nation's third-largest school district prepare for another strike, some even call the city's raise proposal a distraction.
"It's a very strategic thing they're doing," said Katie Osgood, a special education teacher and a rank-and-file member of the union's contract negotiating team. "They want to use that to decrease the public support that we have, to say: 'C'mon greedy teachers. Take the deal.'"
While Osgood acknowledged that the pay offer is "not the worst," she said teachers are focused on more than just paychecks.
"We're actually asking for real demands," Osgood told several dozen parents, activists and supporters at a meeting of a group called the Chicago Teachers & Staff Solidarity Campaign last week. "Real demands that will change things."
The teachers' demands — including smaller class sizes and the hiring of additional school nurses, librarians and social workers — are similar to those that have echoed across the country in the last two years amid a wave of teacher activism not seen in the U.S. in decades.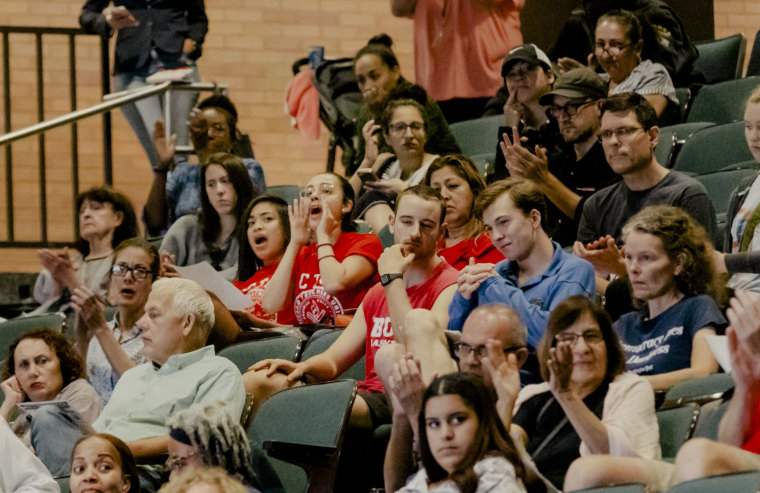 If Chicago teachers vote to strike during three days of balloting next week, upending the lives of 350,000 students and their parents, they could join colleagues in Los Angeles, Oakland and Denver who walked out this year, and those in West Virginia, Arizona and other states who did so last year.
In all of those strikes, teacher pay — and the value of teachers — were central issues at the bargaining table, but those on the picket lines have also raised concerns about what's happening in schools: excessive student testing, the impact charter schools have on traditional schools, and inequities between schools in affluent and poor areas.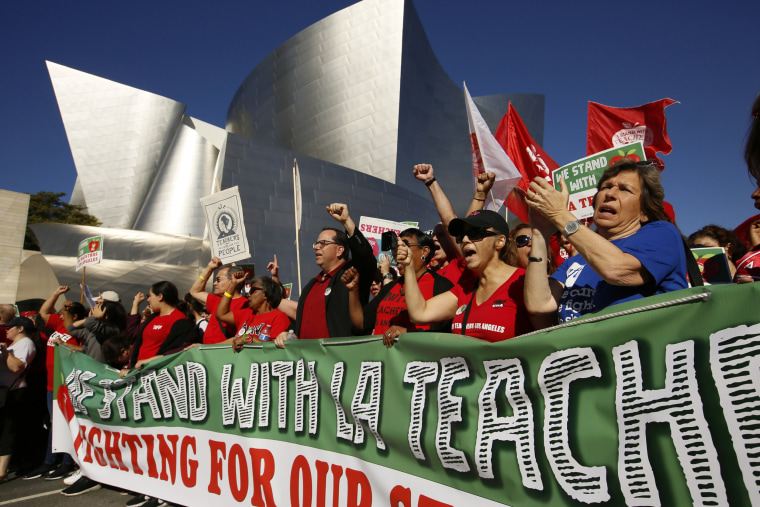 Experts say that targeting these themes is partly a strategy to win the backing of parents and community members who are affected by these issues, and partly a way for teacher unions to make their case with members in the wake of the Supreme Court's Janus decision last year. That ruling found that public sector workers could no longer be forced to pay a share of union dues to cover the cost of negotiating a contract, dealing a financial blow to unions and threatening their ability to advocate for their members.
Now, said Brad Marianno, an assistant professor who studies teacher labor policy at the University of Nevada, Las Vegas, public sector unions need to convince members to opt in — and that means fighting for things members care about.
"They say they're fighting for the soul of education," Marianno said, "but they're also fighting for the soul of the union to maintain relevance in a post-Janus world."
100 percent agreement?
Chicago teachers, who started the school year without a contract, have begun to prepare for a strike. Wearing bright red shirts that have become a symbol of teacher activism, they've been standing outside of schools during pickup and drop-off to spread the word about their demands, warning parents that they could strike as soon as next month if at least 75 percent of teachers vote in support.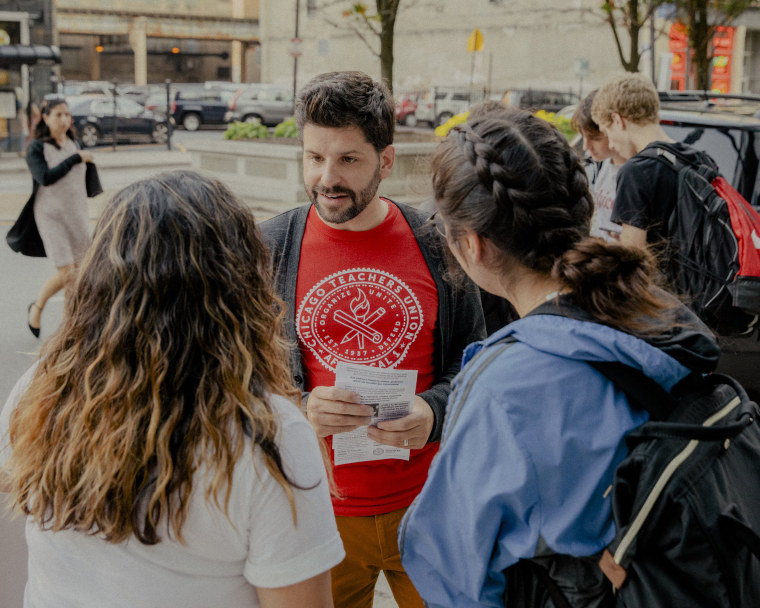 As they talk with parents, teachers stress the challenges students face in the many schools that lack full-time nurses or social workers. They talk about the impact of bulging class sizes in a school district where roughly 1 in 6 classrooms are overcrowded. The average Chicago student, despite recent gains, still lags behind peers across the state on academic measures.
"I had 40 students in my classroom last year and that really pushed me over the edge," said Robin Blake Boose, a veteran elementary school teacher who taught second-grade last year at Arthur Ashe Elementary School on the city's South Side. "I felt very bad for the kids because I tried to meet all their needs, but even with an assistant, it was overwhelming."
No matter how compelling their arguments, the teachers can't actually strike on class size or staffing levels. Illinois state law bars them from striking over issues other than compensation, though they are allowed to discuss other issues during bargaining.
As the possible walkout looms, the rhetoric has been escalating.
That has put the city's new mayor, Lori Lightfoot, in an awkward position because she campaigned on doing many of the things the union is asking for.
The city, which controls the school district's budget, has committed to hiring an additional 250 full-time nurses and at least 200 more social workers in the next five years and has earmarked $10 million in next year's school budget for the first hires.
"I agree with you regarding the schools 100 percent," Lightfoot told a teacher who complained at a budget town hall last weekend that his school has no full-time nurse or social worker and has overcrowded classrooms.
The teachers say the mayor's proposed hires won't be enough and they want the promises enshrined in the teachers' contract. Union supporters use the hashtag #PutItInWriting online.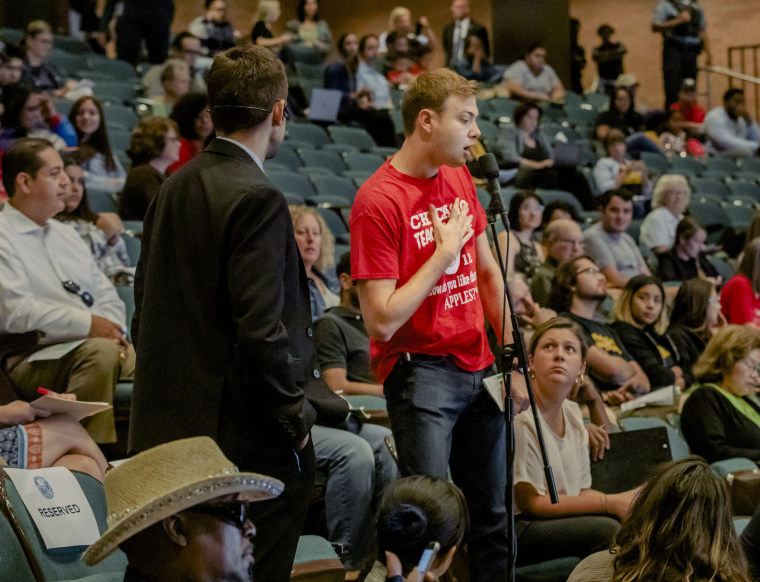 But Janice Jackson, CEO of the Chicago Public Schools, argues that putting those promises into the contract isn't feasible. For one thing, a shortage of certified nurses and social workers means the district needs to first work with local colleges to find or train enough qualified candidates. For another, she said, putting those requirements in the contract could interfere with principals' autonomy to set priorities for their schools.
Jackson said she's confident a deal will be reached soon to avoid a strike.
"For the items that teachers could strike over, we've made pretty good headway," she said.
The city asserts the raise offered to teachers is even more generous than it sounds, with the bumps teachers get for experience giving the average teacher a 24 percent raise over five years. But the teachers counter that they're playing catch-up from less generous contracts in the last few years and say that some low-paid clerks and school aides have such low wages, their children are eligible for free- or reduced-priced lunches. They want a 15 percent raise over three years and have slammed the district for trying to reduce the amount of time teachers are given each week to plan lessons.
Meanwhile, parents are on edge. In addition to the teachers union, the union that represents school security officers, classroom and bus aides, custodians and other support staff — Local 73 of the Service Employees International Union — has already voted to strike and could walk as early as Oct. 17. That means schools could not remain open as they did in 2012 when teachers were on strike but other workers were in the schools watching children.
Though many Chicago parents say they dread the idea of a disruption to the school year, support for the union appears to be strong.
"I put my trust into these teachers and so far they have not disappointed me," said Dyonna Horton, whose daughter started the year in a kindergarten class at Arthur Ashe that had 39 students with one teacher and one aide.
The teachers deserve to be well paid, she said. "Just imagine two teachers in a classroom full of tiny little 5-year-olds. It's pretty frustrating."
(After NBC asked about that kindergarten class, the district this week said it would create a second kindergarten to reduce overcrowding.)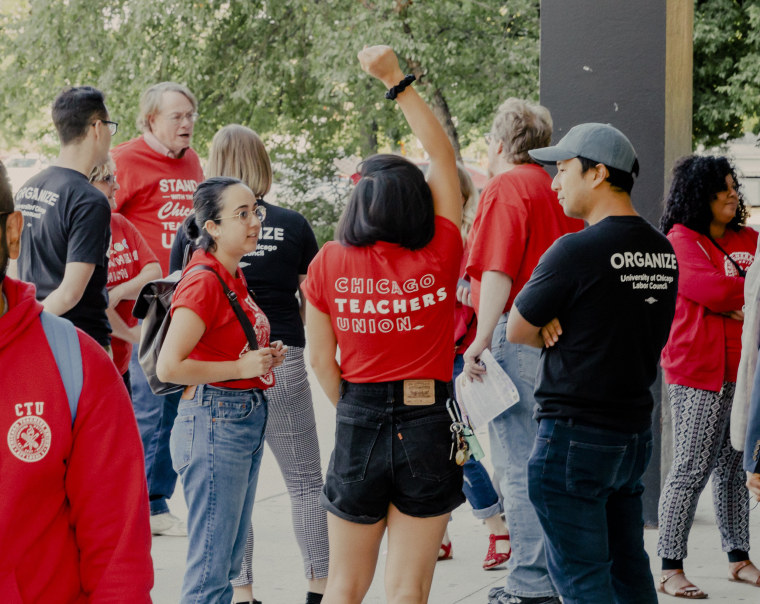 Pat Powell said she supports her daughter's teachers at Galileo Math & Science Scholastic Academy, near the city's downtown, but she wasn't sure they need to strike given the proposed raise, which she called "phenomenal."
"You are talking about the lives of children," said Powell, who serves on the local school council at her daughter's school. "You are talking about the lives of individuals who are looking to you to teach them, to mold them, to be the best they can academically."
She urged teachers to push for change without threatening to walk.
"Because who does it impact?" she said. "The children that you're trying to create change for."
Striking back
Teacher strikes that have swept the country in the last two years aren't coming out of nowhere, experts say.
Robert Bruno, who heads the labor studies program at the University of Illinois, says teachers in Chicago and elsewhere are reacting to decades of public policy changes including the massive expansion of high-stakes standardized testing and new laws in many states that restricted union rights.
Chicago teachers were among the first to stand up to those forces when they walked out on strike for seven school days in 2012 and staged a second one-day strike in 2016.
"They waged a strike not about wages and compensation, but about how the schools are actually going to be governed," said Bruno, who wrote a book with a colleague about the 2012 strike.
The success of that strike, he said, played a role in inspiring the more recent demonstrations across the country.
That's why Dan Montgomery, who leads the Illinois Federation of Teachers, the statewide organization that includes the Chicago Teachers Union, rejects the notion that this latest potential strike in Chicago is just a response to the Janus decision.
Janus "brought into focus for members the value of the union," Montgomery said, "but I don't think it's changed our activism."
But Katharine Strunk, a professor of education policy at Michigan State University, says it's worth noting that more nurses and librarians won't just improve conditions in schools. They will also help the union's membership to grow.
"Every time you bargain for more social workers and librarians, no matter how great and important they are for kids, you are also bargaining for more members," she said.
Chicago teachers, though, say they're using contract negotiations to fight for changes in schools because this is when they have the most leverage.
"We cannot strike over class size but I wish to hell we could," said Blake Boose, the teacher who said she had 40 students in her class last year. Like Osgood, she's a rank-and-file member of her union's negotiating team.
"Our children are suffering," she said. "We need more than living wages and decent benefits. We're talking about real equity and educational justice for our students."