DENVER — The air was so bitterly cold here on a Tuesday morning this month that public schools delayed classes for two hours.
With the temperature around 12 degrees at 8 a.m., Jacquelyn Farnsworth said her husband, an electrician who usually works outside, was assigned indoor duty.
But Farnsworth's daughter, Josephine, 3, doesn't get indoor duty. She attends an outdoor preschool that doesn't have an indoors.
Instead, the hardy kids who go to The Nursery School bundle up in layers of winter gear to head into the woods even on frigid days like this one. Several days a week, Josephine and her friends spend hours breaking sticks to build forts, digging holes in the ground and learning to wield tools — including knives and bow saws — that few American adults allow small children to use.
Their parents have embraced it.
"They're running around. They stay warm," Farnsworth said. "It gives her time to have free play with other kids."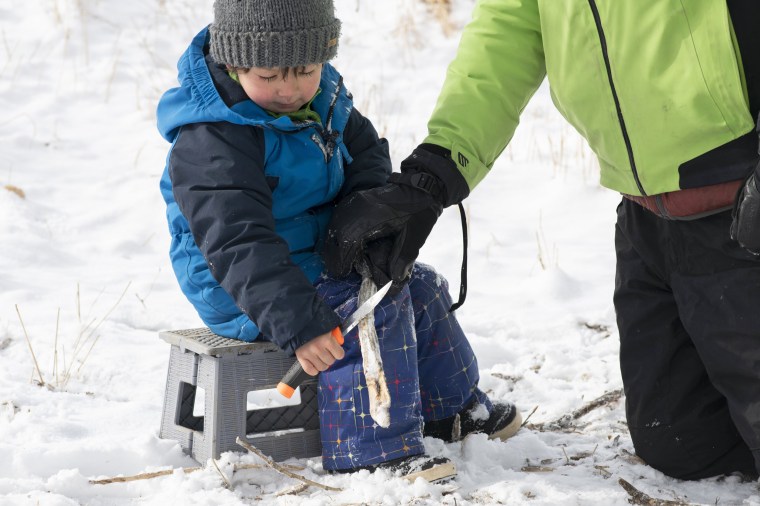 There are no laws in Colorado preventing The Nursery School from keeping children outdoors in subfreezing temperatures or showing 4-year-olds how to use a whittling knife to carve sticks into spears.
That's because The Nursery School is small enough — two groups of four students led by an instructor — that Colorado law doesn't require it to be licensed. The school's owners dropped out of a state pilot program aimed at licensing outdoor preschools after chafing against some of the state's requirements.
The school's decision to shun licensing puts it at the center of a debate confronting the outdoor preschool movement as it strives to move beyond its roots as an unconventional option for families willing and able to pay hundreds of dollars a month for their children to play in the woods.
Outdoor or nature-based preschools have expanded dramatically in recent years, from just a handful of programs a decade ago to more than 400 across the country today. But while the programs have gained in popularity, driven by parents who believe they teach independence and fortitude while promoting a healthy lifestyle, their growth has been hamstrung by state regulations that are designed to keep children safe.
Now, as outdoor preschools look for a way to expand, the schools and their supporters are pushing states to consider licensing programs, even in places where children can encounter wild animals or poisonous plants.
Licensing can be difficult, because "our system really isn't set up for that," said Christy Merrick of the Natural Start Alliance, an organization that promotes outdoor learning. She's heard of licensing agents asking traditional preschools to remove trees from their playgrounds "because the roots are a tripping hazard."
Two states — Colorado and Washington — have taken the lead on trying to bring these schools into the mainstream. Regulators there are developing rules that could lead to outdoor preschools becoming fully licensed. That could allow programs to accept state child care subsidies, which would make them more affordable, and it can ensure that as schools expand, teachers know how to operate safely. So far, regulators in the two states say there haven't been any injuries beyond skinned knees and bee stings.
Outdoor educators do not always agree with states about what's safe. The Nursery School co-founder Brett Dabb, for example, says an important part of his program is teaching children to make smart choices around fires and sharp tools — which Colorado regulators say they would never allow in preschool.
But Dabb says he's glad the conversation is beginning; he hopes schools like his become more common.
"It's about what children learn about themselves from being outside," Dabb said. "It's helping them to think critically, to navigate situations and to figure out their emotions around changing situations. It's helping them to be resilient."
Following the rules
As the snow swirled on the recent Tuesday morning and children wearing four pairs of socks and multiple layers under their snowsuits headed into the 123-acre nature preserve where The Nursery School holds its classes, Denver's other outdoor preschool, the Worldmind Nature Immersion School, started two hours late.
Worldmind, which is now the only school in Colorado's outdoor preschool licensing pilot program, adopted the same delayed start as the Denver Public Schools.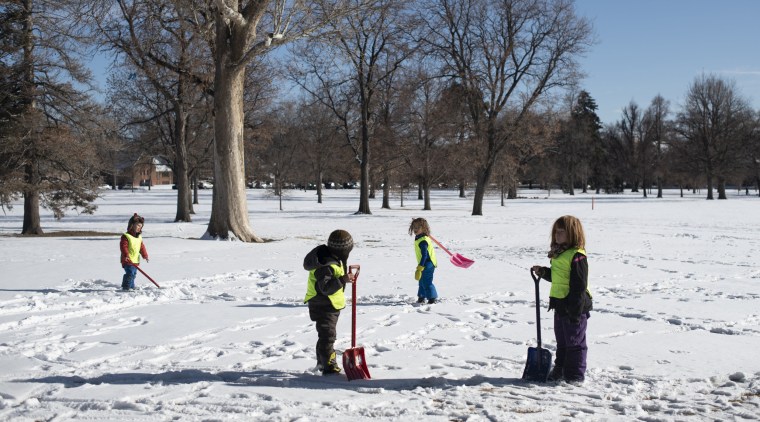 The following day, Worldmind wasn't allowed to hold classes outdoors until 11 a.m. because the morning temperature was below the 15-degree threshold set by the state. So students visited the solar system exhibit inside the Denver Museum of Nature & Science, the school's host and partner.
As a condition of the state's licensing program, the school's director, Megan Patterson, maintains an up-to-code classroom inside the museum where children retreat in the afternoon for lunch and a nap. She must comply with a long list of rules and hold regular fire, tornado and active-shooter drills — including going outside from the indoor classroom, and coming inside to escape potential threats outdoors.
To Patterson, the rules are worth it to set safety standards for new schools as they open.
"It's important to really help legitimize the movement," she said.
Outdoor preschools differ in the amount of time they spend outdoors, and in how they approach instruction.
On that cold Tuesday, The Nursery School children banged wooden pegs into the ground to help them climb a snowy hill. An instructor helped a child throw a rope over a tree branch to make a swing, and children took turns using a bow saw with Dabb — calling out "to me" whenever the saw came their way as part of the safety protocol.
"We got it!" exclaimed Rigel Martinez, 4, as he picked up a forked branch that fell when he and Dabb sawed through it. "Now we've got big antlers," he said.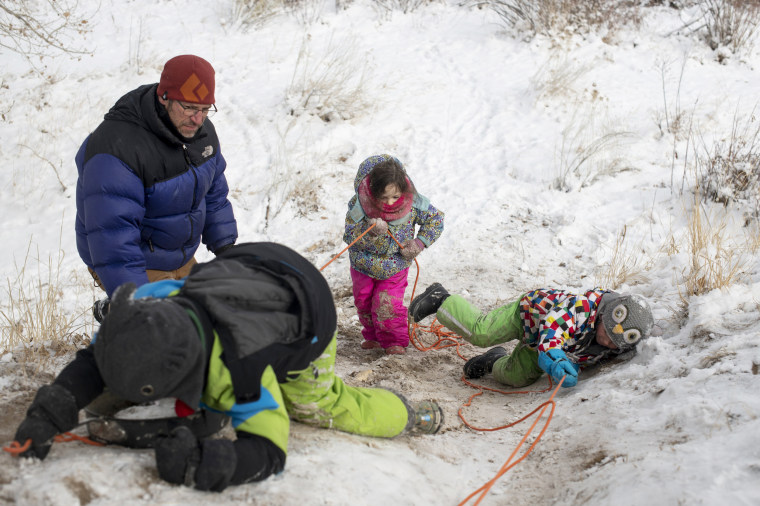 At Worldmind the next day, children spent their free time sledding down a hill near the museum and one student cleaned snow from a sculpture. But Worldmind students also do traditional preschool things like writing in journals. Storytime happens on a tarp under a tree.
Teacher Ellis Chase put rocks she'd painted to look like planets on a chalkboard on the ground so that students could put them in the right order from the sun. She later had one student stand like the sun in the middle of a circle while his friends orbited around him (though one of the planets was busy making a snow angel).
Whatever the model, supporters see these programs as the antidote to early childhood programs that ask children to sit still inside for most of the day.
"He's going to spend the next how many years behind a desk?" asked Richard Barrientos, whose son, Adrian, 5, attends The Nursery School. "Getting him more time outside where he can explore and play is pretty awesome."
To operate, outdoor schools in most of the country have two choices: They can remain small enough, or limit their hours enough, to stay outside of state licensing authorities. Or they have to comply with state rules, which means having an indoor space that students might rarely use.
At the Lime Hollow Nature Center in upstate Cortland, New York, Executive Director Glenn Reisweber said children in the center's outdoor preschool came inside only twice during September and October — both times for a fire drill so they could practice going outside.
That means he spent "a lot of money for a facility that, for most of the year, is really just a place to go to the bathroom."
That cost is a reason why many programs don't try to get a license. But that can put them out of reach for working parents who need full-day care or rely on state subsidies to afford it.
"It's really vital that programs can be licensed," said Merrick, whose Natural Start Alliance was one of four organizations behind a 2017 survey that found that enrollment in outdoor preschools is overwhelmingly white, and that they do a poor job of serving children with special needs and those learning English.
"It's time for the field to educate the regulatory community about the benefits, to look for ways to mitigate the risks."
Writing the rules
When Carin Rosa, Colorado's director of child care licensing, heard that outdoor preschools wanted to be licensed, she was initially skeptical.
"It took me a while to wrap my head around" the idea, she said.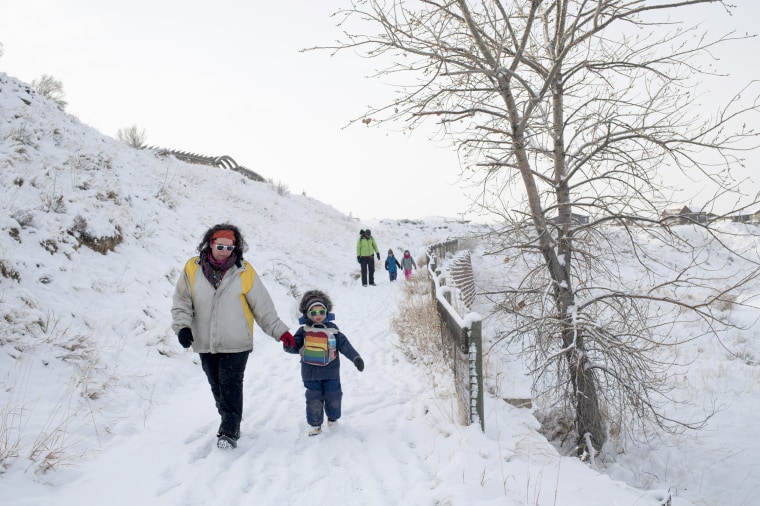 But after Washington state passed a law in 2017 mandating an outdoor preschool licencing pilot program, Rosa enlisted The Nursery School and Worldmind to join a similar pilot program in Colorado.
To align with the new rules, which Rosa developed after extensive research, Dabb and his partner in The Nursery School, Matthew Hebard, agreed to stop lighting fires and to leave their saws and knives at home. They began meticulously logging the weather and kids' encounters with animals.
But when the state pilot moved into its second phase last year, officials wanted schools to operate full-day programs to better serve working parents and insisted they maintain an indoor space for naptime and inclement weather — something The Nursery School, which offers three- and five-hour programs, doesn't have.
Dabb and Hebard called a meeting with parents, who said they didn't want an indoor space — but did want the fire and tools returned, to teach children the importance of following instructions and handling risk.
"It was unanimous," said Shannon Spezialy, whose son Shepard, 5, is a student.
"It gives him more confidence," she said of Shepard's experience in the program. "He knows how to trust himself and to trust his instincts."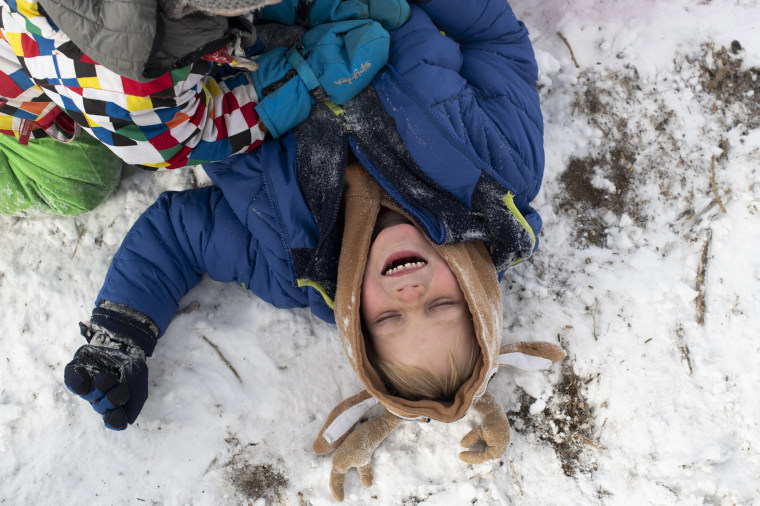 At Worldmind, Patterson had access to a classroom in the museum, so she remained in the pilot. She also launched a second site in Golden, Colorado, where she has an approved classroom inside an RV. Her programs are visited every month by state licensing agents who check her safety logs and search for potential hazards.
Washington's outdoor preschool pilot has somewhat more flexible rules. The Kaleidoscope Forest School, one of 11 programs that are part of the pilot or have applied to join, buses children to a densely wooded area for seven hours a day — more time than was allowed before licensing — with just tarps and a picnic shelter to protect them from the rain, and a portable compost toilet.
"By giving children much more time outdoors, they are going deeper into their play," said Kimberly Worthington, the president of the American Forest Kindergarten Association and an instructor at Kaleidoscope. "They're building autonomy, resilience and cultivating very strong imagination and problem-solving skills."
Washington state has 97 pages of rules for outdoor preschools, such as the teacher-student ratio for playing in water or climbing trees. Staff must have credentials in both early childhood and environmental education.
That's important as the movement grows, said David Sobel, a professor emeritus at Antioch University in New Hampshire who founded one of the nation's first nature-based early childhood teacher training programs in 2013. "They have to be good at early childhood education, and they have to be good at natural history and risk management."
Sobel said he hopes to see more training programs open in the U.S. since many outdoor educators — including Patterson, Dabb and Hebard — have had to go to Europe to train.
Sobel also hopes to see more research on the benefits of these programs. Most studies so far have been small or didn't compare outcomes for children in outdoor preschools to those in traditional programs, he said.
In Washington, Amber Fyfe-Johnson, a health researcher at Washington State University, is now doing the first large-scale study of outdoor preschools. She plans to track the health, behavior and kindergarten readiness of roughly 200 children who attend either an outdoor or a traditional program over two years.
Chase, the Worldmind teacher, says she doesn't need data to know the benefits of children learning outdoors. She has her students count pine cones instead of blocks to learn math. That inspires a science lesson, which inspires much more.
"We talk about how that's a set of seeds that come from those trees over there," she said. "It gets them connected to their environment. … It all happens naturally out here."