TO'HAJIILEE, N.M. — It was already pushing 95 degrees on a recent summer morning on the Navajo reservation of To'hajiilee, and nobody was walking on the dirt road lining the cluster of flimsy houses. Most kids were huddled inside watching TV, avoiding the heat and dust. Basketball hoops hung in backyards unused; plastic porch chairs stood empty.
At the New Mexico State University outreach center, a small building about a mile up from the town's center, there was no TV to be found. Instead, a handful of children of different ages were gazing up at a projected image of Gwen Stefani wearing a garish black-and-white headdress in her video, "Looking Hot."
"What's wrong with this picture?" asked a young woman in front of the class, with curly ombré hair and thick-rimmed glasses.
"Only men wear headdresses," one kid called out.
"It's racist," another ventured.
"That's right," agreed the instructor. "That is what we call 'appropriation.'"
This exercise is part of a weeklong program called AlterNATIVE Education, where students and alumni from Columbia University in New York travel to reservations in New Mexico and teach kids (some high school-aged, some younger) about their identity and pasts. The goal is to fill in the gaps of the students' history curriculum at their public schools off the reservation, and to introduce them to heady concepts like genocide, oppression, colonialism, and stereotypes—ideas many of the Columbia students weren't confronted with until college.
"Throughout high school, I didn't get any Native American history besides, like, the Trail of Tears and 1492," said Fantasia Painter, a recent graduate of Columbia and the woman who'd projected Gwen Stefani's headdress onto the wall. "[Here,] I get to foster the conversations I wish I could have had years ago."
As the week goes on and the kids become more invested in learning, the curriculum shifts from identity-building to encouraging higher education, an uncommon prospect for most reservation kids. The native population has a 50 percent high school dropout rate nationwide, and the lowest college enrollment rate of any minority group. To'hajiilee is one of the poorest reservations the program visits, with its unemployment rate climbing to up to 80 percent. Academic role models are scarce.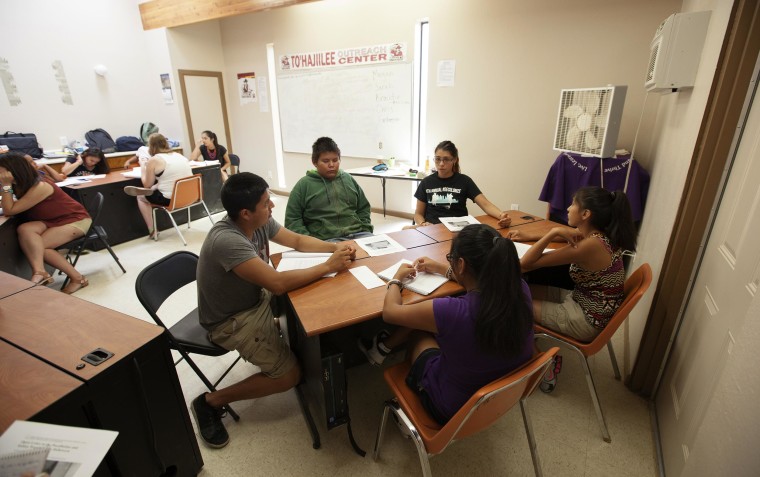 These disheartening statistics are what motivated students like Painter to develop AlterNATIVE Education in the first place. Last spring, the 12 students who enrolled in adjunct professor Dan Press's seminar at Columbia, "Approaches to Contemporary Native American Education," decided they didn't just want to study these problems—they wanted to do something about it. Most of the students were native themselves, and they weren't shy about discussing issues like teen pregnancy, unemployment, and alcoholism.
Those issues "aren't talked about in polite Indian company," said Press, an attorney who's been representing native tribes for 30 years. "There's a desire to paint a positive picture [of reservations] because there's been so much negative talk, and that's understandable. But a society that has such a high dropout rate is going to have a hard time remaining vital and successful."
The students brought the program to New Mexico last year with the help of a Facing History and Ourselves curriculum and Columbia's Alternative Break Program, which funds student-led civic engagement projects. (This year, AlterNATIVE transitioned to a full-fledged nonprofit.) To recruit students, they reached out to local schools, some of which had programs teaching kids their native tribal languages.
At the outreach center in To'hajiilee, the Columbia mentors asked the students to list Native American stereotypes, which quickly clogged the dry erase board: chiefs, feathers, drums, magic powers, turquoise, war paint, stoicism. They read a blog post about how Halloween is the natural habitat of racist caricatures— how every October 31 begets hordes of "Poca-hotties."
"Look, guys, I know what it's like to love Pocahontas," Painter, who grew up in the Salt River Pima Maricopa community in Phoenix, Arizona, told the class. "Obviously she was my favorite Disney princess, because she was most like me. I dressed up like her for Halloween, too!"
But, Painter continued, the image of Pocahontas "sits on the motherlode of stereotypes…the Disney movie is a myth. I didn't know she was this overly young child bride who gets kidnapped and taken to England and dies shortly after."
Judging by the kids' stunned faces, neither did they.
Samantha Piaso, 16, admitted later that this was the first time she'd ever talked about native stereotypes or her own identity.
"Nobody had asked me anything like this," she said. In school textbooks, "we're mentioned probably in a paragraph or two. It says Navajos lived on rural land until white people came, and then it starts going on to explain about what the settlers did, but not the natives."
Piaso said she signed up for AlterNATIVE at the urging of her aunt, and because she was "interested in learning about college" (she wants to become a doctor). Others, like Taylor Thomas, 12, thought it might break up the monotony of To'hajiilee's sweltering summer.
"I wanted to just to get out of the house," he said. His neighborhood can be "a little boring."
Piaso seems to understand the more jargony terms like "appropriation," but Thomas and the younger students in the classroom appeared a bit bewildered by the new terms. Last summer, the group was comprised mostly of high school students, but then those students told their siblings and cousins and classmates—and as a result, this year's group skewed as young as seven.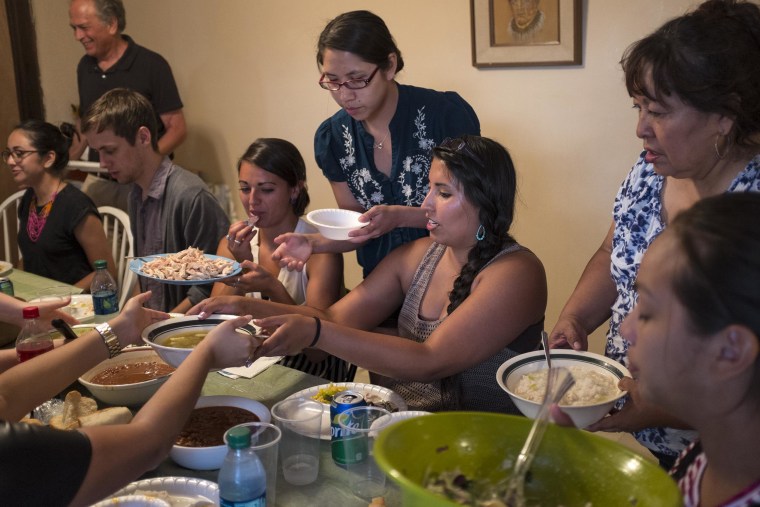 Danielle Lucero, who grew up in and teaches an AlterNATIVE program in Isleta Pueblo, an hour away from To'hajiilee, thinks the younger kids absorb more than one might think.
"They're getting the language to counteract stereotypes," she said. "They go home and explain it to their parents and friends. They have these responses that took the majority of native people years to come up with."
Press also thinks it's important to start them young. The high school students in AlterNATIVE, he said, are a self-selecting group: they're not usually the students in danger of dropping out, so much as the high-achieving, low-income students that many elite colleges fail to recruit. They're often aware of the value of college; AlterNATIVE's job is to encourage them to apply to exceptional ones.
But the younger kids "are on the cusp," Press said. "This is a make-or-break time for them."
Gloriana Jaramillo, at 12, was one of the youngest AlterNATIVE students last year in Isleta's program, and she wasn't thinking about college beforehand. She hadn't learned much about her history, either. Now, she speaks fluently about "historical trauma" and thinks she wants to be either a photographer or marine biologist.
"I learned how to stand up for myself," she said, when her peers at her high school in nearby Los Lunas made assumptions about Native Americans.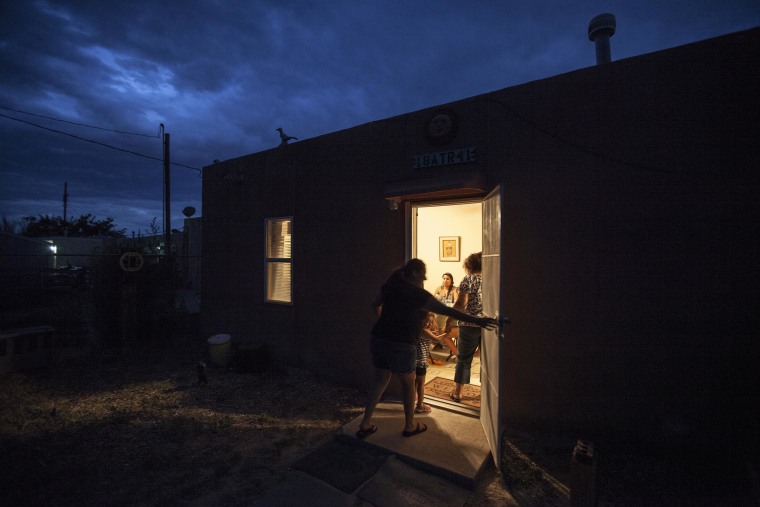 Though it also suffers from stubbornly low education levels, Isleta Pueblo is considerably more economically stable than To'hajiilee, as a result of its casino and proximity to Albuquerque. Its historical center is a charming, tourist-friendly group of adobe buildings, a sharp contrast to To'hajiilee's desolate roads. In the afternoon, an elder named Max brought the Isleta kids down to the church in the middle of town, which dates back to 1613. Max framed the church as a point of pride—many of the children go to services there every Sunday—but he also reminded them of its fraught history.
"Now we respect it, but back then [the Spaniards] forced us to build this church," he said. "A lot of our elders died making this church."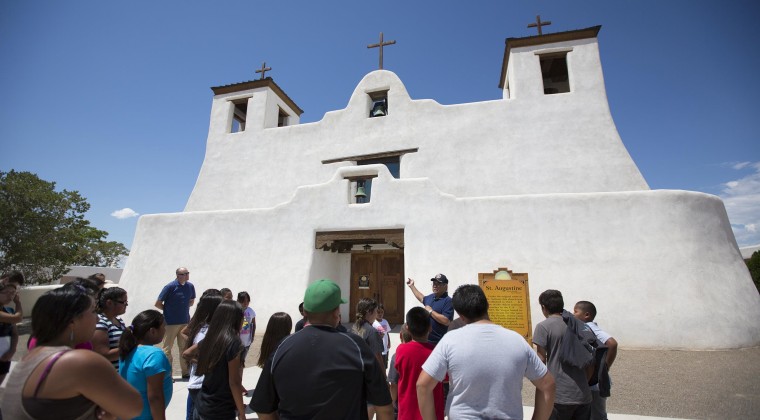 Painter said just because elements of the 19 pueblos' culture are a result of colonialism doesn't make it any less authentic. Isleta's hybrid culture shows that "native communities have grown and evolved…native history isn't just frozen in time."
Nor is it frozen in one place. Lucero said many students worry that if they go away to college, they'll lose their identity.
"I tell them, 'you take your Isleta pride wherever you go,'" she said. "Whatever you learn, you bring back to the community."
On the second night of AlterNATIVE, Lucero's family hosted a thank-you "feast" for the Columbia students who had done just that. Over pozole, frybread, beans, and zucchini-corn salad, the group gathered in a traditional adobe house in Isleta that's been in Lucero's family for more than a century, and is now used as a kind of communal home for family events and ceremonies.
Lucero's parents always encouraged her, but some of her tight-knit family resented the thousands of miles she put between them when she enrolled in Columbia with the help of the College Horizons program (an admissions workshop for Native American students). Lucero hated her first two years. She grew sick of fielding her classmates' questions about powwows and teepees. She doubted her own smarts and felt like she was abandoning her community. Her debilitating homesickness was made worse when her grandmother died her freshman year.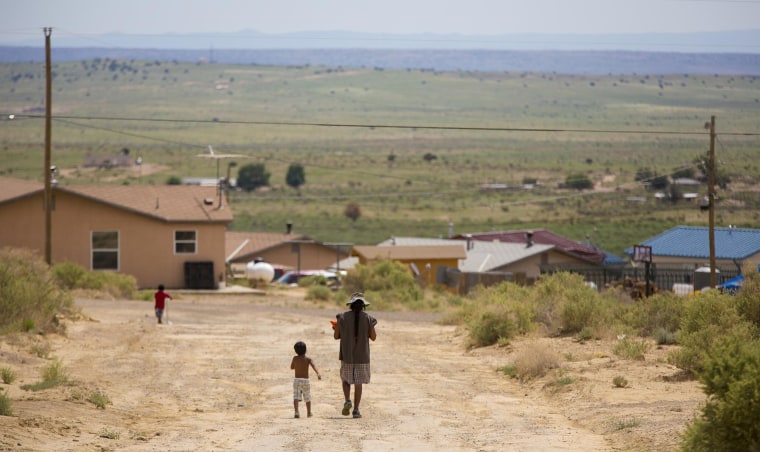 Lucero went as far as filling out transfer papers when she befriended Painter and other older students, who assured her that this was typical.
"I felt better when I heard they'd gone through the same thing," she said. "I could finally start being present in New York City and not Skyping every day with my family."
Still, Lucero knows the isolation she felt "shouldn't be normal," she said. "There needs to be more of us. That's what eventually, hopefully, we're trying to create."
Education coverage for NBCNews.com is supported by a grant from the Bill & Melinda Gates Foundation. NBC News retains sole editorial control over the content of this coverage.