When Tate Reeves stood before family, friends and lawmakers in Mississippi's ornate House chamber to take his oath of office Tuesday, he used his first speech as governor to make a promise to the state's 32,000 teachers.
"I am committed to elevating our public schools," said Reeves, a Republican. "That means a pay raise for every teacher."
Seven hours later, another Republican governor, Eric Holcomb of Indiana, used his State of the State address to make a similar promise, unveiling a plan that would direct at least $50 million toward boosting teacher pay this year.
They are among at least seven Republican governors — along with several Democrats — who have included raises for teachers among their priorities for 2020. That's on top of at least 19 teacher salary increases that came primarily from Republican governors last year.
The efforts reflect not only a strong economy, but also the fact that public support for educators has risen to levels that appeared unlikely just a few years ago.
"It has reached a fever pitch," said Lily Eskelsen García, president of the National Education Association, the nation's largest teachers union. "The public is rooting for teachers in a way I've never seen before."
For decades, as economic challenges caused belt-tightening across the country and as fiscal conservatives slashed public spending on education, conversations about teachers in statehouses tended to focus on issues like the high cost of pensions or on ways to tie teachers' pay to students' test scores.
A number of states passed laws to strip power from teachers and other public-sector unions, blaming them for high taxes and rising costs. And public employees unions suffered a financial blow when the Supreme Court, in its decision in Janus v. AFSCME in 2018, ruled that workers can't be forced to pay fees to unions that represent them.
Plenty of pundits predicted that teachers and their unions would never recover the clout they once had.
But public sentiment toward teachers began to shift two years ago, when thousands of teachers streamed out of their classrooms in such states as West Virginia, Oklahoma and Arizona to protest low salaries and other issues in schools. Teachers made compelling cases about having to take second jobs — and even donate plasma — to make ends meet, with salaries typically far below those of other educated professionals.
The resulting wave of teacher activism — dubbed "Red For Ed," in honor of the red shirts protesting teachers wear — has triggered dayslong strikes, rallies and demonstrations that seem likely to continue to reverberate this year in school districts and statehouses and even on the presidential campaign trail.
Education Next, a journal of opinion and research, has tracked a surge in support for higher teacher salaries in the last two years among both Democrats and Republicans.
"Support for increasing teacher salaries is as high as it's been," said Martin West, an education professor at Harvard University and editor-in-chief of Education Next, which has conducted opinion polls about teachers since 2008. Last year's survey found that 72 percent of respondents thought teachers should be paid more, up from 61 percent in 2017.
Many teachers say they want far more for schools than just higher salaries for themselves. Recent strikes and demonstrations have called for such things as lower class sizes and more school nurses — but those demands might be a harder sell, West said.
"There's stronger support for increasing teacher pay than for the more abstract notion of education spending," he said.
Investing in classrooms — not bureaucracy
Public opinion isn't the only reason governors are raising teacher salaries, said Dan Goldhaber, who directs the Center for Education Data & Research at the University of Washington.
When the economy is strong, teaching jobs are less attractive to candidates who can find better-paying positions in other fields. That can exacerbate hiring challenges for schools, compromising the quality of instruction and putting pressure on states to intervene — especially in the nearly two dozen states where the law sets minimum salaries for teachers.
"You hear proposals for teacher pay increases when the issue of challenges to teacher hiring has bubbled up such that it is a statewide issue," Goldhaber said.
Governors are responding because they know their states' economies depend on an educated workforce, said Amelia Chassé Alcivar, a spokeswoman for the Republican Governors Association.
"Republican governors are focused on getting funds into the classroom and not investing in a large bureaucracy, and giving pay raises directly to teachers is one way to do that," she said.
Research shows that paying teachers more doesn't necessarily improve the quality of instruction among existing teachers, but it can lead to higher-quality candidates, said West, the Harvard professor who edits Education Next.
Download the NBC News app for breaking news
Higher pay also reduces teacher turnover, West said, but that means that all teachers stay, including those who might be less effective. If governors really want their money to improve schools, he said, they should be more generous with people who work in high-need areas like special education, teach in disadvantaged schools or have demonstrated track records of success.
"A simple across-the-board pay increase is clearly not the most efficient way to use education spending to improve teacher quality and student outcomes," he said.
#RedForEd
As governors push to raise salaries, many teachers are surely rejoicing. But after decades of austerity budgets forced painful cuts on schools and districts, newly emboldened teachers and their unions are fighting for more.
They want bigger raises and more funding for programs like school social workers. They've also called for changes to charter school laws.
The governors "cynically believe that our only problem is we need a bigger paycheck," Eskelsen García said. "Absolutely, we're looking for an increase in our pay, but that doesn't solve the big problem. The trench they have dug to defund our public schools is going to take a long time to fill, and all of these Red For Ed rallies, job actions, events, strikes is all about saying this is the year you start making a down payment on these kids' future."
Eskelsen García said governors worry that their states could be the next ones targeted for wide-scale teacher walkouts and are hoping that raises will prevent them. It won't work, she said.
"Any governor that thinks he can buy off teachers by dangling a few dollars" is mistaken, she said. "'Take some pay and then you won't care what your class size is or that we laid off the librarian.' They don't get it. Our kids deserve it all. We want our kids to have everything."
Eskelsen García declined to name the governors she was referring to.
She was in Tallahassee, Florida, on Monday when thousands of teachers flooded the state Capitol to rally for more school funding. Republican Gov. Ron DeSantis last year declared 2020 the "Year of the Teacher" and announced two proposals to raise teacher pay, but teachers have objected that one proposal would benefit only first-year teachers. The other is tied to something many teachers dislike, a school grading system driven by test scores.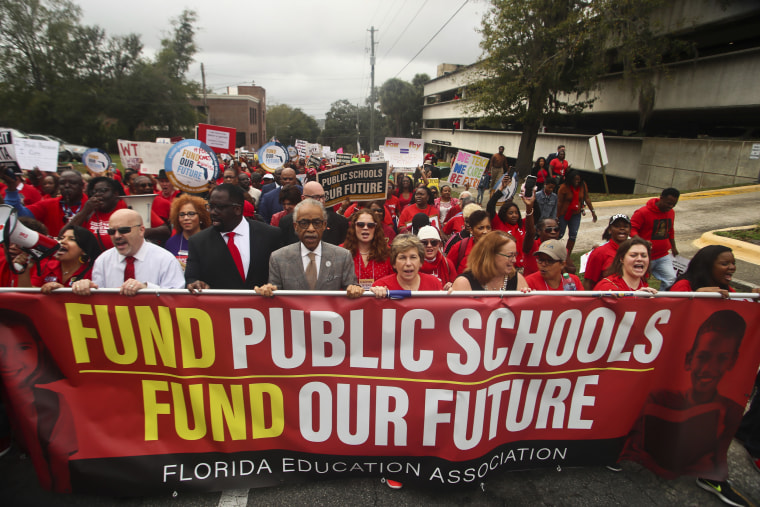 DeSantis' office didn't respond to a request for comment.
Chassé Alcivar of the Republican Governors Association pushed back strongly against the notion that Republican governors have cynical motives for raising teacher pay.
"If teachers union operatives want to find themselves in the position of arguing against teacher pay raises, all I can say is good luck explaining that to their members," she said. "Saying any amount of across-the-board raises for teachers is a negative thing or questioning the motives doesn't seem like they're advancing the interests of the teachers they represent."
She said that in North Carolina, teachers have so far received no raise at all after Gov. Roy Cooper, a Democrat, vetoed a teacher raise backed by the GOP-controlled Legislature in November because, he said, the 3.9 percent average raise over two years was too "paltry." Cooper says teachers will get a bigger raise in the long run, but, for now, Chassé Alcivar said, they have "partisan gridlock."
Teachers get political
The fact that teachers are so fired up demonstrates that unions, which since the Janus decision have had to persuade members to pay their dues voluntarily, have turned the lemons of the court ruling into lemonade.
Unions have ramped up activities to "showcase their value to their membership, to say, 'Hey, we exist, we're fighting for you as teachers,'" said Brad Marianno, a professor who studies teacher labor policy at the University of Nevada, Las Vegas.
And some politicians are tapping into that energy.
When Democrat Andy Beshear narrowly won the Kentucky governor's race in November, he gave the credit to teachers. "To our educators, this is your victory," he said.
Teachers volunteered en masse for Beshear's campaign in part because his opponent, incumbent Republican Matt Bevin, had clashed with educators over pension reform, school budget cuts and other policies. During Beshear's inauguration last month, he named teachers the grand marshals of his parade, and many educators wearing red shirts lined the parade route.
Teachers are also becoming more political in response to decades of education policy — encouraged by Presidents George W. Bush and Barack Obama — that hold teachers and schools more accountable for student test scores. In some states, that meant that low-performing schools were closed and that teachers' evaluations were increasingly tied to scores. Many schools implemented extensive test prep programs that became unpopular with parents and teachers of all political stripes.
"We've just kind of reached a breaking point where teachers realize that if we don't use our voice and if we don't stand together collectively, we're not going to be able to move the needle," said Nathan Blevins, an eighth-grade social studies teacher in Indianapolis who participated in a large Red For Ed rally at the Indiana Capitol in November. "It's just reached a point where we need to stand up together."
Some of the political forces that pushed the proposals are no longer in power in either party, said Leslie Finger, a lecturer on government and social studies at Harvard University, and teachers are feeling more empowered to stand up to them.
That's one reason the pay issue has become so popular, Finger said. It doesn't attract the same partisan division, making it a safer choice for politicians.
"Education spending is not a bipartisan issue," Finger said, "but raising teacher salaries has become one."