DUCKWATER, Nev. — On an early October morning, the Duckwater School's three third grade students discussed why Pueblo Indians may have lived in cliff dwellings at the Grand Canyon. Maybe, one girl suggested, it was to keep warm.
"And maybe to keep safe so they don't get eaten by mountain lions," added her classmate, 8-year-old Jackson Bradshaw.
A few feet behind them, in the same classroom, four older students — the school's only sixth and seventh graders — sat at a table and quietly answered reading comprehension questions on a short story.
Lyn Huston, 53, the sole teacher at Duckwater, walked around the room, checking on each of the older students. Then she went back to the third graders. "So what did you decide?" she asked.
Only 16 students attend the Duckwater School, an updated version of a frontier days relic: the one-room schoolhouse. The students at the school, which has been open for 65 years, range from pre-K to eighth grade.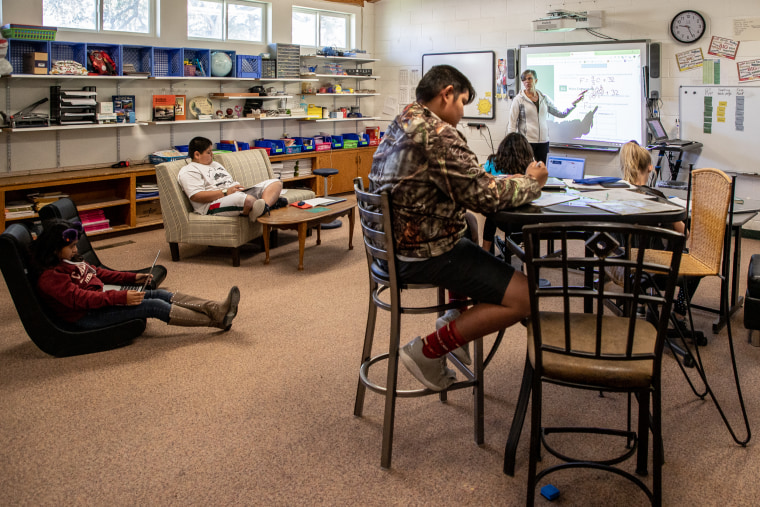 The Duckwater School is the only public school for at least 45 miles in any direction. It lies between mile markers 16 and 17 on an empty stretch of Nevada State Route 379 in Nye County. The closest grocery store or gas station is more than an hour away. For a handful of children living in this remote stretch of central Nevada, the school offers not just the only opportunity to learn in a classroom, but also a chance to be part of a community.
"I don't get out much, and when I come to school I have something to do and learn," said Derik Calton, 13, the school's only eighth grader, who lives on the nearby Duckwater Shoshone Tribe Reservation. "And I really like getting to see my friends."
Less than 200 public schools in the United States have only one teacher, down from about 200,000 in the early 1900s, according to a 2017 report from National Center for Education Statistics. Most of the remaining one-room schoolhouses are in sprawling states with large rural areas, such as Nevada, Wyoming and Montana.
In Nevada, these schoolhouses are scattered in sparsely populated mining and ranching communities, which are too small to create traditional elementary, middle and high schools. Some families in these areas choose to homeschool or enroll their children in online schools, but that may not be an option for working parents.
"Just because we live in these small communities doesn't mean our kids should be at a disadvantage," said Jeni Dick, whose three daughters attend the Duckwater School. "We actually have it better than some big cities because of our small classroom sizes and better relationships with our teachers, so our kids aren't just numbers — they matter."
There are some downsides for the students being in such a small, remote school. There are no sports teams to join, no Boy Scouts or Girl Scouts troops or after-school clubs. But Huston is inventive in providing the students with extracurricular activities. One year, she found a woman in Kansas City to give violin lessons to some of the students via Skype. The school has a piano and offers lessons after school with a teacher in California using Facebook Messenger.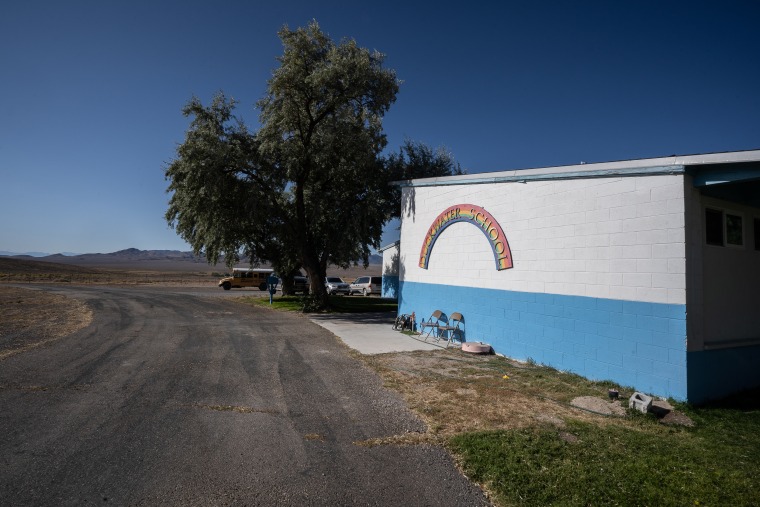 This year, the Duckwater School's elementary portion received five stars from the Nevada School Performance Framework, the state's highest rating for public schools. It is the first school in Nye County to receive the five-star ranking, which is based on factors including students' standardized test scores.
"This is a testament to personalized learning," said Dale Norton, superintendent of the Nye County School District. "Bigger doesn't always mean better."
The district has just 5,300 students, but it is geographically the largest in the lower 48 states, stretching 18,182 square miles. While it's cheaper to educate students through online courses, Norton is determined to maintain in-person classes for as many children as possible. Three years ago, the district opened a one-room K-8 school on a ranch after the community requested it.
"My commitment to keeping those doors open is the actual eye-to-eye contact and the relationships that developed over the years in those communities," he said. "I'm a firm believer in the fact that the socialization part of school is important."
'A lot of different hats'
Built in the early 1950s, the Duckwater School sits on a hill, bordered by several large Russian olive trees. Behind the blue and white concrete building, the Pancake Mountain Range serves as a backdrop to the swings and slide on the playground. Inside, there are three small rooms and two bathrooms.
Some years, the school has had as few as six students, while in others it's had as many as 22 or 23. Most live on ranches or the Duckwater Reservation, with some traveling less than 20 minutes and others more than an hour to get to school.
While Huston is the only teacher, she has two aides who work with the students in small groups. One aide doubles as the school's bus driver, while the other is also the custodian.
"We all have to wear a lot of different hats to keep things running," said Randi Bradshaw, 38, who is a teaching aide for the first-through-third graders and the custodian. She's also a parent — her children, Jackson and Bailey, 11, attend the school.
On a recent morning, Huston began a math lesson in the main classroom for fifth and sixth graders on calculating surface area and volume, while three seventh and eighth graders worked together on math assignments from the day before, helping one another when they struggled.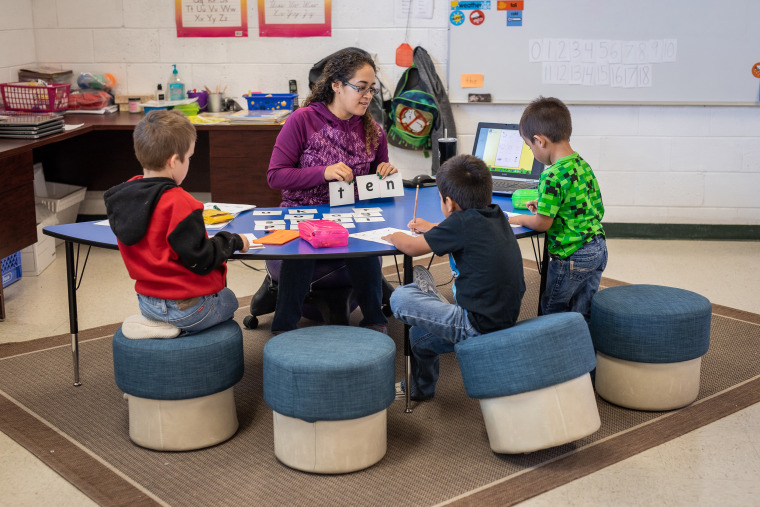 Meanwhile, Bradshaw taught multiplication and simple arithmetic to the first and third graders in a room that is also the library. Yajaira Lazos, the other aide, worked on counting with the youngest children in another classroom that also serves as the cafeteria. Huston said the school's environment encourages students of all ages to work independently, without constant monitoring from adults.
"Our kids just learn to get things done and that their behavior is key to getting those things done," she said.
The classrooms have an open floor plan, and the children can sit where they choose. The furniture is a mix of district-provided equipment and Huston's garage sale finds and donations, which makes the space feel more like a living room than a classroom.
The older children understand that they're models for the younger ones and often help them with their assignments, or with heating up their lunches in the cafeteria microwaves. They even encourage the younger kids to pay attention when they get rowdy.
"A lot of times they don't understand and we've done it before, and it would be rude to not help them," sixth grader Bailey Bradshaw said. "They are my friends and it's such a small school, so you just help your friends."
Growing teachers
Huston comes from a long line of teachers — her mother and grandmother both taught in one-room schoolhouses.
Growing up in rural Wisconsin, though, Huston wanted to be a nurse. But when she struggled with anatomy classes in college, her professors and parents finally convinced her to go into teaching.
"And now I can't see myself doing anything else," she said.
Huston moved to Nevada in 1991 to work at a one-room K-8 tribal school on the Duckwater Shoshone Reservation, not far from the Duckwater School. She spent eight years there before moving to Las Vegas for a job teaching fourth grade at a much larger school.
That was a tough year for Huston. She had 40 students and never felt like she had the time to connect with them. Huston missed working with children one-on-one.
As it happened, the teacher at the Duckwater public school was retiring the next year. Huston applied and got the job. She moved back to the area with her three children — all of whom attended the school — and started in the fall of 1999.
For many years, she had no teaching aides, making it difficult to juggle the varying grade levels in years when she had larger class sizes. She had to make sure the kindergartners were learning to read without letting the older children fall behind. And even if she didn't feel well, she still came to school, not wanting to cancel classes.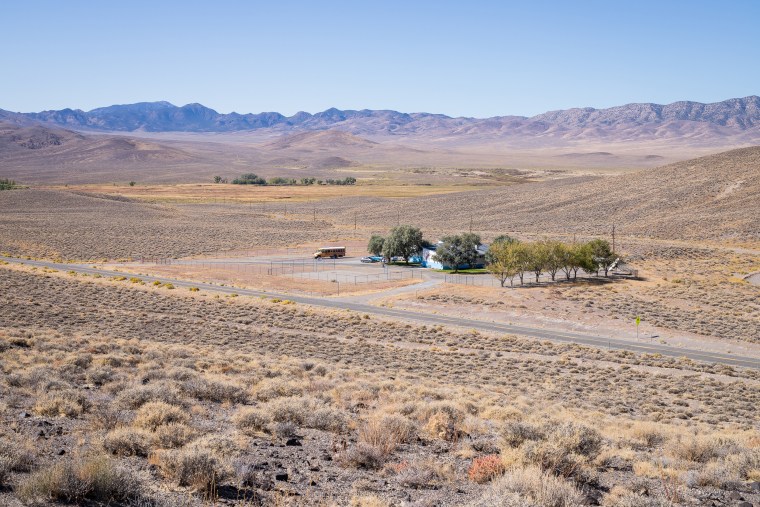 "I would just bring in a blanket and pillow to school and teach lying on the floor," she said. "And a bucket to throw up in if I had to."
Norton, the district superintendent and a former principal, said he has increased funding over the years to provide additional staff to one-room schools, but it is still a challenge to find and retain teachers to work in rural communities. Lower pay, limited housing options and general isolation can deter many from taking the jobs. The district has gotten creative in finding solutions. When there is a bus driver shortage, even Norton, who has a commercial driver's license, will take the wheel to get students to school.
Norton said his best option is hiring those who graduate from the district's schools. Former students are now working as the district's head bus mechanic and in the administrative offices. One year, he hired one of his former students as a teacher the day after the young man graduated from the University of Nevada, Reno.
"The more we can grow our own, the better off we are," Norton said.
Lazos, 27, one of the Duckwater aides, is also a former student. She began attending the school when she moved to the area in fifth grade, and Huston was her teacher. She had always wanted to be a kindergarten teacher, and now she's glad to have the opportunity to do that while still living in a small, rural community. She's also grateful to be teaching alongside Huston.
"She's still my teacher," said Lazos, whose two daughters attend the school.
'We become a family'
When Bentlee Collins started attending Duckwater at age 3, through the state's early intervention program, he was barely speaking. Bentlee underwent a series of open-heart operations as an infant, and his mother says the stress of the surgeries on his small body caused him to experience speech delays.The Duckwater School was the only public school nearby that could take Bentlee as a student and offer him speech therapy.
Halfway through his first school year, after speech therapy and playing with the other students, he was speaking full sentences, said his mother, Shalene Mike-Collins.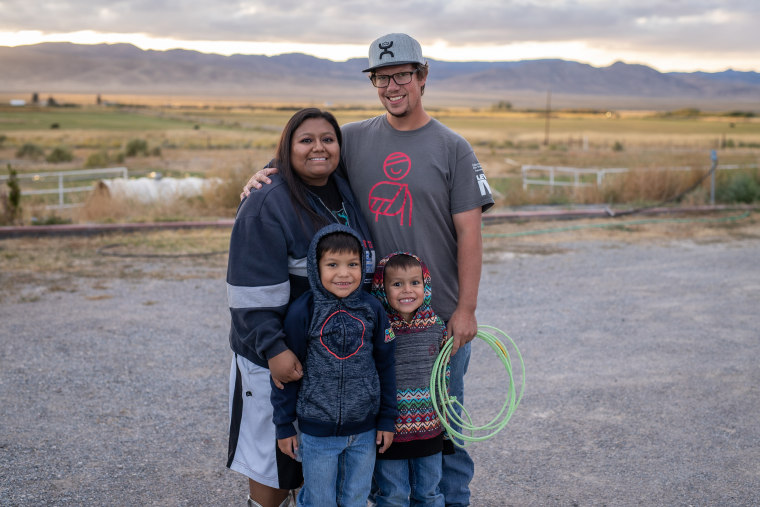 "It was amazing," Mike-Collins, 35, said. "I think it really helps that there are older kids at the school and he has to interact with them and express himself."
On a recent afternoon, Bentlee, 5, had a speech therapy session with a specialist in Pahrump, a town about 300 miles away, via Google Hangouts.
Huston needed to teach writing to older students in another classroom, so she assigned Sadirah White, a lanky and rambunctious sixth grader, whom everyone calls Monk — a nickname she got as a toddler because her parents thought she climbed like a monkey — to monitor Bentlee's session.
Monk sat behind Bentlee, completing a worksheet on indirect and direct objects, while he went through his 20-minute speech lesson. She took the task seriously, glancing up to tell Bentlee to sit up straight or stop shifting in his chair. When he was done, Monk told him he did a good job.
In the other room, Huston was confident that Monk was taking care of Bentlee.
"We become a family that has a lot of interest in the success of each member, and we become a family who has an interest in each person's well-being," Huston said. "Every person has value."