This article about college towns was produced by The Hechinger Report, a nonprofit, independent news organization focused on inequality and innovation in education.
ANN ARBOR, Mich. — Unencumbered by jubilant students snapping selfies in their caps and gowns, absent the usual bumper-to-bumper caravans of out-of-town vehicles and free of swarming crowds in maize and blue, a pedestrian could do what would otherwise have been unthinkable on a University of Michigan graduation day: walk the length of Main Street downtown without breaking stride.
As many as 50,000 visitors usually flock to Ann Arbor for the spring commencement ceremonies. Instead, this month, "Sorry, we're closed" signs hang on the many storefronts shut in response to the statewide lockdown to curtail the spread of the coronavirus pandemic.
No celebrating diners filled tables that had been reserved as much as a year in advance; just a few people in masks picked up to-go orders at the handful of restaurants that offered them.
The campus, typically teeming with the energy of thousands of students hustling through final rituals and showing the sights to their proud families and friends, was silent. The students had been sent home six weeks earlier.
"It's a gorgeous ghost town," said the author John U. Bacon, a lifelong Ann Arborite and graduate of the university, which is projecting pandemic-related losses of as much as $1 billion across its three campuses by the end of the year.
In another measure of the massive economic toll of the pandemic on higher education, the shutdowns have devastated the towns in which these campuses are situated.
Some are already reporting massive losses for community services such as public transportation and freezes on projects including hospital expansions. In Athens, Ohio, home of Ohio University, businesses — including those remembered with nostalgia by generations of students — said in a survey in early April that they couldn't hold out beyond a few more months.
Related: What has happened when campuses shut down for other disasters? A coronavirus case study
"For a lot of those smaller businesses, whatever sector you're in — the bookstores, the restaurants and bars — I think they're going to have a real difficult time being able to weather through a long-term change in the populace," said Steve Patterson, the mayor of Athens and a board member of the International Town & Gown Association.
The fiscal fates of colleges and college towns are closely intertwined, said Marguerite Roza, director of the Edunomics Lab at Georgetown University, a research center focused on school finance. Municipal agencies can't easily scale up or down based on population changes, Roza said. "The college town doesn't have the same scope or capacity without the college."
In Amherst, Massachusetts, home to Amherst and Hampshire colleges and the flagship campus of the University of Massachusetts, revenues collected from September to May keep the doors open and the lights on for local businesses and government services.
"I'm not sure folks realize how much of an economic hit these small towns are going to take, and how much our towns are going to change as a result," said state Rep. Mindy Domb, a Democrat, whose district includes Amherst.
Related: Desperate for students, colleges resort to previously banned recruiting tactics
This year's canceled commencement ceremonies alone cost the town about $3 million in revenue, Amherst's chamber of commerce estimates. Even if the area's postsecondary institutions reopen for face-to-face classes but limit students' off-campus activities, "that will create big challenges for our local retailers," Town Manager Paul Bockelman said.
In Massachusetts, more than 100 communities are home to a university or a college, said state Rep. Jeffrey N. Roy, who is the House chair of the state legislature's Joint Committee on Higher Education. With enrollment down even before the coronavirus crisis, nearly 20 Massachusetts colleges have merged or shut down since 2014, Roy said, taking a huge toll on their communities.
What's happening now, he said, "really ups the ante for everyone involved."
Full coverage of the coronavirus outbreak
In Ithaca, New York, home to Cornell University and Ithaca College, the city and surrounding Tompkins County are grappling with the sudden departure of 25,000 college students and the $4 million per week they contributed to the local economy.
In Ames, Iowa, students at Iowa State University account for about half the city's 67,000 population. The number of daily bus riders has plummeted to about 1,000 per day from a pre-pandemic average of 33,000, and officials are predicting a citywide budget shortfall of more than $9 million.
Related: Biggest gap year ever? Sixteen percent of high school seniors say they'll take a gap year
In Athens, where students account for nearly three-quarters of the 24,000 people normally in town, almost 19 percent of businesses surveyed by the chamber of commerce said they could survive only another one to two months of a community lockdown. Another 36 percent said their breaking point would be between three and five months.
The city's tax revenue is already down about $175,000 from the same point last year, according to Patterson, the mayor. "That's just through the month of April," he said. "We have no idea how bad things are going to look after May."
Art Oestrike, an Ohio University alumnus and owner of Jackie O's Pub & Brewery, which has several locations in Athens, said he had laid off nearly half of his 120 employees as a result of the pandemic. He's hoping for a quick return to face-to-face learning.
"A lot of our economy is based on students being here," said Oestrike, who is also an assistant professor of instruction in the English Language Improvement Program at his alma mater.
The cuts that universities themselves are beginning to make will also take a toll. Some are freezing salaries and hiring, and a few, including Ohio University, have announced layoffs. The University of Michigan medical system has furloughed workers and halted construction on a new hospital.
In Ann Arbor, students contribute an estimated $95 million a year in discretionary spending to the local economy, not counting housing and groceries, according to the university. A single football game generates as much as $12 million in spending by visitors, according to Destination Ann Arbor, the city's convention and visitors bureau. Of the nearly 3 million visitors to the city in 2018, nearly 6 out of 10 had some relationship with the university, and almost 30 percent came for the university's athletic events.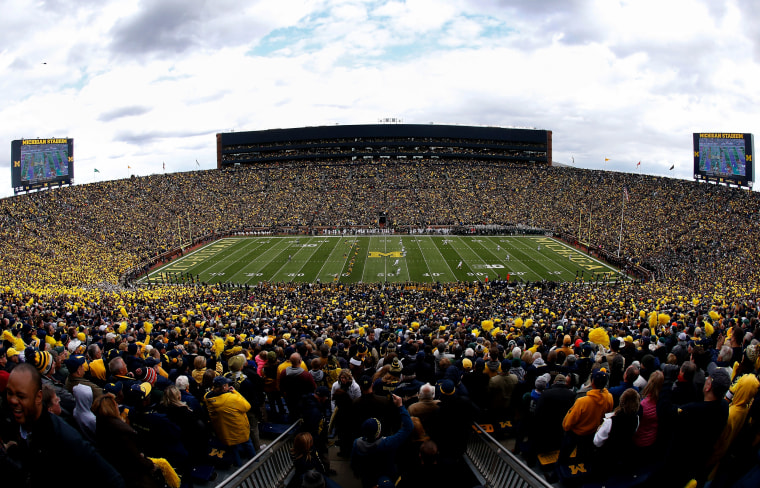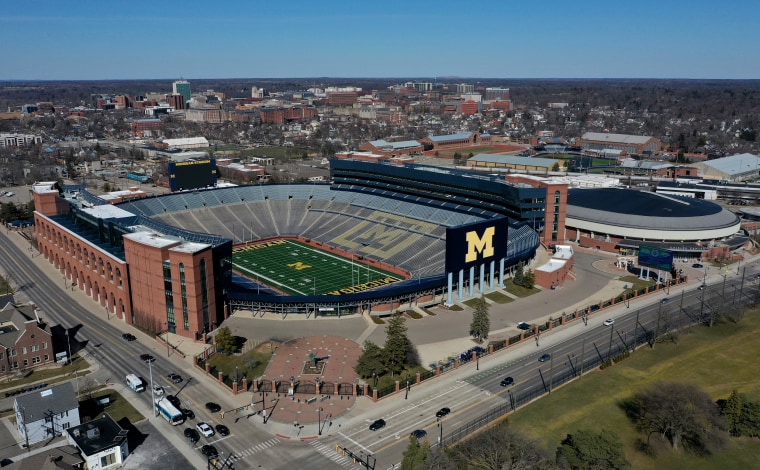 While University of Michigan President Mark Schlissel has said he's "cautiously optimistic" students will return in the fall "with as much in-person instruction as possible," the university's athletics director, Warde Manuel, said it's highly unlikely that the football season will proceed unless the campus has been reopened to all students, and not just the athletes.
Related: How the last recession affected higher education. Will history repeat?
The last time the University of Michigan's football schedule faced this level of disruption was during the 1918 flu pandemic, when the team played only five games but won all five, earning them the national title.
In normal times, home games, combined with the city's annual summer art fair and holiday spending, might cover a local business's expenses for the entire year, said Bacon, the local author, who has written four books on college football. College towns nationally tend to have more small, independent businesses, and "we like it like that," he said. But those same small businesses are also more vulnerable than chains. "I'm rather confident, sadly, that some of my favorite places in Ann Arbor are going to be gone in a year."
The uncertainty of the pandemic's timeline is further complicating matters. It's too soon to tell how bad it's going to be anywhere, including college towns, said Ari Weinzweig, co-founder of Zingerman's, an Ann Arbor institution that began with a deli in 1982.
The company — which now includes three restaurants, a mail-order business, wholesale bakery, coffee roasting, food tours and event spaces — has cut its staff from more than 700 to about 500. Weinzweig estimated sales are at about 40 percent of pre-pandemic levels and said he expected annual revenue to fall by about $30 million.
"I don't think there's a restaurant in the country that's not concerned for its survival — and there's a lot that are smaller than us that are going to be more challenged," he said.
Download the NBC News app for full coverage and alerts about the coronavirus outbreak
But Weinzweig said he's equally worried about the toll the disruptions are taking communitywide.
"It's not just restaurants — it's shoe stores, it's hair salons, it's pet care places. It's everybody."
Sign up for The Hechinger Report's higher education newsletter.