Eight states and several large school districts, including those in Los Angeles and San Diego, have closed public classrooms for at least the next two weeks because of the widening coronavirus outbreak, but the nation's largest district — New York City — and the rest of New York State have yet to pull the trigger.
For parents and officials worried about children catching or spreading the virus, that decision has caused dismay and strong criticism. But others want schools to remain open so they can keep providing school lunches and other social services. They fear many parents will be unable provide child care for students stuck at home.
On Twitter, many parents of students who attend New York City public schools, which serve about 1.1 million children, vented their frustrations and concerns using the hashtag #closenycschools.
Several elected officials in New York also support a citywide closure of schools, with City Council Speaker Corey Johnson calling for a plan that "includes childcare relief for families who need it so that our essential workers, especially healthcare workers, can continue with their duties."
City Councilman Justin Brannan echoed the need for a plan that helps families who "rely on our public schools for more than learning, like food, laundry, and heat."
Earlier, New York Mayor Bill de Blasio told NBC News that "the danger of going to a full shutdown is it will degrade not only people's lives on a host of matters, including their health and safety and other ways."
The issue that city officials and de Blasio's office are struggling with is who will take care of the children if they're home and what will it mean for parents.
"That includes a lot of parents we depend on — first responders, health care professionals — it's a very slippery slope," de Blasio said.
But only 68 percent of students showed up for class Friday, a steep drop from earlier in the week, de Blasio said.
Full coverage of the coronavirus outbreak
For now, the city is shutting down specific schools that have a connection to a positive coronavirus case, which is already happening in parts of the Bronx and Staten Island.
"We are going to do our damnedest to keep the schools open," the mayor added.
New York State now has the most coronavirus cases in the country with 421 and 154 of those are in New York City, the governor's office announced Friday.
But New York Gov. Andrew Cuomo also appeared skittish about closing schools, as Kentucky, Maryland, Michigan, New Mexico, Ohio, Oregon, Pennsylvania and Virginia are doing.
Cuomo said Friday on MSNBC that closing schools remains a local decision, "unless you have a child who tests positive, and then we close the school for 24 hours to clean the school and assess the situation."
He added that it's not a "no-brainer" to close schools because many students depend on their schools for breakfast or lunch. Previously, about 75 percent of city public school students were eligible for free or reduced-price lunches, although in 2017 the city made lunch available for free to all students.
In addition, Cuomo said, there is a concern that if parents who work in the health care field are forced to stay home to watch their children, it would place a strain on available workers during a time when more people are seeking medical attention because of the coronavirus.
"You close the schools, it triggers another set of issues," the governor added. "It's something we're looking at on a daily basis, but it's something not without negative consequences."
Michael Mulgrew, president of the United Federation of Teachers, the city's teachers union, said in a statement Friday that he supports closing public schools.
"We don't suggest this lightly," he said. "We understand the immense disruption this will create for our families. But right now more than a million students and staff crisscross the city every day on their way to schools, putting themselves and others at risk of exposure and increasing the likelihood of bringing exposure into their homes and communities."
Student advocate groups said they understand the delicate balance officials are dealing with when choosing between closing schools because of health and public safety and making sure students still have access to education and necessary social services, such as meals.
But just because schools must close doesn't mean children can't get free lunches. Several states, including Washington, California, Pennsylvania and Maryland have received waivers from the U.S. Department of Agriculture to bend the rules for allowing students to grab their lunches from a pre-approved site and take them home.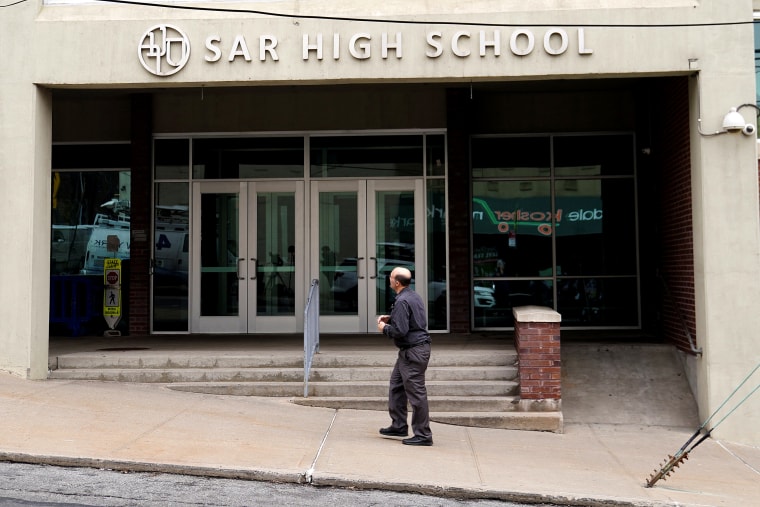 Joel Berg, the CEO of the nonprofit Hunger Free America, said he agrees with de Blasio's decision to keep schools open until there's a better alternative that makes sense.
In New York City, he added, students often don't live near their schools and have to travel long distances via public transportation, which needs to be taken into consideration if schools are closed and children need access to meals.
"What crises like these do — what [Hurricane] Katrina did and what [Superstorm] Sandy did — was rip the Band-aid off the wounds, and everyone was able to see these festering, underlying disparities in America," Berg said. "The 37 million Americans who are food insecure already knew that, and will see that again, but for everyone else it was an eye-opener."
Recent studies have shown that about 1 in 10 of all New York City students enrolled in public schools don't have permanent homes.
The financial fallout from the coronavirus on families in which parents might lose their jobs because businesses are closing or work is temporarily halted could have a devastating effect, said Jasmine Gripper, executive director of the Alliance for Quality Education, an Albany, New York-based group that advocates for educational equality.
She said the fact that families with children in public schools are having to worry about child care and many parents don't have the option of working from home if they want to collect a paycheck "exposes how inadequate and inequitable our system really is. There's so many haves and have nots."
While some school districts can offer laptops and distance learning options, some public school students don't even have access to the internet other than a smartphone, she added.
One option being discussed for closing schools is modifying the school year to include summer classes so that students are't being further left behind in their education, Gripper said.
But ultimately, she said, closing schools can't be done in a silo. She'd like for officials to stop home evictions, put a freeze on mortgages and rents or other ways to ensure people aren't harmed financially all because they have to stay home to watch their children.
"The poorest New Yorkers who are already living on the edge are the ones who are going to suffer the most," Gripper added. "Are kids going to fall into homelessness because their parents aren't going to work now? We need to make sure those at the bottom don't fall farther down while those at the top are only feeling a little pinch."