LONDON — Commercials depicting women clearing up a mess made by the family, or men trying and failing to do housework, could soon be off-limits in the United Kingdom, according to new rules proposed by the country's advertising authority on Tuesday.
A new report looking into gender stereotyping, by Britain's Advertising Standards Authority, has concluded that "a tougher line needs to be taken on ads that feature stereotypical gender roles... which, through their content and context, may be potentially harmful to people."
The report was prompted by public outcry against a 2015 ad by Protein World that featuring a woman in a bikini and the tagline: "Are you Beach Body Ready?"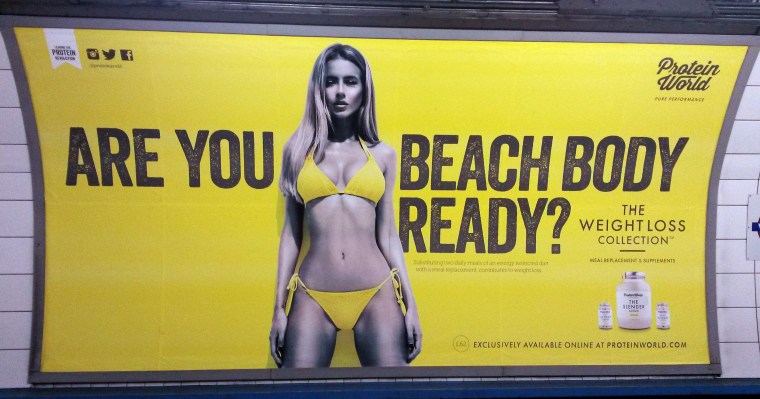 The authority said they received nearly 400 complaints about the ad but found in an investigation that it didn't break any rules at the time.
More than 70,000 people signed a Change.org petition to remove the ads at the time. The also led London Mayor Sadiq Khan to ban body-shaming advertisements on the city's public transportation last year.
Current advertising rules in the U.K. prevent ads from causing harm and serious offense — including on gender issues — and require them to be socially responsible, but the guidelines do not currently cover gender stereotypes.
The authority was careful to note that the new standards aren't there to ban all forms of gender stereotypes.
"Whilst the majority of gender stereotypes in ads are not harmful, some are, which is why we have made the case for change," the authority said in a statement to NBC News.
The report noted that young children in particular need protection from gender stereotypes and that there is "significant evidence that gender inequality leads to real-world harms for adults and children."
In the U.S., the Federal Trade Commission is in charge of setting advertising standards and takes a strong line on truth in advertising, but has no guidelines on gender stereotyping.
"It's right and proper that we are responsible when we are reflecting society in advertising and that we don't reinforce old fashioned stereotypes and images," said Paul Bainsfair, director general of the Institute of Practitioners in Advertising, a British trade group that represents the industry.
"The CAP [which develops the advertising standards] has long and successful history of interpreting guidelines that industry feels comfortable with," he said.