LONDON — British lawmaker David Amess was stabbed to death Friday while holding a regular meeting with constituents, police said, in a killing that has shaken the nation and been declared a terrorist incident.
Police said they have arrested a man, aged 25, on suspicion of murder and recovered a knife.
Officers from the United Kingdom's specialist counterterrorism command unit are leading the investigation and announced they had formally declared the incident an act of terrorism.
"The early investigation has revealed a potential motivation linked to Islamist extremism," the Metropolitan Police said in a statement released early Saturday morning local time.
Amess, 69, was stabbed repeatedly while holding meetings with voters at a Methodist church in Leigh-on-Sea, a coastal town about 30 miles east of London, according to police.
Amess, who is survived by his wife, Julia Arnold, and their five children, was praised as a committed public servant and "one of the kindest, nicest, most gentle people in politics," Prime Minister Boris Johnson said in a statement later Friday.
"David was a man who believed passionately in this country and in its future, and we've lost today a fine public servant and much loved friend and colleague," Johnson said.
The incident carried echoes of the 2016 murder of Labour lawmaker Jo Cox by a far-right extremist. Cox was shot and stabbed in the street in Birstall, a village in north England, where she had been due to hold meetings with constituents.
On Friday, emergency services were called to reports of a stabbing at the Methodist church just after midday local time (7 a.m. ET) and arrived within minutes, Essex Police Chief Constable Ben-Julian Harrington told a press conference later Friday.
"When they arrived they found Sir David Amess MP, who had suffered multiple injuries," he said, using the full title of the lawmaker, who was knighted in 2015. Paramedics "worked extremely hard to save Sir David. Tragically he died at the scene."
The suspect was arrested on suspicion of murder "immediately" and remains in custody, the chief constable said.
Metropolitan Police believe he acted alone and are not seeking any other suspects, but say the investigation is ongoing.
Photographs from the scene showed police holding automatic rifles and wearing body armor guarding the door of the church, which was behind police tape. At least two police cars and two ambulances were at the scene.
Essex Police have appealed for anyone to contact them who may have captured the incident on doorbell cameras or dash-cams.
Lawmakers from across the political spectrum reacted in horror.
Health Secretary Sajid Javid posted he was "devastated to learn of Sir David Amess' murder."
Michael Gove, a senior member of Prime Minister Johnson's government, described the news as "heart-breakingly sad. Just terrible, terrible news." He described Amess as "a good and gentle man, he showed charity and compassion to all, his every word and act were marked by kindness."
Carrie Johnson, the prime minister's wife, tweeted that Amess "was hugely kind and good."
"Absolutely devastating news," she wrote, calling him "an enormous animal lover and a true gent."
Keir Starmer, leader of the opposition Labour Party, said in a statement that it was "a dark and shocking day. The whole country will feel it acutely, perhaps the more so because we have, heartbreakingly, been here before."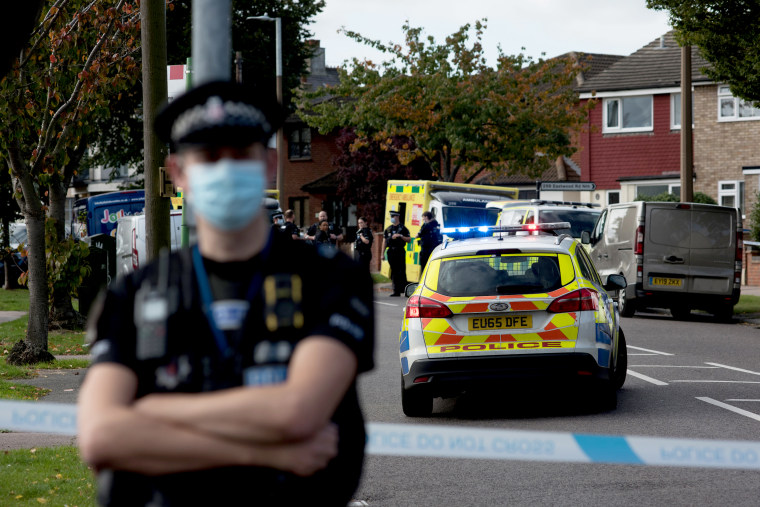 Brendan Cox, the husband of the Labour lawmaker murdered in 2016, wrote on Twitter: "My thoughts and love are with David's family. They are all that matter now. This brings everything back."
The speaker of the House of Commons, Lindsay Hoyle, said that following Amess' death he would be launching a review into lawmakers' safety and security.
"This is an incident that will send shockwaves across the parliamentary community and the whole country," he said in a statement. Flags across the parliamentary estate would be lowered to half-staff, he added.
In the years since Cox's murder and the highly divisive Brexit referendum, British lawmakers have reported receiving a rising number of death threats, particularly on social media.
But there have been attacks on political figures before the murder of Cox.
In 2010, Labour lawmaker Stephen Timms survived a stabbing in his constituency office. Andy Pennington, personal assistant to Liberal Democrat lawmaker Nigel Jones, was killed in 2000 as he tried to protect Jones from an attacker who broke into his constituency office wielding a sword.
Though none shook British politics like Cox's murder.
Amess wrote a book, "Ayes & Ears: A Survivor's Guide to Westminster," published last year, in which he described how Cox's death had affected his day-to-day life.
Most lawmakers "have modified or changed the way they interact with the general public," he wrote.
He described how he and colleagues regularly check their locks, and some have security cameras installed. But the biggest change, Amess said, was how they have approached the regular meetings with constituents, known as "surgeries," the type of meeting where he was killed Friday.
"The British tradition has always been that members of Parliament always make themselves available for constituents to meet them face-to-face at their surgeries," he wrote. "Now advice has been given to be more careful when accepting appointments. We are advised never to see people alone, we must be careful when opening post and we must ensure that our offices are properly safe and secure."
Amess became a member of Parliament in 1983 and has represented the constituency of Southend West since 1997. He was given a knighthood in 2015 for political and public service.
Amess was a staunch supporter of the Brexit campaign that saw Britain exit the European Union.
A Roman Catholic, Amess supported animal welfare issues and was anti-abortion. This March, he asked Parliament to do more to combat knife crime after one of his constituents, aged 18, was stabbed to death.
Karen Pollock, chief executive of the Holocaust Educational Trust, said Amess had supported the British charity "for decades" and was "committed to our cause and to his public service."