LYON, France — France's far-right party leader Marine Le Pen on Sunday told thousands of flag-waving supporters chanting "This is our country!" that she alone could protect them against Islamic fundamentalism and globalization if elected president in May.
Buoyed by the election of President Donald Trump in the United States and by Britons' vote to leave the European Union, Le Pen's anti-immigration, anti-EU National Front (FN) hopes for similar populist momentum in France.
With hitherto favorite Francois Fillon, a conservative, embroiled in scandal over his wife's job, and rising centrist star Emmanuel Macron as yet untested, Le Pen's FN says it can thwart polls that see her losing in a second round run-off.
Related: France's National Front Finds Support Among Millennials
"What is at stake in this election ... is whether France can still be a free nation," Le Pen told supporters at her campaign launch rally. "The divide is not between the left and right any more but between patriots and globalists."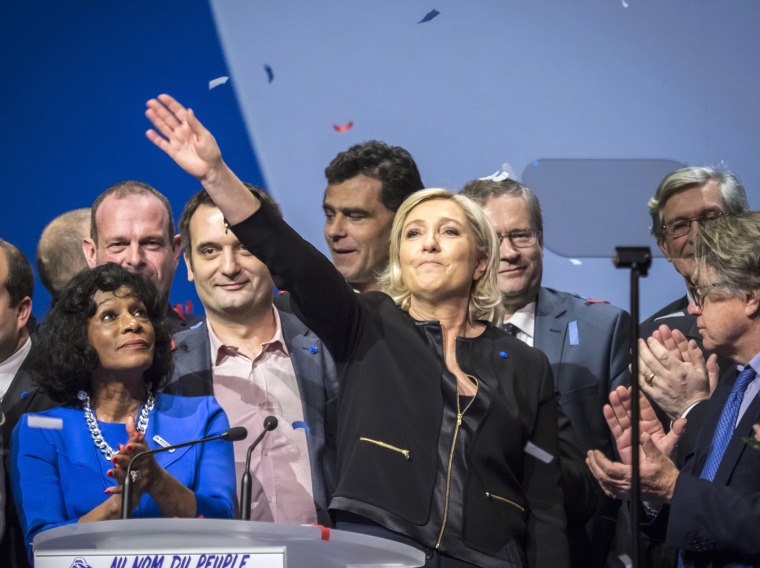 In 144 "commitments" published on Saturday, Le Pen says she would drastically curb migration, expel all illegal migrants and restrict certain rights now available to all residents, including free education, to French citizens.
An FN government would also take France out of the euro zone, hold a referendum on EU membership, and slap taxes on imports and on the job contracts of foreigners.
"Past leaders chose deregulated globalization. They said it would be happy, it turned out to be atrocious," Le Pen said. "Financial globalization and Islamist globalization are helping each other out ... Those two ideologies want to bring France to its knees."
While Le Pen has sought to make the FN more palatable to mainstream voters since she took over from her father Jean-Marie Le Pen in 2011, her speech on Sunday made clear that its anti-migration, anti-EU policy remained at the core of her agenda.
Le Pen received some of the loudest applause during her speech, with standing ovations to the sound of "France! France!" and "On est chez nous!" ("This is our country") when she pledged to expel all foreigners condemned for a crime or misdemeanor, and when she said migrants without identity papers could never be legally allowed to stay in France or get free healthcare.
Related: France's Marine Le Pen: Trump Win Shows Power Slipping From 'Elites'
The crowd chanted in response: "We're going to win! We're going to win!"
On the other side of town, far-left firebrand Jean-Luc Melenchon held a rally, as did Macron, as candidates keep a close watch of each other's moves as the very unpredictable French election heats up.
Le Pen, Melenchon and Macron are all trying to attract voters disillusioned with mainstream parties.
There are some similarities between Melenchon's platform and Le Pen's, both sceptical of the EU and globalization, but with very different answers as the former Socialist staunchly criticises Le Pen's views on migration.
"What we don't want are some combinations and arrangements ... I will be intransigent," said Melenchon, who is fighting with Socialist candidate Benoit Hamon for the left-wing vote.
Meanwhile, heavyweight centrist Francois Bayrou joined calls on Sunday for Fillon to withdraw from the race, as his own conservative camp mounted pressure over a deepening financial scandal around his family.
Additional reporting by Simon Carraud in Lyon and Maya Nikolaeva in Paris; Editing by Louise Ireland