GDAŃSK, Poland — When Zigi Shipper and Manfred Goldberg were prisoners in a Nazi concentration camp in the 1940s, they would never have believed that one day they would return with a future king.
Shipper and Goldberg on Tuesday returned to Stutthof concentration camp in Poland with the Duke and Duchess of Cambridge, William and Kate, as part of their state visit to Germany and Poland.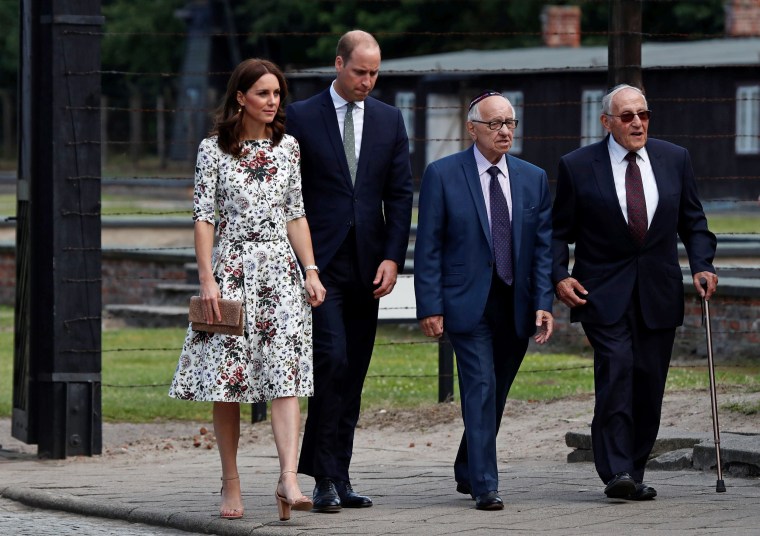 It was Goldberg's first return to Poland since he moved to the U.K. in 1946.
William and Kate toured the camp with the two men, viewing the gas chamber used to kill those who were too sick to work, as well as the discarded shoes, clothing and other personal items belonging to the prisoners that were taken from them on arrival at the camp.
The royals also placed stones at the camp's Jewish memorial — a Jewish custom. They were accompanied by Shipper and Goldberg, who recited a Jewish memorial prayer for those who died.
In the visitor's book, William and Kate said they were "intensely moved" by what they saw.
"When I was asked by the Holocaust Education Trust to return here, I asked for time to think about it because I couldn't bring myself to answer yes," said Goldberg, 87, who lives in London.
"I agonized for a couple of days, and after discussing with my wife, I decided I must face my past and I agreed to come."
Goldberg and Shipper, who were 14 when they were brought to the camp, worked laying railroad tracks.
Stutthof, which is about a 30 mile drive east of modern day Gdańsk, was originally created as a prison camp for Polish people in September 1939, but in 1944 began taking in Jewish prisoners evacuated from concentration camp Auschwitz-Birkenau and forced labor camps in Poland and the Baltic States.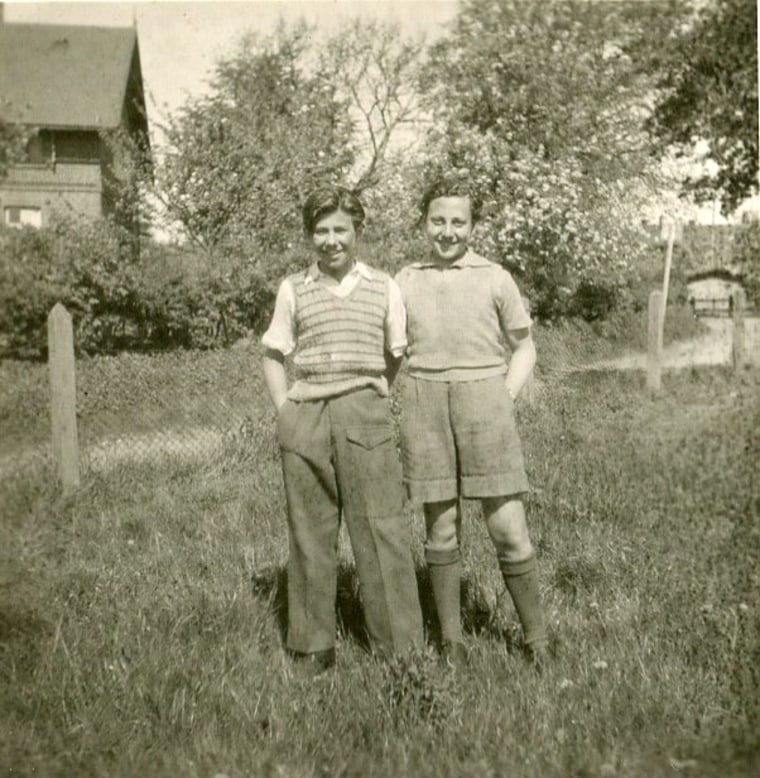 Tens of thousands of Jews died there, mainly from disease, malnutrition, physical exhaustion, exposure, and abuse from the guards. There was one gas chamber used to kill prisoners ruled too sick to work.
"We were on a starvation diet and to receive our minimal rations we had to give our number — even our names had been taken," said Goldberg. "I still clearly remember mine, I was 56478. But throughout it all, I never lost my determination to survive."
When the camp was evacuated in early 1945 by the Nazis, thousands died on death marches as they were forced to walk to Germany. Prisoners who could no longer walk were shot by guards.
The two forged an unbreakable bond during the march, when Goldberg helped support Shipper who was sick with typhus.
"People like him were my brothers," said Shipper about Goldberg.
"I supported him when we were marching," added Goldberg. "Anyone who couldn't keep pace, who trailed behind was immediately taken aside and shot in the head and left by the wayside. We couldn't afford for him to trail behind."
After the war, both men moved to the U.K., where Goldberg's father and Shipper's mother lived. They've stayed in touch in the 70 years since.
The two, who speak regularly to schools and other groups about their experiences, returned together to Stutthof for the first time on Monday, just prior to their visit with the royals.
"It was a sense of relief," said Goldberg of his return. "I would never have come back on my own."
Kelly Cobiella reported from Gdańsk, Poland, and Rachel Elbaum reported from London.