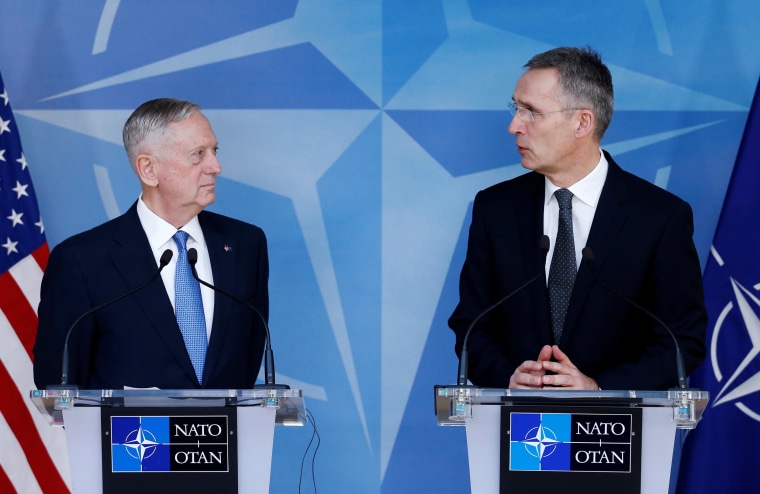 Defense Secretary James Mattis delivered a tough ultimatum to NATO on Wednesday: Kick in more cash for defense by the end of the year or the Trump administration will "moderate its commitment."
"No longer can the American taxpayer carry a disproportionate share of the defense of Western values," Mattis said during a closed door meeting with the alliance's 27 other defense ministers. "Americans cannot care more for your children's future security than you do."
Mattis did not say exactly what the U.S. would do if the NATO members didn't comply, but he defended it as a "fair demand."
"I owe it to you all to give you clarity on the political reality in the United States and to state the fair demand from my country's people in concrete terms," Mattis said in comments that were later publicly released by the Pentagon. "America will meet its responsibilities, but your nations do not want to see America moderate its commitment to the alliance, each of your capitals needs to show its support for our common defense."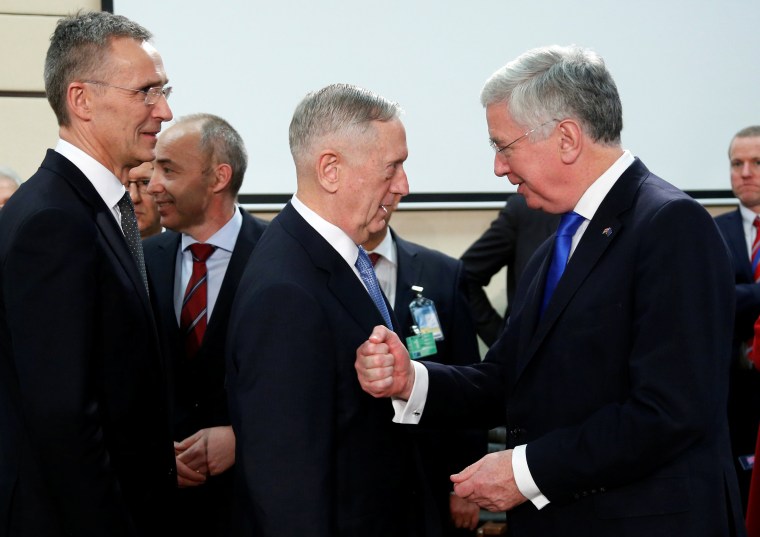 Mattis' call was echoed by British defense chief Michael Fallon who warned other alliance members, "Congress will not continue to tolerate unequal burden-sharing."
"An annual increase would at least demonstrate good faith," Fallon told reporters after the meeting in Brussels, Belgium.
Trump on the campaign trail sent shivers through NATO by calling it "obsolete," suggesting the U.S. might not defend allies who don't pay their fair share, and praising Russian President Vladimir Putin.
While Mattis did not go that far, his tough talk is in line with Trump, who wants NATO members to adopt a plan to boost military funding to 2 percent of each country's gross domestic product.
The U.S., which is easily NATO's most powerful member, currently spends 3.61 percent of GDP to defend the alliance, the Associated Press reported.
The only other countries that spend proportionately as much as the US on NATO defense are Britain, Poland, Estonia and debt-ridden Greece, according to NATO figures.
By contrast, France spends 1.78 percent, Turkey spends 1.56 percent, Germany spends 1.19, Italy spends 1.11 and Canada spends slightly less than 1 percent.
Two percent will be a hard sell in some countries like Germany, which turned pacifist after starting and losing two world wars in the last century. A re-militarized Germany would also make neighbors like France and Poland nervous.