PARIS — A man climbed the Eiffel Tower and precariously clung on to the structure's side for seven hours on Monday before he was safety removed, authorities said.
The ordeal began at about 2:15 p.m. local time and prompted officials to shut down the famed French landmark as a safety precaution, evacuating 2,500 visitors.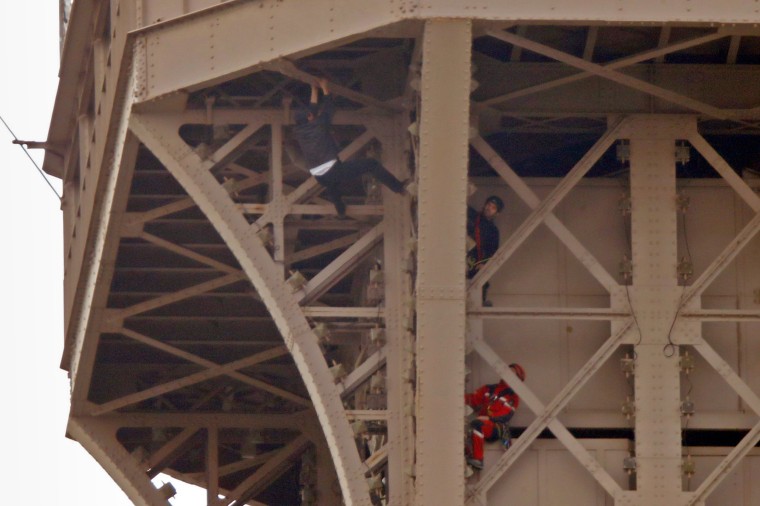 The man entered the tower like any other visitor, and took an elevator to the second floor, where he began the climb, a spokesperson for the Eiffel Tower press office said.
Police and firefighters rushed to the scene as the unidentified daredevil continued his ascent of La Dame de Fer, or "The Iron Lady," tower officials and Paris prosecutors said.
For several hours, the man — wearing black — clung to the structure while a negotiator — clad in red and hooked up to safety ropes — sat on bars and chatted with the climber.
Finally, at about 9:30 p.m. local time, the man was coaxed into a third-floor deck, ending more than seven hours of drama in the French capital. His motives for the dangerous climb are still unknown.
The two primary negotiators were members of the fire department's special "climbers" unit that work in perilous situations such as Monday's Eiffel Tower climb, officials told NBC News.
The tower will reopen on Tuesday at 9:30 a.m.
Visitors who booked their ticket for a visit this afternoon were immediately informed by email and will be automatically reimbursed.
The Eiffel Tower, which just celebrated its 130th anniversary, is about 1,000 feet tall and is the tallest structure in Paris. Its height is the equivalent of an 81-story building. Roughly six million people visit the tower each year.
Back in 2015, British climber James Kingston scaled the edifice without safety ropes.