ROME — Pope Francis has warned against growing populism in Europe, saying such movements could result in the election leaders of like Germany's Adolf Hitler.
"In times of crisis, we lack judgment, and that is a constant reference for me," the pontiff said in an in-depth interview with Spanish newspaper El Pais. "The most obvious example of European populism is Germany in 1933. After the crisis of 1930, Germany is broken, it needs to get up, to find its identity, a leader, someone capable of restoring its character, and there is a young man named Adolf Hitler."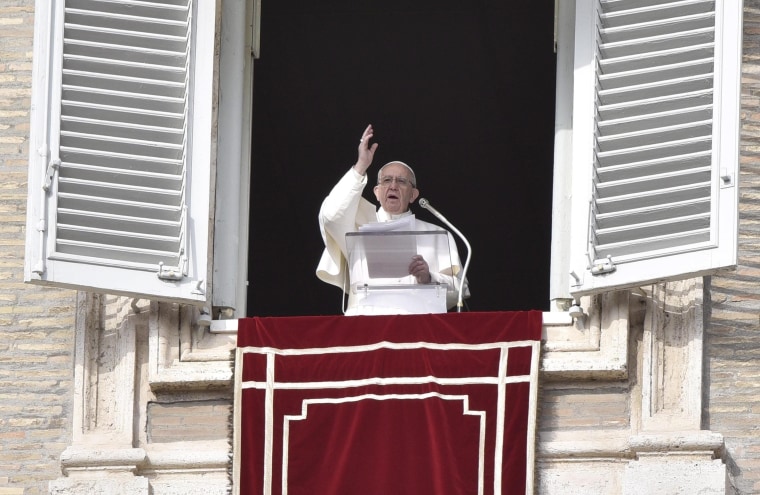 "Hitler didn't steal the power, his people voted for him, and then he destroyed his people," the pope added.
Pope Francis' warnings come as a wave of populism washes over Europe, and as voters angry with traditional political elites throw their weight behind nationalist, anti-immigrant leaders.
During the same interview, the pope said he was reserving judgement on President Donald Trump.
"I don't like to get ahead of myself nor judge people prematurely. We will see how he acts, what he does, and then I will have an opinion," he said.
Immediately after Trump's inauguration ceremony Friday, the Pope sent him his best wishes, with prayers "that your decisions will be guided by the rich spiritual and ethical values that have shaped the history of the American people and your nation's commitment to the advancement of human dignity and freedom worldwide."
Francis has not struck such a conciliatory tone in the past.
When asked about Donald Trump's proposal to build a wall alongside the U.S.-Mexico border on his way back from a trip to Mexico in 2016, the pope said that a "person who thinks only about building walls, wherever they may be, and not building bridges, is not Christian."
Related: Trump: It's 'Disgraceful' for Pope to Question My Christianity
The pope's previous comments provoked a furious reaction from Trump, who said in a statement on his website: "If and when the Vatican is attacked by ISIS, which as everyone knows is ISIS's ultimate trophy, I can promise you that the pope would have only wished and prayed that Donald Trump would have been president because this would not have happened."
As heads of state of Vatican City and spiritual leaders to more than 1.2 billion Catholics, popes usually do not meddle directly with other countries' politics or politicians, but can and have offered their moral guidance, sometimes to dramatic effect.
For his part, Pope Francis has not shied away from using his soft power to make an impact, often walking the fine line between moral guidance and politics. Since his election he has become an open critic of unfettered capitalism and war, repeatedly calling for an end of conflicts like the one in Syria.
Related: Pope Francis Meets Head of Palestinian Authority
He has become a champion of refugees, calling for governments to do more to welcome them and even setting an example by bringing several refugees back to Rome with him on the flight back from Lesbos in 2016. And he is credited for having played a major role in the recent ending of hostilities between the U.S. and Cuba.
John Paul II, who was born in Poland and grew up under Nazi occupation first and Communist rule later, is credited with having played a crucial role in the downfall of the Soviet Union.