LISBON, Portugal — There are a lot of bemused tourists here these days.
Portugal's ancient riverside capital is filled with giant black-and-white billboards showing men in combat fatigues, sporting broad smiles and droopy mustaches, often brandishing machine guns decorated with carnations.
The citywide photo show is part of celebrations to mark the 40th anniversary on Friday of what was probably the world's coolest military coup.
On April 25, 1974, a revolt by idealistic young army officers quickly turned into a popular uprising when the troops were joined by jubilant crowds in bell-bottomed jeans and striped sweater vests.
"None of us had ever heard of an army intervening to bring democracy, surely it's normally the other way round."
They took less than 24 hours to bring down Europe's longest-lived dictatorship and signal the end of the last colonial empire in Africa.
"It was a coup like no other," recalled Swiss journalist Werner Herzog, who reported on the revolution.
"The atmosphere was more like a party," he joked at a conference on Wednesday. "None of us had ever heard of an army intervening to bring democracy, surely it's normally the other way round."
Nicknamed the Carnation Revolution after flower vendors handed out seasonal blooms to the soldiers, the almost bloodless uprising remains a source of immense pride in this country of 10 million.
"It was the most original revolution of the 20th century," veteran Socialist politician Jose Magalhaes told a parliamentary gathering this week.
Economic woes
The country is marking the anniversary with rock concerts, TV series, special edition magazines, book launches and an endless series of tributes to the now grey-haired "Captains of April" who spearheaded the coup.
But for many of the revolution's leaders, the celebrations are clouded by Portugal's current economic woes.
This country was one of the hardest-hit by the euro zone debt crisis.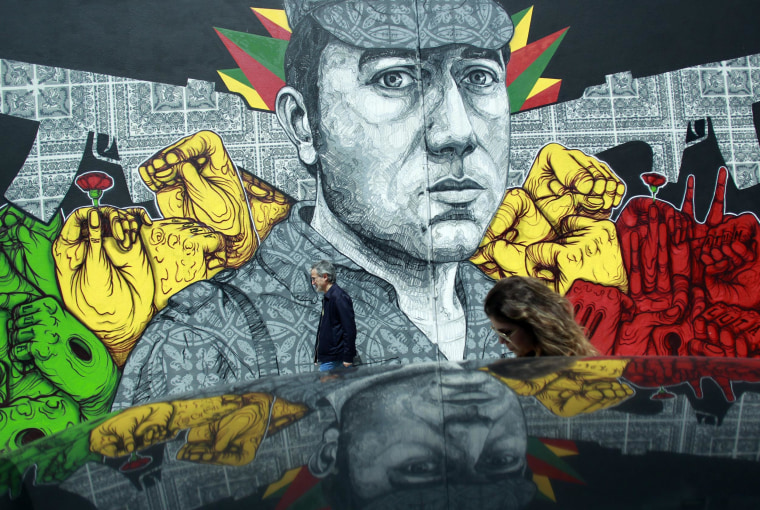 It's just beginning to crawl out of a deep recession that has seen the economy shrink by more than 6 percent since 2011 and swelled unemployment lines to 15 percent of the workforce.
"I look at the situation in Portugal today with great disappointment, almost distaste," says Brig. Otelo Saraiva de Carvalho who masterminded the 1974 coup as a 37-year-old major. "It's lamentable what's going on."
"The ideals we had when we made April 25, the hopes for rapid improvement of people's economic, social and cultural conditions — that's all gone," he said in an interview. "I think another revolution is needed. At least a revolution in the mentalities of those in charge, so that they care more about the needs of all the people instead of their own narrow interests."
He's not alone. The April 25 Association, which represents the revolutionary ex-servicemen, decided to boycott official celebrations in parliament on Friday during a high-profile spat.
"The policies being implemented now have nothing to do with April 25."
Its members claim the center-right government had denied them speaking time because of fear they would criticize the austerity policies it's introduced over the past three years.
"The policies being implemented now have nothing to do with April 25," says Col. Vasco Lourenco, another key revolutionary leader who now heads the association.
"They can't just have a pause to applaud the Captains of April and then go back to what they are doing, destroying the values of April 25."
That the revolutionaries of 40 years ago are unhappy with the current government's policies comes as no surprise.
The armed forces movement took a sharp leftward turn after it overturned the ultra-conservative regime led for 36 years by dictator Antonio Oliveira Salazar.
Some dreamed of creating a new Cuba on Europe's western seaboard. However, after a long power struggle, moderates gained the upper hand and by 1986, Portugal's position among Western democracies was sealed by its entry into the European Union.
Although the revolutionary leaders continue to command immense respect for their role in ending the dictatorship, calls for the country to take a radical new path enjoy limited support.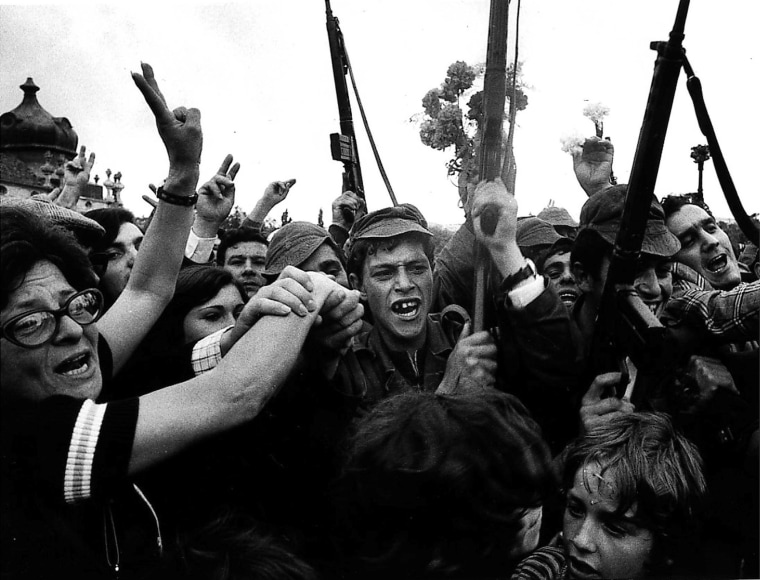 The latest opinion polls show radical left parties scoring a combined 17 percent despite widespread discontent over sweeping cuts in public sector jobs, salaries and pensions, combined with spending reductions on social security, health and education.
The cuts were introduced to meet the demands of international creditors who stepped in with a $108 billion bailout to keep Portugal afloat at the height of the euro crisis in 2011.
Prime Minister Pedro Passos Coelho insists the rigor is paying off.
On Wednesday, Portugal made a successful return to long-term bond markets. It sold over $1 billion worth at a historically low interest rate of 3.57 percent — down from yields of more than 17 percent in 2012.
Next month, the country is expected to exit its EU and International Monetary Fund-imposed bailout program. Exports and tourism are booming, fragile growth has returned and unemployment is beginning to slide.
"We will reach our objectives," Passo Coelho told a business conference Wednesday. "During this period, our economy has been transformed so in the future it will be a source of growth and not a source of impoverishment."
Social, Colonial, Political Transformation
The current economic situation aside, there's little argument about how the revolution has transformed Portuguese society.
Under the dictatorship, education was compulsory only until the fourth grade. Many poor families couldn't afford to keep children in school any longer, so that in 1970 a quarter of Portugal's citizens were unable to read and write. Today the level is less than 5 percent, mostly among the elderly.
There are ten times more university students than before the revolution.
The futility of Portugal's colonial bloody wars was a major factor in persuading the army officers to revolt.
Before 1974, culture was controlled by the state and the press muzzled by censorship. A secret police force, the PIDE, suppressed opposition.
Women were unable to vote and needed their husband's permission to travel abroad. Denied education, almost a third were illiterate in the early '70s. Today, women enjoy equal rights, outnumber men at universities and fill over 30 percent of seats in parliament — more than in Switzerland, France or the United States.
Today, April 25 is the most popular street name across the country, with more than 1,150 streets, avenues and plazas named after the revolutionary date.
April 25 is also fondly remembered in the country's former African empire, which the dictatorship had battled to keep long after France, Britain and other imperial powers had given up their colonies.
The futility of Portugal's colonial bloody wars in Angola, Mozambique and Guinea Bissau was a major factor in persuading the army officers to revolt.
Although Lourenco, Saraiva de Carvalho and many others were African combat veterans, they quickly sat down with their former foes in Africa to negotiate peace deals that ended colonial rule.
"Our struggle always went hand-in-hand for the struggle for democracy in Portugal," Joaquim Chissano, the former guerrilla leader who was Mozambique's president from 1986-2005, told GlobalPost. "April 25 is seen as a great day, a historic day that saw the fall of fascism and contributed to the freedom of all our peoples."
This story originally appeared in GlobalPost.
More stories from GlobalPost:
Colombia's coca spraying could be the next drug war casualty
Obama's Asia trip will be overshadowed by China's 'blue national soil'