BERCHTESGADEN, Germany - Rescuers worked Tuesday to free an injured mountaineer trapped deep in a cave in the German Alps.
A five-member rescue team and a local guide had reached the experienced 52-year-old cave researcher in the Riesending cave system near Berchtesgaden in Germany's south-eastern corner on Monday. Some 80 rescuers were on the scene, officials said.
The trapped mountaineer was injured early Sunday and overnight stood for the first time -- an accomplishment that rescuers say will help their efforts.
Stefan Schneider, spokesperson for Bavarian mountain rescue, told NBC News that the condition of the injured man is improving, which will make the rescue operation much easier as it would be challenging to transport a recumbent patient through the tight spaces.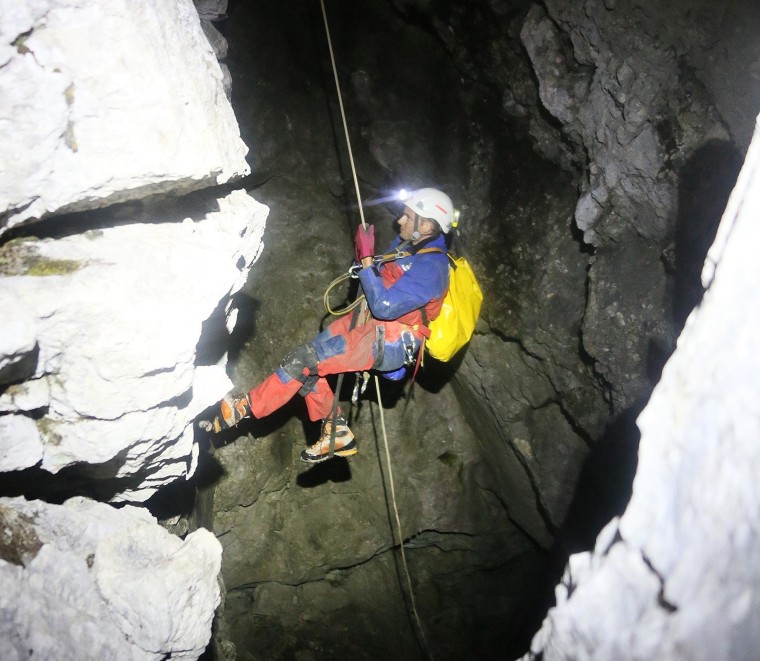 "We'll try to start the rescue today," he said. "Lots of questions still exist, but we currently plan that the recovery operation would last about a week dependent on the situation of the patient."
Schneider said it was a one-of-a-kind rescue operation, even for the experienced Alpine rescue teams. Swiss specialists are expected to arrive at the injured by mid-day and other international teams have been asked to join the rescue effort.
Schneider said conditions inside the cave remain difficult, but that efforts to improve communication with the teams underground have been made.
Specialists have been able to install a radio system that allows direct communication about 500 meters down.
"Because of the radio system, we've gained five hours in communication," Schneider said, explaining that it is a 10 to 12 hour climb to reach the mountaineer.
The complex nature of the cave system, as well as its depth, is making the operation even more hazardous, officials said.
"We have shafts that go straight down 350m [1,150 ft], where you have to abseil down and climb back up on a rope," rescue official Klemens Reindl told German TV.
- Carlo Angerer