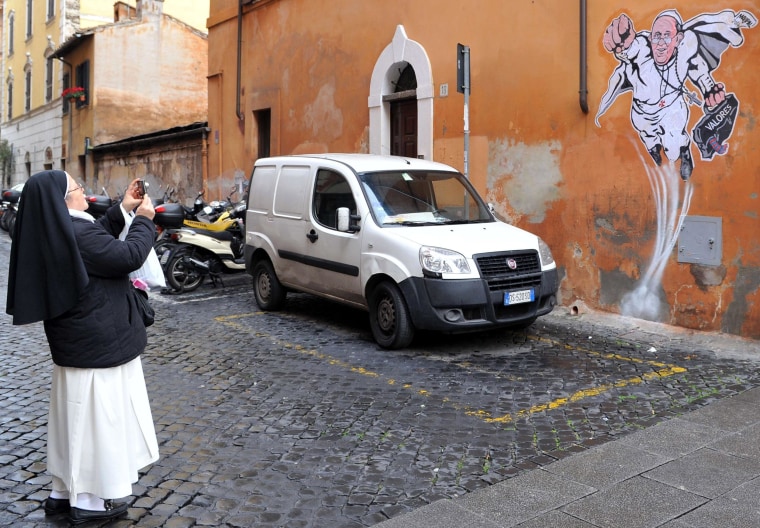 ROME -- Is it a bird? Is it a plane? No it's "Superpope."
For billions of Catholics, Pope Francis is already emerging as a hero thanks to his revitalized teaching of the church's message and his tough stance on internal greed and corruption. Now, a large graffiti painting has appeared near the Vatican depicting him in the classic Superman pose.
is shown carrying a briefcase in his other hand with the word "Valores" - Spanish for "values" - written on the side.
A scarf bearing Superman's blue and red colors, which also happen to be those of the pope's favorite Argentine soccer club San Lorenzo, emerges from the briefcase.
Unlike the real Superman, who disguises himself as bespectacled alter-ego Clark Kent, Pope Francis is clearly identifiable on the artwork, which is signed "Maupal 2014." -- the name of artist, Mauro Pallotta.
"One night I was reading a comic book, and an image of the pope came up on the television," explained Pallotta. "That's when I struck me. The pope has superpowers, too: humility and empathy."
The Vatican posted a picture of the artwork on its Twitter feed.
Pope Francis' determination to bring the 1.2 billion-member Catholic Church closer to the world's poor is not quite the same as Superman's "never-ending battle" for truth and justice, but the pontiff's message has resonated with a wider audience.
Earlier this week, he became the first pope to appear on the front cover of Rolling Stone magazine and he was also nominated as "Person of the year" by Time magazine.
Reuters contributed to this report.