JERUSALEM — A wool sweater stolen from under the noses of Nazi guards has remained intact for three quarters of a century, a memento of the Auschwitz-Birkenau death camp, but one that reminds Mottie Alon that he survived.
Now Alon, 85, hopes it will help to educate future generations about the site where the Nazis killed an estimated 1.1 million people during World War II.
Speaking to NBC News ahead of the 75th anniversary of the liberation of Auschwitz, he said it was "very important" for young people to "see evidence from Birkenau."
Alon said he stole the sweater the day before the camp was liberated by Russia's Red Army on Jan. 27, 1945, even though he had seen one of his friends shot dead for stealing a coat.
"It was terribly cold, I had clothing that was full of holes with short sleeves," he added. "When the German soldier looked the other way, I saw a sweater. I took it and I was not shot."
Alon, a victim of Dr. Josef Mengele who has been dubbed the "Angel of Death," kept the sweater, which he has now donated to Yad Vashem, the World Holocaust Remembrance Center in Jerusalem, where tens of thousands of artifacts connected to that time are housed.
Alon was born Andras Brichta in 1935, along with twin brother, Karoly. He changed his name after moving to Israel at the end of World War II, as did Karoly, who became Yoel.
Their parents, Margit and Laszlo came from Ujpest -- once a village and now a suburb of Hungary's capital Budapest -- which was taken over by German forces in March 1944.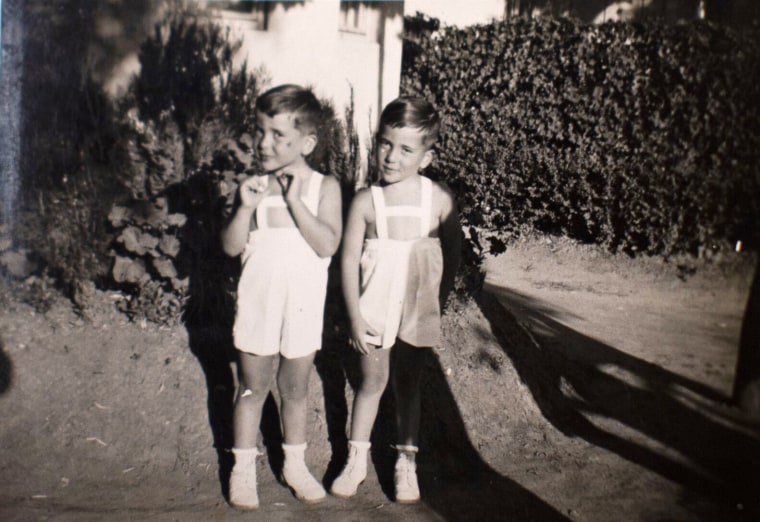 Two months later, the 9-year-old twins were deported to Auschwitz, along with their mother. Laszlo Brichta was not with them as he had been conscripted into the Hungarian army in 1943.
They were among 424,000 Hungarian Jews relocated to the camps in just eight weeks, according to the World Holocaust Remembrance Center.
To the west of the Polish city of Krakow, Auschwitz was an army barracks before it was converted into a concentration camp to hold Polish political prisoners, shortly after Nazi troops invaded in 1939. Less than a mile away, Birkenau was set up two years later.
Most of the victims were Jews transported from across Europe to be killed in gas chambers. But tens of thousands of others, including Poles, Roma and Soviet prisoners of war were also killed at the site.
Alon said being twins saved him and his brother.
Separated from their mother, they were placed in the hands of Mengele, the SS officer who became notorious for his experiments on humans. Many of his victims died, while others were killed once he had finished with them.
Although some operations were performed on them, they had no lasting effects, Alon said, adding that they were fed a lot better than most other prisoners in order to maintain their physical well-being. He credited this with helping to keep them alive.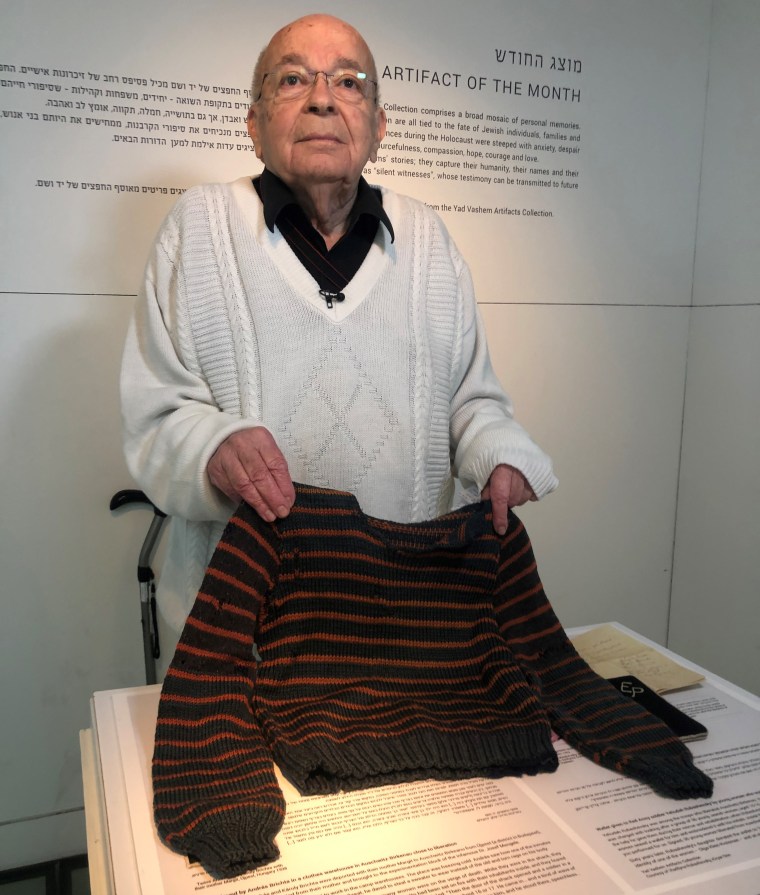 The warmth from the sweater also helped, he said.
After the Germans abandoned Auschwitz, Alon and his brother were able to reunite with their mother, who he said was "very ill."
She was nonetheless able to build her strength when they returned to Budapest, where they found Laszlo alive. He had escaped the army and had been living in hiding.
The family would later emigrate to Israel, where Alon currently lives.
Michael Tal, the creator and the director of the artifact department at the World Holocaust Remembrance Center, said it was "very important" to keep the sweater.
He added it would help to "tell the story to the next generation."
Henry Austin reported from London.