The father of Tanner Cook, the prank YouTuber who was recently shot in Virginia, said that his family has received harassment following his son's hospitalization.
Jeramy Cook said he has received messages stating that his son deserved to get shot because of his YouTube channel. He also said he has been getting contacts and messages to his phone that have made him feel threatened.
"Our family has been absolutely targeted by people saying he should have died, too bad he didn't die, just colorful, nasty language," Jeramy Cook said.
Tanner Cook's videos, posted on his YouTube channel Classified Goons, have received backlash since he was injured at the Dulles Town Center Mall in Sterling, Virginia on Sunday.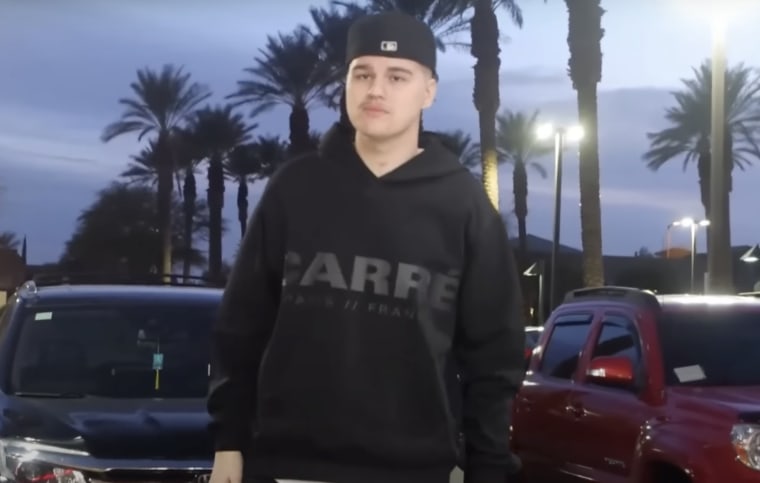 Cook was playing a prank involving Google Translate at the time of the shooting. The shooter, Alan Colie, was working for DoorDash at the time and told Cook multiple times to get away from him, Detective Katie Mitchell of the Loudoun County Sheriff's Office said during a court hearing this week, according to CBS-affiliate WUSA.
The YouTuber is known for pulling audacious practical jokes on unsuspecting strangers. Some of his videos include "Fake Target Thug Employee Prank," "Fake Vomiting On Uber Drivers!" and "Taking Rackets From Tennis Players Prank!"
Comments under his latest YouTube videos show viewers praising and sympathizing with Colie. Others made jokes about Cook's injury, which required him to undergo surgery to remove his gallbladder.
Jeramy Cook said many of the responses to his son's experience have gone too far.
"It's just gross," Jeramy Cook said. "How do they think that they're on some high moral ground to cuss somebody out whose son was just shot?"
Jeramy Cook said his son is "a good kid that doesn't have a mean bone in his body." He added that Tanner wants to provide entertainment to people.
He also pointed out that his son is not the only person to create prank content. The genre stretches back to the days of Ashton Kutcher's "Punk'd" or "Jackass" movies and have been a staple of online culture for years.
While the content is divisive, prank videos remain a popular genre on YouTube. One of Tanner Cook's collaborators includes JiDion, a notorious YouTuber who has built a following of over 6 million followers for his pranks.
"There's a million TV shows and movies and YouTube channels ... [of] people pranking people all day long, and people eat it up," Jeramy Cook said. "So if there's some magical line in terms of what's not okay, then that line should be clearly defined for anybody in the space."
Jeramy Cook said he forgives Colie, but added if someone feels harassed, they should tell the police and let law enforcement handle the issue.
"If he didn't break the law, and he broke somebody's feelings, then that's not a thing that's actionable," Jeramy Cook said. "You know, you can't take the law into your own hands because you feel triggered."
One target of Cook's pranking, Natalie Lomax, told CBS-affiliate WUSA that she reported Cook to the Loudoun County Sheriff's Department three weeks before the shooting. Lomax did not immediately respond to NBC News' request for comment.
Lomax and the Loudoun County Commonwealth's Attorney's Office  did not immediately respond to requests for comment.
"It's been a lot, emotionally and physically," Jeramy Cook said of the past week. "So we're just praying and trusting God and getting through it."