A French cement company has been charged in the United States with making $10 million in payments to the Islamic State and another terrorist group in exchange for the protection of its plant in Syria, the Department of Justice said Tuesday.
Lafarge paid ISIS and the al-Nusrah Front from August 2013 to October 2014 when ISIS was carrying out kidnappings and beheadings and transmitting waves of propaganda designed to inspire terrorist attacks against innocent civilians, prosecutors said.
The company pleaded guilty Tuesday to one count of conspiring to provide material support to a foreign terrorist group and agreed to pay a financial penalty of $778 million. While no individuals have been charged, Justice Department officials said the investigation is ongoing.
"In the midst of a civil war, Lafarge made the unthinkable choice to put money into the hands of ISIS, one of the world's most barbaric terrorist organizations, so that it could continue selling cement," Breon Peace, U.S. attorney for the Eastern District of New York, said in a statement.
"Lafarge did this not merely in exchange for permission to operate its cement plant — which would have been bad enough — but also to leverage its relationship with ISIS for economic advantage, seeking ISIS's assistance to hurt Lafarge's competition in exchange for a cut of Lafarge's sales."
Lafarge said in a statement that it has "accepted responsibility for the actions of the individual executives involved, whose behavior was in flagrant violation of Lafarge's Code of Conduct."
"We deeply regret that this conduct occurred and have worked with the U.S. Department of Justice to resolve this matter," the statement added.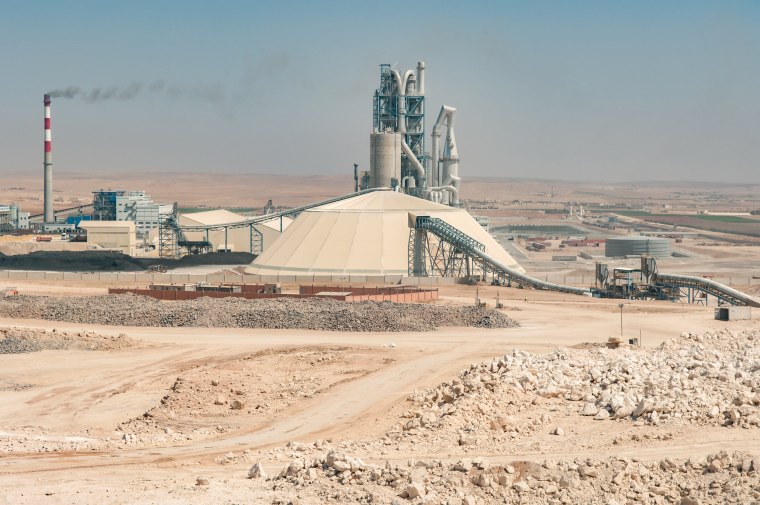 After previously coming under scrutiny in France, the company denied that the payments were made to further ISIS' agenda or enable the group to carry out violence but were instead to help facilitate the continued operation of the plant in Syria. 
In 2015, Lafarge was purchased by Holcim, a company in Switzerland.
"None of the conduct involved Holcim, which has never operated in Syria, or any Lafarge operations or employees in the United States, and it is in stark contrast with everything that Holcim stands for," the company said in a statement.
Holcim added that Lafarge concealed the conduct from it before and after the acquisition.
Lafarge has been involved in several high-profile construction projects in the New York area, including MetLife Stadium and One World Trade Center, according to a company website.
James Foley, an American journalist, was beheaded on August 19, 2014, during the period of time Lafarge was paying ISIS. His mother Diane Foley applauded the Justice Department's prosecution of Lafarge.
"I condemn Lafarge in the strongest possible terms for its immoral decision to provide millions in funds to ISIS as that terrorist group carried out hostage takings, torture and murder of American citizens, including my son," she said.
Diane Foley said she hopes the U.S. government will use the money from the financial penalty to strengthen the agencies charged with trying to secure the release of Americans held hostage and detained abroad. "They [should] have the resources to more aggressively work to bring those Americans home," she said.
CORRECTION (Oct. 18, 2022, 12:38 p.m. ET): A previous version of this article misstated how much Lafarge paid ISIS and other terrorist groups. It was $10 million, according to the Justice Department, not $17 million.