Twenty months after the mass shooting at Sandy Hook Elementary School in Newtown, Connecticut, renewed national attention on the topic of gun violence has not been enough to change federal gun laws. But the National Rifle Association, still the most powerful entity in the war over guns in America, no longer has a monopoly on the debate.
A resurgent gun control movement is challenging the status quo, while groups to the right of the NRA are also growing. Nonprofit organizations on each side are battling like they haven't in years, trying to shape the country's politics and win over the American people.
In spite of the evolving landscape, however, no shift in either direction is certain.
The gun control movement was nearly $285 million behind the gun rights movement in 2012 revenue raised, before Sandy Hook. Today, it is playing catch-up to the money, membership and political savvy of its opponents as the NRA works to maintain its dominance.
"Now, for the first time in our country's history, there is a well-financed and formidable force positioned to take on the Washington gun lobby."
With new groups, a revamped strategy, more money and unprecedented collaboration, the gun control movement has made headway. Organizations like Everytown for Gun Safety, the group backed by former New York City Mayor Michael Bloomberg, say they are moving the needle.
"Now, for the first time in our country's history, there is a well-financed and formidable force positioned to take on the Washington gun lobby," said Shannon Watts, founder of gun control group Moms Demand Action for Gun Sense in America, speaking at an Everytown event on Capitol Hill in May.
Whether that is possible remains to be seen.
The NRA is strong financially. Its budget has consistently hovered well above $200 million in recent years and it has cultivated a highly organized grassroots base.
With its near-mythical presence as a political lobby, the NRA is still the best-positioned player in the debate by far, bringing in and spending hundreds of millions of dollars on its broad range of programs. Though its grip on Congress has loosened somewhat, it still isn't letting major federal legislation through or relinquishing its influence on state politics.
The NRA began as a firearms education organization and sportsmen's club in 1871 and didn't become involved in politics until the 1970s. When it did, however, it had a built-in base of support. It has worked to build strong ties with members of Congress to back its lobbying and political efforts. Today, the NRA says it has 5 million members.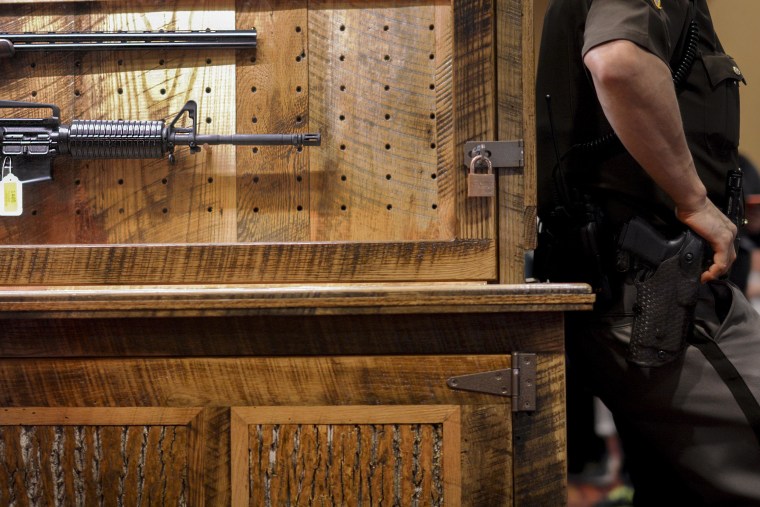 Around the same time the NRA entered politics, the group that would eventually become the Brady Campaign to Prevent Gun Violence was founded. It attained a high profile following the 1981 assassination attempt on President Ronald Reagan, in which Reagan press secretary James Brady was shot and partially paralyzed.
Its advocacy work in the '80s and '90s culminated in the passage of the Brady Act -- which mandated federal background checks on people buying firearms -- and the now-expired assault-weapons ban, both signed by President Bill Clinton in 1994.
In 1999, the Columbine High School shooting led to a resurgence of gun control advocacy. After a handful of state legislative victories, the movement fizzled.
This was the landscape when a spate of recent prominent mass shootings began: Virginia Tech in 2007; Tucson, Arizona, in 2011, in which then-Rep. Gabrielle Giffords, D-Ariz., was shot; the Aurora, Colorado, movie theater shooting in 2012; and then, Newtown.
The Sandy Hook shooting touched off for the gun control side what Everytown Director of Strategy and Partnerships Brina Milikowsky called a "once-in-a-generation moment of great transformation."
The day after the shooting, Watts founded Moms Demand Action; a few weeks later, on the second anniversary of the Tucson shooting, Giffords and her husband, Mark Kelly, started Americans for Responsible Solutions.
In December 2013, Moms Demand Action formed a partnership with Mayors Against Illegal Guns, founded in 2006 by Bloomberg and former Boston Mayor Thomas Menino. In April, Everytown became an umbrella organization for the two other groups. Today, Everytown says it has 2 million members.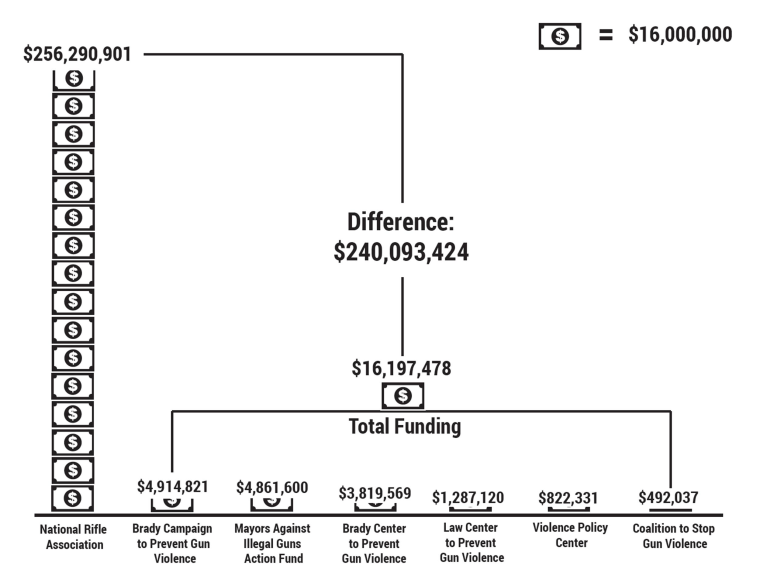 The most recent tax filings show national gun rights groups enjoyed a huge fundraising advantage in 2012, with the top six groups bringing in close to $301 million in revenue in compared to just over $16 million for the top gun control nonprofits.
But those figures are inconclusive, since they don't reflect any changes that have occurred since Newtown, including Bloomberg's $50 million donation to Everytown.
Gap in political spending narrows
When it comes to campaign spending, however, political action committees on the two sides are neck-and-neck for 2014.
As of June 30, the NRA PAC had just more than $18 million in receipts and the PAC for ARS, the Giffords' group, had almost $17.5 million. ARS had spent nearly $8.5 million; the NRA had spent nearly $2.7 million, according to filings with the Federal Election Commission.
Despite their claims, though, gun control groups' ability to compete financially remains uncertain.
"We don't have as much evidence as people sometimes think we do that you can sort of throw money at your cause and get your way," said Matt Grossmann, a political science professor at Michigan State University. "In fact, that hardly ever works, especially for advocacy groups."
Gun rights voters tend to be single-issue voters, meaning they prioritize gun rights over all other issues. Gun control supporters, on the other hand, tend to be less driven by the one issue.
"People on the other side of the debate, it's a more diffused group, and so I think they're disempowered for that reason," said Kathy Kiely, managing editor of the Sunlight Foundation, a nonpartisan open-government nonprofit.
Among the gun rights groups, the NRA overshadows other organizations, but outfits like Gun Owners of America, which opposes all gun control measures unequivocally, and the National Association for Gun Rights, which is blatantly anti-NRA, are trying to challenge the older organization.
NAGR's revenue grew 16 times from 2009 to 2012, an increase unparalleled by fellow gun rights organizations. Gun Owners of America's revenue grew from about $1.8 million in 2011 to $2.4 million in 2012.
News 21's 'GUN WARS: The Struggle Over Rights and Regulation in America'
"The NRA has taken gun owners' money and more importantly, their trust and used it to support those who have a horrible record when it comes to gun rights," according to one NAGR press release.
Neither NAGR nor the NRA responded to requests for comment for this story.
For advocates like Nicki Kenyon, a writer for Jews for the Preservation of Firearm Ownership and a former editor of an NRA magazine, the gun rights movement's theme is unity of mission, if not in tactics.
"We may go about it in different ways. We may disagree on the tactics. But overall, we are an inclusive and we are a cohesive group of people whose only purpose is to protect our rights and freedoms," she said.
Gun rights advocates have been empowered by the Supreme Court's ruling in District of Columbia v. Heller in 2008 that the right to bear arms is an individual right, not limited to those serving in a militia.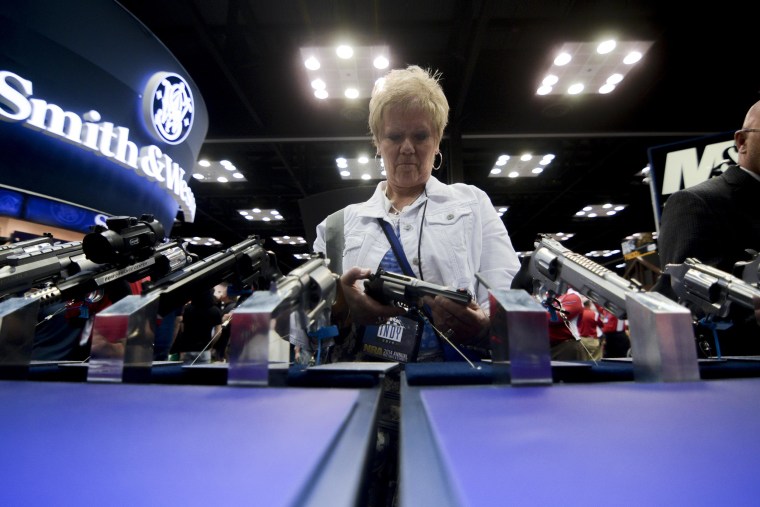 The decision overturned handgun bans on state and local levels, and groups like the Second Amendment Foundation followed it with their own lawsuits to reverse gun control measures in major cities like Chicago.
"It's having a huge impact, and the other side will ... deny it or try to spin it a certain way, but they know they're losing," said Philip Watson, director of special projects for the Second Amendment Foundation.
As the political tug-of-war continues, an indicator of the future of guns in America is elusive. Many are looking to the 2014 elections for a hint.
"There's no question that what we do between now and November is critical to the survival of the Second Amendment and the freedoms we all fight so hard to protect."
Chris Cox, executive director of the NRA Institute for Legislative Action, said on a recent NRA commentary show that the upcoming election is crucial.
"There's no question that what we do between now and November is critical to the survival of the Second Amendment and the freedoms we all fight so hard to protect," Cox said.
In July, the NRA started its 2014 "Trigger the Vote" campaign, an effort to get pro-gun voters to register before the November election. When Everytown was founded, it launched a "gun-sense voter" campaign, which aims to get "voters to consider gun-violence prevention as a number-one issue that they vote on," said Jennifer Hoppe, program director for Moms Demand Action.
The NRA also rates candidates and endorses them through its PAC. According to the fund, the rankings are based on voting records, public statements and responses to a questionnaire, the contents of which the NRA does not release publicly.
The association worked on 271 campaigns for Congress in 2008 and says it won 230 of the races, according to its website. Voters can print out "personal voting cards" from the website that list the candidates and mark which are supported by the NRA.
In July, Everytown sent out a questionnaire to every candidate for Congress. It is similar to the NRA's, but unlike the NRA, Everytown released the questions to make its process transparent. Milikowsky and other representatives would not say whether the group will make election endorsements, nor would they say what it will do with the survey results beyond publishing them.
Follow NBC News Investigations on Twitter and Facebook.
Mark Prentice, press secretary for Giffords' Americans for Responsible Solutions, believes the issue of guns is going to be increasingly important in elections. He said the group doesn't donate directly to candidates, but plans to channel money into ads supporting certain candidates.
"What's most important is the people who have been champions on this issue already and (who) put their necks out there get to return to the U.S. Congress," Prentice said.
"The election is going to be a bare-knuckles street fight," NRA Executive Vice President and CEO Wayne LaPierre said at the organization's convention, referring to the gun control groups. "They're going after every House seat, every Senate seat, every governor's chair, every statehouse that they can get their hands on."
Jacob Byk contributed to this story. He is the News21 Dix/Oliver fellow.
Editor's note: This article was edited for length. You can read the complete piece and the rest of the series at News 21's website.