An American citizen carried out a suicide bombing in Syria on behalf of an al Qaeda-linked militant group on Sunday, apparently the first time a U.S. citizen has carried out such an attack in the Syrian civil war, U.S. law enforcement and counterterrorism officials tell NBC News.
The officials, speaking on condition of anonymity, confirmed the suicide bombing and said they have identified the American. They declined to release his identity or hometown.
Word of the American's death in the suicide bombing first surfaced Tuesday in tweets from the al-Nusra Front, an al Qaeda-linked group fighting the government of Syrian President Bashar Assad.
The tweets identified the bomber only by his Arabic nom de guerre, "Abu Hurayra al-Amriki," (Abu Hurayra the American) and said he carried out one of four suicide bombings of Syrian government sites in Jabal al-Arbaa'in in Idlib Province -- the scene of heavy fighting in recent weeks and months.
"Abu Hurayra Al-Amriki performed a martrydom operation in Idlib, Jabal Al-Arba'een. May Allah accept him," it said.
The tweet included an image of a young, bearded and smiling Caucasian man holding a cat, as well as images of the bombing it said he had carried out. (One U.S. official pointed out that "Abu Hurayra" translates from Arabic as "father of the kitten" or "of the kitten," and was the name adopted by a cat-loving companion of Muhammad, the founder of Islam.)
Another tweet, this one in Arabic, included a photo showing the same light-skinned man sitting on the ground wearing what appeared to be a suicide vest.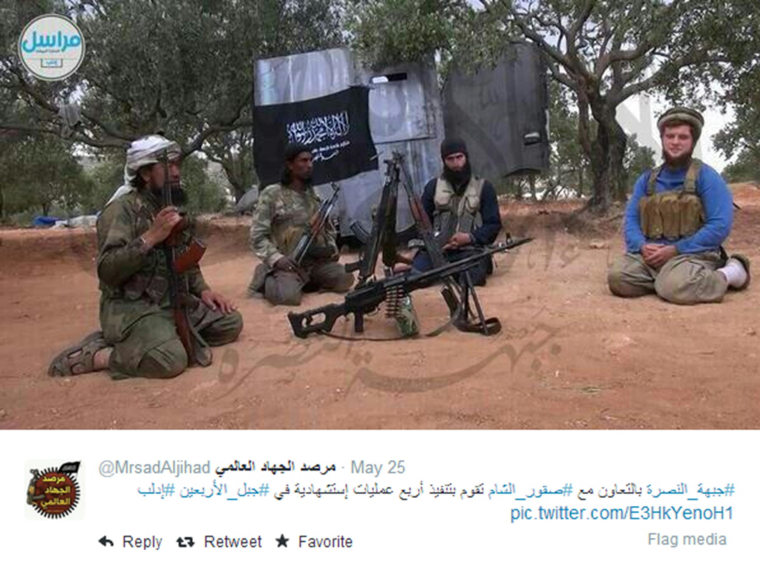 Separately, a video circulating on jihadi forums showed what appears to be the same man loading artillery shells into a truck bomb and then the bomb exploding in the city.
Syrian rebel sources based in London tell NBC News that other jihadi tweets suggest the American was of Palestinian descent.
Agence France Presse, citing the monitoring group the Syrian Observatory for Human Rights, published a report on the spate of bombings, saying they caused dozens of casualties.
The incident is believed to be the first suicide bombing by a U.S. citizen in the Syrian civil war. Three Americans were confirmed to have carried suicide attacks in Somalia on behalf of another al Qaeda linked group, al Shabab, between 2009 and 2011.
Laith Alkhouri, an NBC News counterterrrorism analyst who found the material online, said reports indicated that "the truck used in the suicide bombing allegedly carried over 16 tons of explosives."
Alkhouri said that if the account is proven accurate, it would almost certainly be used in future propaganda by the al-Nasra Front, which is on the U.S. terrorist watch list.
Related
Brits Step Up Arrests of Muslims Allegedly Fighting in Syria
Syria's Chemical Weapons Arsenal Remains a Menacing Mystery
"His choice of a suicide bombing is a clear indication that he intended on staying and dying in Syria; never to again return, " he said. "…. There is no doubt his image and action will be used in future propaganda material specifically for this goal."
U.S. intelligence officials said Wednesday that they believe "dozens" of Americans have joined the fighting in the Syrian Civil War, with most taking the side of the rebels. It is believed that hundreds of Westerners have taken part in the fighting, according to U.S. intelligence and rebel sources.
Follow NBC News Investigations on Twitter and Facebook.
Eric Harroun, a former U.S. Army soldier who converted to Islam, allegedly fought alongside another al Qaeda affiliate. He was later arrested in the U.S. and charged with material support of terrorism and use of a weapon of mass destruction outside the U.S. In September, he pleaded guilty to lesser charges and was sentenced to time served. He died of "an overdose" last month, his family reported.
NBC News' Sarah Burke and Catherine Chomiak contributed to this report.