The Florida man who killed himself in a suicide bombing in Syria this May says in a new video released Wednesday that he fled to Syria last year because he believed he was under surveillance by the FBI.
Moner Mohammad Abu-Salha also says he was comforted and inspired by the lectures of Anwar al-Awlaki, the radical American-born Islamic cleric who was killed in a U.S. drone strike in Yemen three years ago.
On May 25, Abu-Salha drove a massive truck bomb into a restaurant in Jabal Al-Arba'een filled with Syrian government soldiers.
The 22-minute video, billed as "Part 1" of an interview, is the third of Abu-Salha released so far by Islamic militants, who apparently shot the footage at a rebel base camp just before his suicide mission. In a previously released video, he set his U.S. passport on fire.
Abu-Salha, a 22-year-old Palestinian-American, says on the newly released video that when he returned to the U.S. after initial training in Syria in 2012, he was aware of FBI surveillance.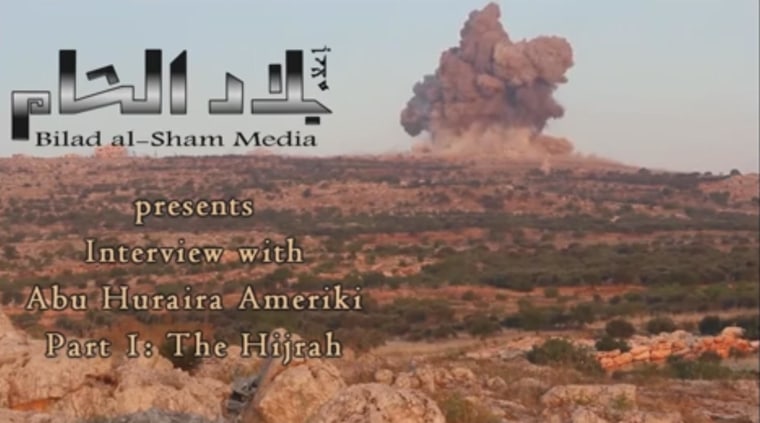 "I went back to my home state, which is Florida," he tells his interviewer, never making eye contact. "I stayed with my friend's family. And it was no good. The reason I had to stay with them is that the state I was in, I finally realized I was being watched." He explains that he fled back to his home state "to throw [the FBI] off, to make them think I was somewhere else in the United States."
Family members said Abu-Salha, known in Syria as Abu Hurayra al-Ameriki, had traveled to Texas and then returned to Florida in 2013.
Abu-Salha also hints at betrayal by a friend. Law enforcement officials have told NBC News that Abu-Salha tried to recruit some of his Florida friends for Syria's violent revolution and that one of them, who had originally agreed to go with him, had informed on him.
Without identifying the friend, Abu-Salha says that the man had abandoned him at a Florida airport and "showed me at the end what a true person he was, and I forgive him."
Twice in the interview, Abu-Salha says al-Awlaki's lectures, which have been widely circulated among English-speaking radicals, had inspired him on arrival in Syria in 2012. He recounts how he had no money other than $20 for a Turkish visa had been comforted by recalling one of al-Awlaki's lectures.
"I put my [faith] in Allah," he says, "In a lecture, Anwar al-Awlaki said when you make [a journey for jihad] it's like a cliff, jump off the cliff and you don't know if the water is deep or shallow. Don't know if there's rocks or if it's going to be very deep. You just have to jump and put your faith in Allah that it's going to be deep and you won't be harmed, that you're going to be safe after you land in the water."