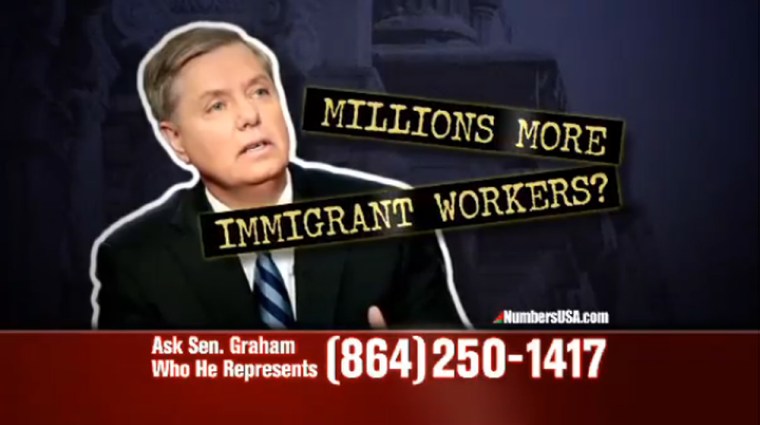 A closely aligned network of anti-immigrant groups — founded with help from a controversial Michigan doctor who has argued that the country's "European American majority" must be preserved — has spent over $100 million over the past decade to shape public policies aimed at restricting immigration, according to a NBC News analysis of public records.
The groups — spearheaded by Numbers USA  and its combative president, Roy Beck --  have played a key role in blocking legislation that would open up a "pathway to citizenship" for  undocumented workers, according to lobbyists on both sides of the contentious issue.
Now, as a bipartisan group of senators crafts a bill it hopes can pass Congress, the anti-immigrant groups are encouraging their backers to bombard Capitol Hill offices with phone calls and faxes opposing such a deal. Numbers USA also has  launched attack ads targeting  Senate  supporters of the measure such as South Carolina Sen. Lindsey Graham, a Republican. 
"Who elected Graham to demand amnesty and welfare for millions of illegal aliens?" states the narrator in a Numbers USA ad now running in South Carolina as part of an estimated $200,000 ad buy.  A constituent responds:  "Amnesty? Not me."
"Our goal is to stop this legislation," said Beck, whose group is planning a series of ads aimed at pressuring senators who might be tempted to back immigration reform. "Every senator that is taking stands that are clearly against the interests of their citizens, their constituents are going to be reminded that there are elections."
Graham, a key member of the so-called "Gang of Eight" working on the immigration overhaul bill who is up for re-election next year, is undeterred, according to a statement released by his office.  "If you want to run ads against me, spend all the money you want to spend. I'm not backing off," Graham said.
Beck insists his group — with a $7 million budget and 1.3 million members — is growing " by the day"  because of fears that the immigration measure will "flood this labor market with more foreign workers at the expense of our own Americans." And he's unabashed about what he wants to happen to the estimated 11 million undocumented immigrants in the country:  "What they've done is not a victimless crime. They have hurt vulnerable Americans by being here by taking jobs, by taking taxpayer services. And I would say (to them), 'You need to get your affairs in order and go back home.'"
The political clout of groups like Numbers USA was most visible during last year's GOP presidential primary, when Mitt Romney declared his support for "self deportation" of undocumented workers. Beck immediately hailed and claimed credit for Romney's stance, asserting his group had been backing the same idea for years under a concept it called "attrition through enforcement."
Numbers USA and two closely aligned groups -- the Federation for American Immigration Reform, or FAIR, and the Center for Immigration Studies — have spent $103 million to promote the cause of reducing immigration, both legal and illegal,  since 2002, according to a NBC News review of public records and tax returns. The  biggest single contributor – with about $36 million in donations --  was the Colcom Foundation, a Pittsburgh-based  "conservationist" group  that states on its website it was created to explore the "causes and consequences of overpopulation  and its impact on environmental sustainability." (The foundation was started by the late Cordelia Scaife May, niece of former Secretary of Treasury Andrew Mellon and the sister of Richard Mellon Scaife, a major funder of conservative causes.  )
After Romney's defeat, the activities of Numbers USA and the allied anti-immigration groups are getting new scrutiny — and there are signs of a potential backlash.    
Some Republicans blame the groups for the party's sinking share of the Latino vote — 27 percent in 2012, down from 40 percent in 2004. 
'A recipe for disaster'
The disaffected Republicans have found themselves in unusual political company, including civil rights groups like the Southern Poverty Leadership Conference, as they have escalated their attacks on Beck and his allies, primarily over their common ties to a controversial Michigan doctor and environmentalist who they contend has a history of racial and ethnic prejudice. 
"I would say that listening to these groups is a recipe for disaster for the GOP," said Alfonso Aguilar, executive director of the Latino Partnership for Conservative Principles and a former chief of the U.S. Office of Citizenship during the administration of President George W. Bush.      
Aguilar is among a number of Republican activists who have recently been meeting with congressional staffers emphasizing links between Numbers USA, FAIR and the Center for Immigration Studies and Dr. John Tanton, who has been described as the "architect" of the anti-immigrant movement. Tanton helped found and support all three groups and, like Cordelia Scaife May, a longtime friend and ally, has often described himself as an environmentalist worried about the dangers of overpopulation. But he has also faced repeated charges from civil rights groups of being motivated by sympathy for "white nationalism," based on his writings in the 1980s and '90s.
Tanton, in memos and letters he donated to the University of Michigan library, expressed concerns at the time about the threat posed by  immigration to  the environment and the country's population, sometimes casting the issue in racial and ethnic terms. "For European-American society and culture to persist, requires a European-American majority, and a clear one at that," he wrote in one 1993 letter. In a 1986 memo, he questioned whether "Latin American migrants bring with them the tradition of the mordida (bribe)." 
Tanton, now 79 and suffering from health problems, was unavailable for comment, according to a spokesman He has strongly denied any racial prejudice in the past.
'Ethnic component' denied
Beck, who formerly worked for Tanton as an editor of his magazine, "The Social Contract," said: "Numbers USA does not agree there is any kind of racial aspect to immigration. We've always been clear: Immigration should not have a racial impact, should not have an ethnic component."
In his recent meetings on Capitol Hill, Aguilar says he has emphasized the political impact of the Tanton-backed groups.  Among his key pieces of evidence:  a 2001 letter that Tanton wrote laying out a political strategy, developed with Beck, aimed at distancing the GOP from all "immigrants," with no distinction made between those who are illegal or legal.
"The goal is to change the Republicans' perception of immigration so that when they encounter the word 'immigrant,' their reaction is 'Democrat,'" the Tanton letter states.
"Our plan," the letter continues, "is to hire a lobbyist who will carry the following message to Republicans on Capitol Hill and to business leaders:  'Continued massive immigration will soon cost you political control of the White House and Congress, given the current even division of the electorate and the massive infusion of voters about to be made to the Democratic side." 
 "That letter is a smoking gun," Aguilar said, adding that some Republican staffers are "shocked" when he shows it to them. "We cannot make inroads with Latinos precisely because of that strategy."
Beck says Tanton's letter was simply stating political reality – that "for 150 years, immigrants always vote, 2-to-1, Democratic, because the Democratic Party  is the bigger supporter of government services."  He added: "The message to the Republicans is to go after the immigrant vote, you might want to consider whether it's really worth driving down American wages, just so you can get cheap labor for your corporate contributors."
Beck said he was referring to corporate interests like the Chamber of Commerce and Microsoft, that have been lobbying hard for an immigration overhaul bill and which, he maintains, are vastly outspending the efforts on his side. "We're up against every power elite in the country," he said.
But he's got no shortage of confidence: "I'd much rather be in my situation than the situation on the other side."
Michael Isikoff is NBC News' National Investigative Correspondent; Carl Sears is a Washington, D.C.-based Producer for NBC News. NBC News researcher Taylor Sears also contributed to this article
More from Open Channel:
Follow Open Channel from NBCNews.com on Twitter and Facebook