Rising fears of terrorists shuttling between Britain and the Syrian civil war have led U.K. authorities to detain 20 alleged Islamic militants believed to have participated in the fighting there in the first two months of 2014, compared to 24 in all of 2013.
The increasing detention numbers – 16 in January alone and four on Tuesday -- arise from the British concern that some of those fighting in Syria return with skills that could eventually be used in domestic attacks.
The four arrested on Tuesday were charged under a British law analogous to the U.S. law against providing "material support to terrorists." Among them was Moazzam Begg, an outspoken former Guantanamo Bay detainee, who was charged with attending a "terrorist training camp" and facilitating terror overseas.
According to a senior U.S. counterterrorism official, the British have been the most aggressive Western intelligence service tracking the movements of suspected militants between Syria and the United Kingdom.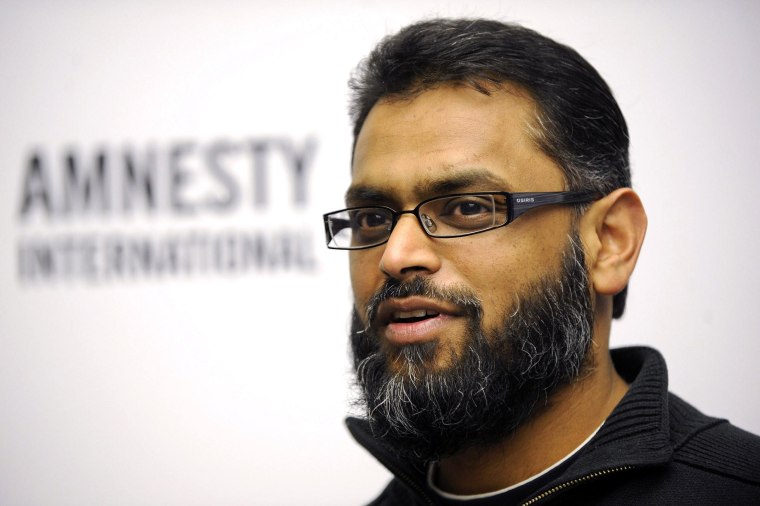 According to a senior British official the concern about the threat posed by former Syrian fighters -- and for Europe as well -- is heightened because of geographic proximity. In particular, the British have been monitoring flights between the U.K. and Turkey, the entry point for most Western militants.
Follow NBC News Investigations on Twitter and Facebook
The U.S. official, who spoke on condition of anonymity, said British authorities are particularly interested in how Islamic militants travel to Syria, fight on behalf of one rebel group or another, return home for R&R, then go back to the conflict zone refreshed and ready to fight again. As the conflict continues, the likelihood of more Western fighters returning home and bringing terror to England's shores rises, the official said.
The travel patterns are common among militants across Europe and to a lesser degree North America. In the U.S., the FBI is similarly tracking flight patterns. Neither U.S. intelligence nor law enforcement would discuss numbers --or significance-- of those tracked.
Earlier this month, Homeland Security Secretary Jed Johnson told a Washington, D.C., audience that al Qaeda-influenced fighters have started training camps in Syria "to train people to go back to their countries" -- one of the newest threats emerging in the past year to U.S. security."
Similarly, Director of National Intelligence James Clapper told a Senate committee last month, "At the same time, extremists are actively trying to recruit Westerners, indoctrinate them and see them return to their home countries with an extremist mission."
According to NBC counter terrorism analyst Evan Kohlmann, there are a number of U.S. citizens under investigation for traveling to Syria to fight against President Bashar Assad's regime in various jurisdictions around the country.
England's domestic and foreign intelligence services – the MI5 and MI6 -- have an extensive database of suspected terrorists and their movements.
After some initial stumbles in hunting down al Qaeda affiliated terrorists, it has become an effective counterterrorism tool.
Over the past two years, MI5 has also re-engaged in Northern Ireland, where the security service acknowledged it had in the past underestimated the threat posed by splinter dissident groups whose operations have claimed the lives of law enforcement personnel. The stepped-up role of the intelligence services has aided authorities in reducing the aggressive operational tempo of these groups, a British security official said.