The violent Muslim insurgency in Chechnya and Russia's iron-fisted efforts to quash it have never directly reached U.S. shores, but experts say the conflict has nonetheless inflamed several generations of Islamic militants to violence, including attacks against the United States and its overseas operations.
Chechnya, a mountainous strip of southern Russia in the North Caucuses region, remains a Russian republic, but a restive one. The predominantly Muslim region has a history of rebellion against Moscow — and brutal Russian repression — extending back centuries. Many supporters of the current separatist insurgency, which has been active for two decades, are adherents of Wahhabism, the conservative form of Sunni Islam that is dominant in Saudi Arabia.
While the conflict nominally pits Russian forces against Chechen rebels and their supporters, it has spilled over into many other lands, including the United States, said Karen Greenberg, director of the Center on National Security at Fordham Law School.
Greenberg noted that that the core group of 9-11 hijackers, known as the "Hamburg cell," were first radicalized by videos of Russian atrocities in Chechnya.
Among those who first expressed interest in joining the Chechen insurgency but later diverted to Afghanistan for training under al Qaeda: Mohammed Atta, who organized and managed the hijackers and piloted the first hijacked jetliner into the World Trade Center; Marwan al-Shehhi, who piloted the second plane into the World Trade Center; and Ramzi Bin al-Shibh, the lead facilitator of the 9-11 attacks.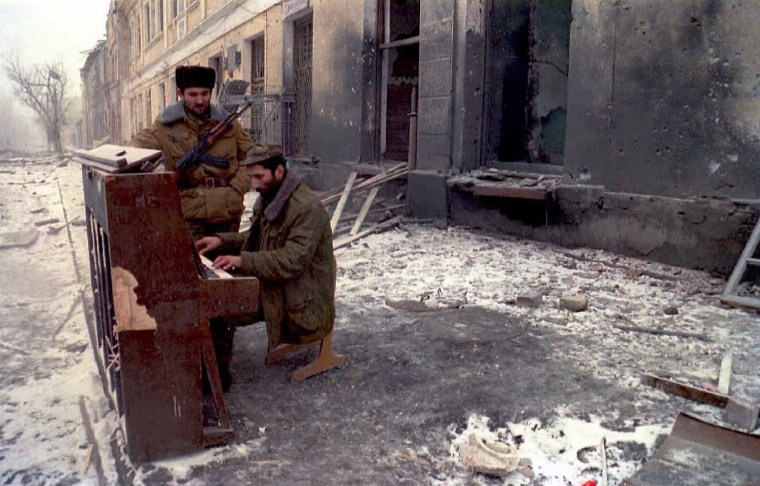 And Zacharias Moussaoui, the French-Moroccan terrorist who pleaded guilty in 2002 to playing a role in 9-11 planning, also fought in Chechnya in 1996-97 and recruited fighters for the insurgency there.
"While the Chechen connection has not appeared as frequently in terrorism cases as have connections with Afghanistan, Pakistan and Somalia, Chechnya has been part of several cases in terms of charges of funding, recruitment and fighting," Greenberg said.
It is unclear if suspected Boston Marathon bombers Tamerlan and Dzhokhar Tsarnaev, ethnic Chechens who never lived in their homeland, are among those incited to violence by the conflict. Authorities so far say they have found no connections between the brothers and terrorist groups overseas.
But there are hints in their social media accounts that the conflict was on their minds. Tamerlan Tsarnaev downloaded videos of Russian atrocities on his YouTube site. And Dzhokar Tsarnaev listed "Chechnya" as one of his main interests on a Russian social media site.
Seen as promotional pioneers
Cerwyn Moore, a senior lecturer in international relations at the University of Birmingham in England and an expert on political violence in the North Caucusus, said that part of the success of the Chechen insurgents is their use of media to gain support and recruit.
"The Chechens pioneered the use of the Internet for their cause," said Moore. "They did this before al Qaeda, but they use it to update people about their cause, not to radicalize."
Court records reviewed by Greenberg and the Fordham Center on National Security show that anger over Chechnya has been cited by numerous suspected terrorists as a rationale for joining or supporting jihadi movements with more expansive goals. Among them:
Adnan Shukrijumah, who grew up in Miami and is now believed the head of global operations for Al Qaeda. He has said he chose the life of jihad in the 1990s because of his anger over attacks on Muslims in Bosnia and Chechnya, according to the FBI.
Tarek Mehanna, a Sudbury, Mass, pharmacist and U.S. citizen, was convicted in December 2011 on charges he conspired to kill American soldiers and supported al Qaeda, as a result of what prosecutors said were efforts to radicalize others by distributing jihadi videos and efforts to receive terrorist training overseas. He delivered what was described as an eloquent defense at his sentencing in U.S. District Court in Boston on April 12, 2012, citing Chechnya as the first in a long list of attacks on Muslims that he said drove him to support of jihadi movements.
Omar Hammani, a Mobile, Ala., native who joined al-Shabab terrorists in Somalia, has cited Chechnya in jihadi videos he has posted online.
Jose Padilla, a U.S. citizen from New York originally jailed in 2002 on suspicion of plotting to detonate a radiological "dirty bomb" in the United States before later being convicted of aiding terrorists, was originally recruited to fight in Chechnya. Two of his co-conspirators also had Chechen connections.
But the conflict has done more than just influence radical acts, said Greenberg. The Fordham research shows there also have been direct convictions of U.S. residents for aiding the Chechen rebels:
Enaam Arnaout, a Syrian immigrant to the U.S., pleaded guilty in 2003 to charges he supplied military uniforms and other non-lethal materials to the Chechen rebels through his Chicago-based Islamic charity. He admitted to traveling to Chechnya. Also,
Mohammed Elzahabi, a former Boston cab driver from Lebanon, fought in Chechnya before being indicted in 2004 on charges of lying to the FBI and shipping prohibited communications equipment to Pakistan, where it was reportedly to be transferred to al Qaeda. He was later convicted of lesser charges and expelled to Lebanon after his release.
Greenberg said that the Chechnya conflict resonates broadly, even among those jihadis who have never been near the North Caucusus.
"Chechnya has been consistently present as part of the narrative," she said. "It's not as important as some of the other political issues, like Palestine or Pakistan, so not top-level important. Nevertheless it's consistently present as part of the narrative."  
Moore notes that while Chechnya has always had substantial appeal, al Qaeda has sought to expand it by painting it as part of a broader pan-Islamic battle against all "non-believers."
But the role does not always suit the Chechens, who remain focused on Russia, where they carry out horrific attacks like the 2004 assault on an elementary school in Beslan, which killed 300 people, most of them children. He noted that the Mujaheen of the Caucasus, one of the biggest Islamic terror groups in the region, has issued three statements in a week distancing itself from the Tarnaevs.
"This incident has tainted their cause," he said. "They want to ensure that people recognize that their movement focuses on the Northern Caucasus.  Any linkage to the Tsarnaevs would have been limited.  This reinforces the idea that they (the brothers) were self-starters."
Robert Windrem is a  fellow at the Center on National Security.
More from Open Channel:
Follow Open Channel from NBCNews.com on Twitter and Facebook