By Robert McClure and Jason Alcorn, InvestigateWest
with Bonnie Stewart, EarthFix
Beside Seattle's notoriously polluted Duwamish River, an excavator scoops up small pieces of waste metal and slings them onto a rusty mountain at Seattle Iron & Metals Corp. A pile of flattened cars and trucks squats nearby amid vast sheets of scrap metal.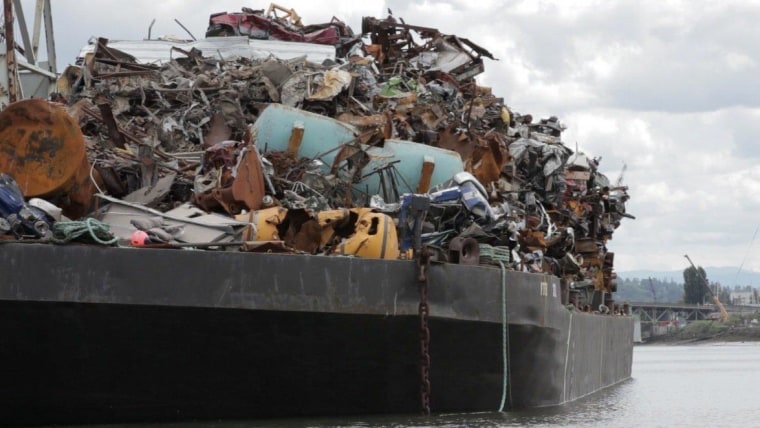 For at least the last four years, this auto-shredder and metal recycler has dumped more pollutants into the river than allowed under the federal Clean Water Act, government records show. The levels have ranged higher than 250 times above what's known to harm salmon that migrate through the river.
The company, which declined to comment for this story, has reported its violations to the government, as required by law. But instead of punishing the metal recycler, the Washington Department of Ecology encouraged the company to reduce its pollution levels. The agency also searched for a legal way to make Seattle Iron & Metals' pollution limits more lenient, and says it plans to relax them soon.
The Seattle Iron & Metals story is emblematic of widespread failures in the nation's efforts to end the toxic pollution that modern life has unleashed on America's rivers, lakes and bays. The Clean Water Act, passed by a large bipartisan majority of Congress 40 years ago, was intended to eliminate water pollution by 1985. Congress declared: "It is the national policy that the discharge of toxic pollutants in toxic amounts be prohibited."
Yet in the Pacific Northwest, as across the nation, the Clean Water Act has fallen far short of its goals. A majority of Northwest waterways fail to meet federally approved water-quality standards. An investigation by EarthFix and InvestigateWest reveals:
Whole categories of polluters are effectively exempt from penalties when they dump pollutants illegally. This affects thousands of facilities.
Violations of the Clean Water Act in the Northwest occur routinely, yet citations and financial penalties are relatively rare.
Government bodies are among the most prolific violators, especially those that manage aging sewage-treatment plants and stormwater pipes that dump polluted rainwater runoff directly into waterways.
Read more, and see an interactive map of Clean Water Act penalties in the Pacific Northwest.