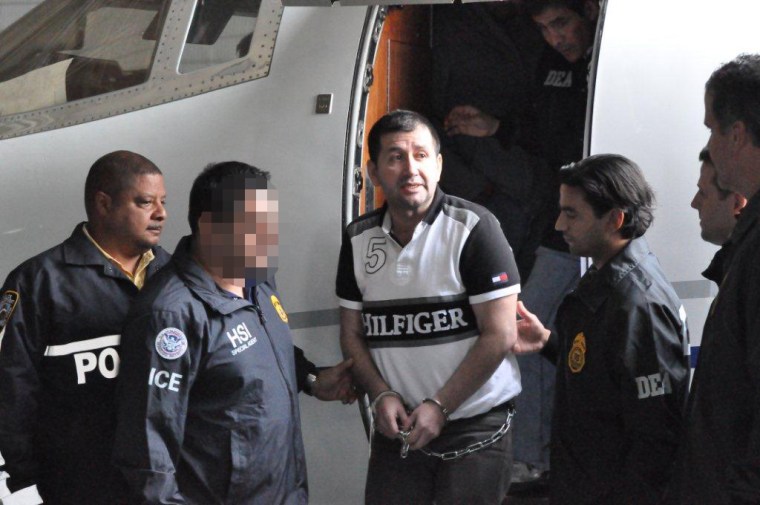 The most notorious Colombian drug lord since Pablo Escobar is now headed to the U.S. in handcuffs, after plastic surgery failed to conceal his identity from police.
Daniel Barrera, AKA El Loco or The Madman, ran a 400-ton-per-year drug empire with the help of violent leftist guerrillas, and controlled the major cocaine smuggling routes from Colombia to the U.S. He burned off his fingerprints with acid and had cosmetic surgery on his face, but an international law enforcement task force was still able to track him to a phone booth in Venezuela in September.
Colombian authorities have now extradited the 51-year-old to New York, where he faces drug trafficking and money laundering charges in two federal courts. He was set to arrive in New York in Tuesday, and will be arraigned in Manhattan on Wednesday morning and in Brooklyn on Thursday morning. After he is prosecuted in New York, he will be arraigned in the Southern District of Florida.
"Thanks to the cooperative efforts of Colombian and U.S. [law enforcement], Barrera's criminal career is over," said DEA Administrator Michele Leonhart. "He now faces charges that may bring him a life behind bars."
Preet Bharara, U.S. Attorney for the Southern District of New York, said that Barrera had "operated at the center of a truly evil web."
"This was truly cocaine with blood in its background," said Bharara.
Barrera's career as a drug smuggler dates back to the 1980s, and he is believed to have shipped thousands of tons of cocaine north, often in cooperation with the leftist guerrillas of Fuerzas Armadas Revolucionarias de Colombia, or FARC. FARC has been the world's largest supplier of cocaine and has engaged in bombings, massacres and kidnappings inside Colombia. FARC guerrillas allegedly provided Barrera with raw materials and charged him a monthly tax for establishing drug labs in their territory.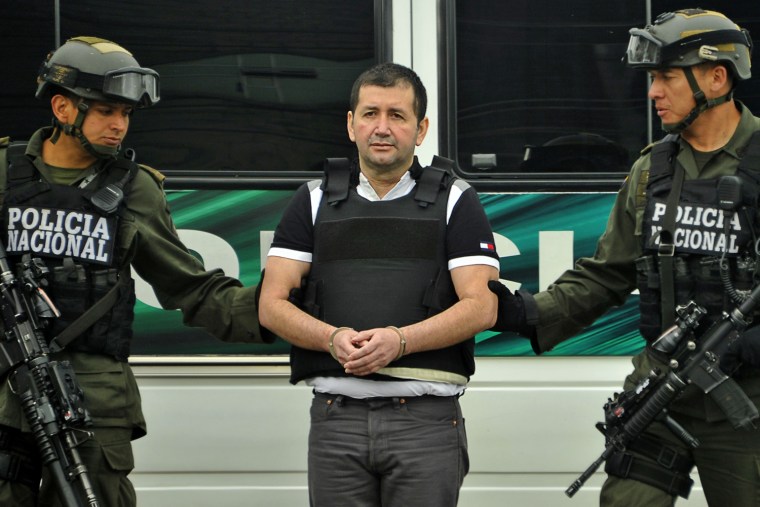 Barrera was convicted on drug charges in Colombia in 1990 but escaped. After his escape, he used public telephones instead of cell phones to avoid surveillance by law enforcement.
By the time he was caught by Venezuelan law enforcement last fall, authorities said he accumulated multiple dwellings, a yacht and 48 automobiles. The Venezuelans handed him over to the Colombians after his arrest.
Colombian President Juan Manuel Santos announced his capture on live television, saying, "We have caught the last of the great lords," and thanked British and American authorities for their help.
"In the fight against drug trafficking, this is a very important and final step," Santos said.
More from NBC News Investigations: