NUCLA, Colorado -- This tiny town nestled between bedraggled shrubs and hardy desert trees in southwestern Colorado's Paradox Valley could use some jobs. The local uranium mine has long been shuttered, Main Street is dotted with boarded-up buildings and deserted after sunset, and the town's poverty rate stands at nearly 20 percent.
But the town is not lacking one thing: A gun in every home, required by law.
In May 2013, the Nucla Town Board passed the Family Protection Order, requiring every head of household in the town of 700 to own a firearm.
It's unenforceable, something the town board understood when it passed it by a 5-1 vote. Nothing changed in the town where most everyone already owned a gun. And local law enforcement, consisting of a few Montrose County sheriff's deputies, never went door to door to make sure everyone had fulfilled their new obligation.
To this day, most residents pass it off with a shrug. Fitting for a place called Paradox.
Nucla, which is perched on Colorado's Western Slope, feels far away from the lawmaking and politicking that happens 350 miles away in Denver. The nearest stoplight, hospital and Walmart are two hours away. There is a polling place for general elections in the equally small town of Naturita, five miles to the south, though most people opt to mail in their ballots.
Nucla's population is dwindling and aging, but its remaining residents aren't apolitical. The gun ordinance is often framed as an attempt to catch the attention of those far-off lawmakers. A statement that says, "Hey! Remember us? We matter too."
The Law
Board trustee Richard Craig says it all started as an offhand remark.
He was upset when state lawmakers began discussing a series of stricter gun-control measures in early 2013. So he came into the next board meeting and suggested adopting a mandatory gun ordinance.
"People said that's a good idea, and I said, 'whoa,'" Craig explains with a laugh.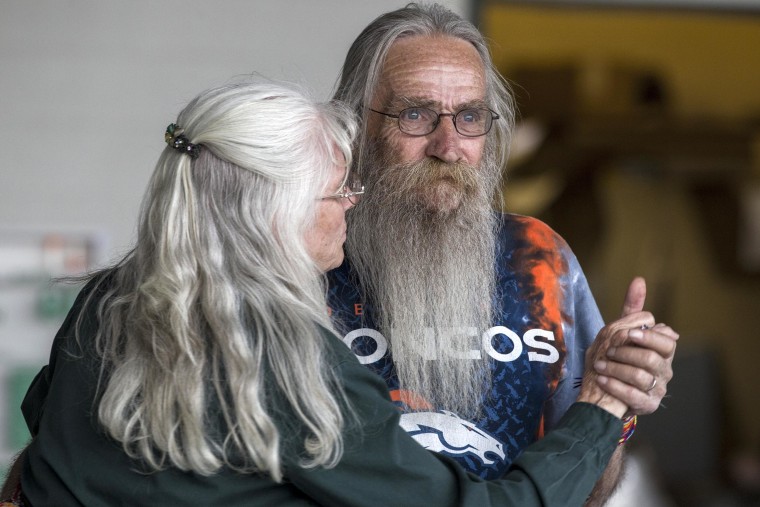 With a white ponytail and long beard and multicolored woven bracelets from Peru inching up both wrists and ankles, Craig would look more at home at a gathering of Grateful Dead fans than at town hall. In fact, Craig says he once did live a kind of nomadic existence, hop-scotching around the West before settling down in Nucla two decades ago.
At 74, Craig still enjoys hunting, a hobby he shares with most of his neighbors.
"This is a hunting, ranching community and everybody already has guns," he says.
"I wasn't looking for any change or notoriety at all. Just to say, we do have guns. That's just the way it is."
Though the ordinance generated a brief uptick in media attention, Craig says he wasn't looking for that.
"It was more or less standing up for our rights as gun owners. I wasn't looking for any change or notoriety at all," he says, "Just to say, we do have guns. That's just the way it is."
Modeled on a similar law in Kennesaw, Georgia, that's been on the books since 1982, Nucla's ordinance includes all the expected exemptions: Those with a physical or mental disability that would prohibit them from using a firearm; anyone convicted of a felony; those who cannot afford a gun; and conscientious objectors.
Trustee Bill Long was the only dissenting vote, but he's quick to explain that it wasn't because he doesn't like guns. It was because of government overreach.
"There's no difference between the government telling us you can't own guns or you must own guns," Long maintains.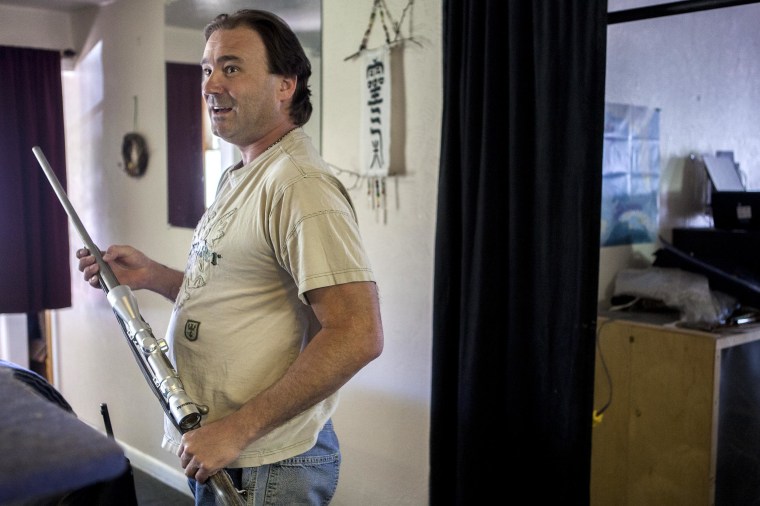 Long was born and raised in the area. He left immediately after high school to see the world, living as far away as India before moving back several years ago with the hope of getting involved in local politics to gain footing for a U.S. Senate run.
To Long, being raised with guns and learning to respect them as you would, say, a car, is just a part of life. He owns five or six guns himself.
After the ordinance passed, Long says he was contacted by theBrady Center to Prevent Gun Violence. According to Long, the center offered to help him sue Nucla, as it successfully had done inNelson, Georgia, when that town attempted to pass a mandatory gun ownership ordinance shortly before Nucla did.
"Then they found out I had guns and I haven't heard from them since," Long says.
Guns
Like most people in Nucla, trustee Les Mahannah wears many hats. After rising by 5 a.m. most weekdays to work at the landfill just outside town, the 64-year-old returns home to run a small mechanic shop out of his garage.
Mahannah still owns the rifle he used to kill his first deer when he was 14. "It was a family thing as a father and son," he says, "Something my dad and I looked forward to every year."
Guns are natural, as he puts it, and should not be feared.
"I think if you're raised with guns, you're taught gun safety at a very early age," Mahannah says, explaining that gun education — including gun club and hunter-safety courses — was part of the curriculum when he went to Nucla High School.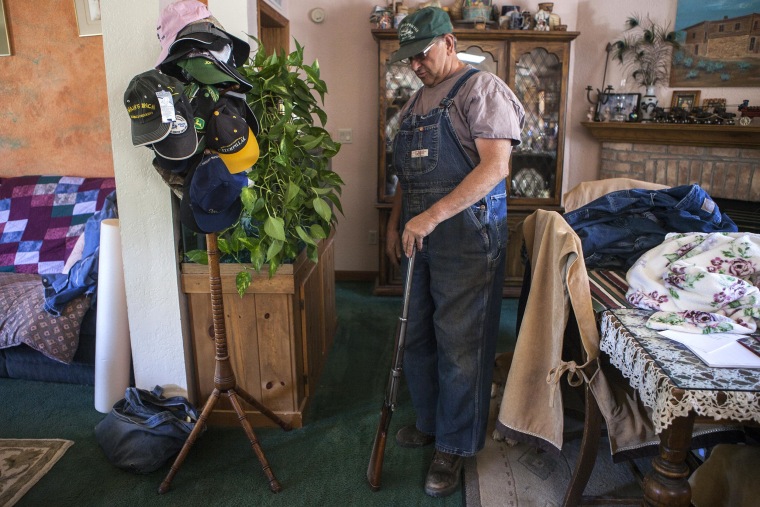 Mahannah sees being comfortable around guns as a safer alternative to gun control, which he considers a distraction from the real issues, especially mental health. Guns are just a tool. "You can lay a gun on the table and it doesn't do anything but lay there," he says.
Mahannah says he voted for the Family Protection Order to take a stand for an individual's freedom to own a gun in this country.
"It's a stand we took about how we felt about the Constitution, on our rights to shoot the prairie dogs in the hayfields when they become a nuisance," he says.
It's a point that comes up often in Nucla — guns are not just for sport but survival. A single prairie dog can ruin a farmer's entire crop. Bears regularly wander into town looking for food, threatening people's pets and homes.
And with such a small law enforcement presence, it's often up to the people to protect themselves. Mahannah concedes that crime is not a big problem in Nucla, though he's had break-ins and theft. But rather than depend on local sheriff's deputies, who have to travel a long way to respond to any call, he says passing the gun ordinance was a kind of crime deterrent.
"Would you break into somebody's house if you knew they had a gun?" he asks. "Probably not."
The Town
As legend has it, the region's indigenous Ute people placed a spell over the Paradox Valley that whoever set foot there could never leave nor forget it. Sufficiently enchanted, socialist settlers claimed the area in the name of the Colorado Co-operative Company, or CCC, in 1894. Shunning the competitive economic system in favor of one based on sharing and equality, they called the town Nucla — the nucleus of everything.
Guns were a part of Nucla from the start. According to town historian Marie Templeton, 84, those early settlers may have starved to death if they didn't have guns to hunt wildlife.
Related
Butt Out: State Legislatures Move to Nullify Federal Gun Laws
'No' Sheriff in Town: Some Lawmen Refuse to Enforce Federal Gun laws
See the Entire News 21Project: GUN WARS: The Struggle Over Rights and Regulation in America
"If they needed some meat, they killed a deer and used every bit of it," says Templeton, noting that her husband's family was among the original CCC pioneers. "It was imperative that you had a gun to find your food."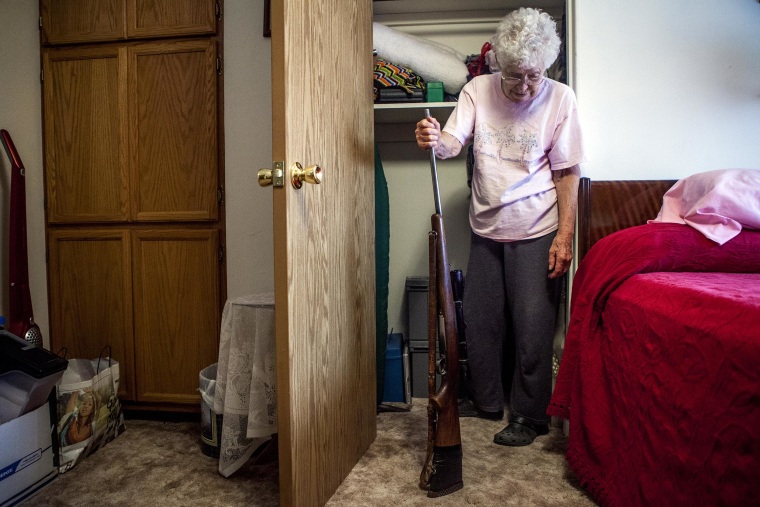 Templeton moved with her family to Nucla in 1940, long after the town's socialist ideals had been abandoned. Her father was a miner who worked in the local uranium mine, which was booming with the war effort.
AfterThree Mile Island, demand for nuclear power dropped along with the price of uranium, and the local mines were eventually abandoned. Now residents are concerned that the coal-powered Nucla Power Station will not be able to meet new emissionsregulations proposed by the Environmental Protection Agency and will close too. (Drew Kramer, a spokesman for the Tri- State Generation and Transmission Association, which owns the plant, said there has been no talk of shutting it down.)
Follow NBC News Investigations on Twitter and Facebook.
Craig said the economic forces that are battering Nucla are systemic and that rural America is dying. "Right now a lot of rural towns are just like us," he says. "We're just struggling and trying to figure out how to keep our towns going."
"Our biggest problem here is logistics," he says. "We're nowhere."
Lauren Loftus is an Ethics and Excellence in Journalism Fellow.
This report is part of a project on gun rights and regulations in America produced by the Carnegie-Knight News21 program.