A deaf and autistic student at a Florida facility that is under FBI investigation for alleged physical abuse was treated at a local hospital late last month for a broken arm allegedly caused when a staffer pushed her against a wall, NBC News has learned.
On security videotape shot at the National Deaf Academy in Mt. Dora, Florida and viewed by NBC News, the 19-year-old girl can be seen arguing with a staff member and exiting a room, and then reentering the room two minutes later clutching her left arm. She says, via sign language, "My arm hurts, my arm hurts," and crumples to the ground holding her arm. A staffer appears to say, "Are you through with your tantrum?" before a second staff member pulls the girl up by the other arm and directs her out of the room. The tape is stamped Aug. 26, 2014.
A spokesperson for Disability Rights Florida (DRF), a government-funded advocacy group for the disabled, confirmed that DRF had recently received a report of an incident at NDA matching the video, and that the patient had been treated for a broken arm at a local hospital.
According to multiple sources, the patient told a nurse at the Florida Hospital Waterman in Tavares, Florida that an NDA staffer pushed her against the wall and broke her arm.
Doctors at the hospital needed at least nine screws and a metal plate to repair the fracture, according to the DRF spokesperson.
The spokesperson said that DRF had "serious ongoing concerns as well as open investigations into the care and conditions of current residents of the National Deaf Academy."
NBC News has seen footage of the girl arguing with the staffer in the room, leaving the room and then reentering the room, but has not seen tape of the injury occurring.
Follow NBC News Investigations on Twitter and Facebook.
An attorney for NDA told NBC News that patient confidentiality laws prevented the facility from discussing the specifics of any patient. "However," said the attorney, "based upon the investigation conducted to date, NDA categorically denies any allegations that a staff member pushed a patient against a wall which caused an injury."
An exclusive, six-month NBC News investigation that was featured on "Nightly News" revealed that NDA Behavioral Health System in Mt. Dora, Florida, also known as the National Deaf Academy, is being probed by the FBI for alleged abuse. The NBC News investigation also found that 10 different patients at the facility had alleged physical abuse to Disability Rights Florida in 2013. Three families, including the family of one of those ten patients, have now filed suits alleging abuse.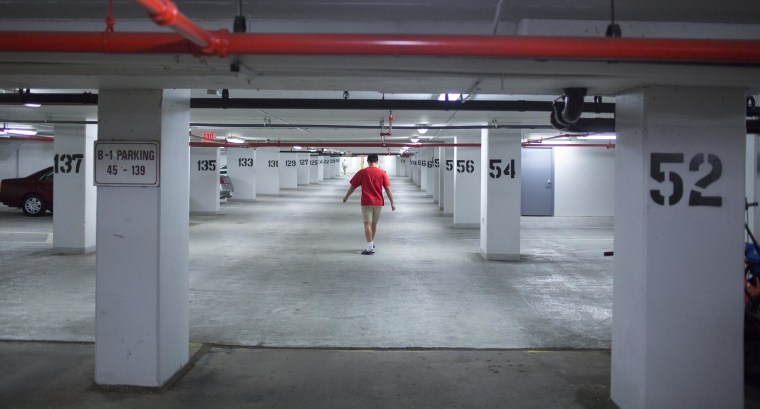 One of the families that filed suit alleged that their son had been inappropriately touched and exposed to pornography. All three families alleged in their suits that their children had been physically abused.
According to two other, separate lawsuits and a state report, three patients have died since 2009 in allegedly negligent circumstances. NDA settled both lawsuits and paid a $6,000 fine imposed by the state in the third.
A fourth student had to have her leg amputated above the knee, according to another lawsuit, after her leg was allegedly bent backward during a "forceful takedown." The case was dismissed because the statute of limitations had expired, but the plaintiff has appealed.
Click Here to Read the Original Report on the National Deaf Academy
Two former NDA employees told NBC News that they personally saw bruising, black eyes and chokeholds at the facility in 2012, but they felt pressure from the former CEO to cover it up. One of the employees said she called the state's abuse hotline a dozen times in just six weeks to report incidents. The employees have filed a whistleblower lawsuit against NDA, saying they were fired after they reported abuse and neglect to corporate headquarters and to state officials.
NDA denies all allegations and the case is pending. In a statement, an NDA attorney said the employees had been terminated "because they were noncompliant with the obligations of their positions." NDA CEO Gregory Sizemore also said that the incidents revealed in the NBC News investigation are "isolated and unacceptable" and that all employees are trained and required to report alleged incidents to their superiors "and/or to regulatory agencies." "Employees who do not make these required reports or whose conduct fails to meet our high standards have been disciplined and even terminated," said Sizemore.
The facility is licensed for 132 beds, but in recent years the number of patients has apparently dropped. NDA housed an average of 76.7 patients daily in 2012, which fell to 72.5 patients in 2013. NDA's year-to-date average daily population for 2014 is 63.9.