The fired LAPD officer who killed four people during a vengeance-fueled murder spree last year was also stalking the father of L.A. Police Chief Charlie Beck, Chief Beck told NBC News in an exclusive interview.
For 10 days in February 2013, former officer Christopher Dorner waged what he called "unconventional and asymmetrical warfare" against those he blamed for his dismissal from the force four years earlier. Dorner killed two police officers and an Irvine couple that included the daughter of his lawyer before he died of a self-inflicted gunshot wound at his mountain hideout.
Dorner was known to have shadowed Monica Quan, the daughter of his lawyer, before killing her, and had conducted surveillance on the family of LAPD Capt. Phil Tingirides, who was on the disciplinary board that dismissed him.
Dorner had posted a manifesto on his Facebook page threatening to avenge his firing. In the manifesto, Dorner wrote about stalking the Tingirides family, "I know your route to and from your home, and your division. I know your significant other's routine, your children's best friends and recess."
But Chief Beck now says detectives came to him a few weeks after Dorner's death to tell him that the former officer had also targeted the Beck family. Written material not published in the manifesto showed that Dorner had tailed Beck's 88-year-old dad, retired LAPD Deputy Chief George Beck, and his dad's Australian Shepherd.
"With my dad, he knew the layout of the house in general," said Chief Beck. "He knew about my dad's dog and he made plans to dispatch the dog, to kill the dog. He had spent a lot of time trying to find a victim to get at."
But Beck said that last February, as soon as he learned Dorner had killed Monica Quan, he was already concerned for his father. Dorner had worked in the division where his dad lives, and most of the local cops knew the address. When Dorner killed Monica Quan, Beck picked up a phone and called one of his kids who is a law enforcement officer.
"I said, 'Get to your grandfather's house and stay with him until I get other people there.' "
Follow NBC News Investigations on Twitter and Facebook.
Beck said it still shocks him to know that Dorner was targeting his family. "All of us who put on the uniform … we know that we are at risk," he said. "But all of us expect our families to be to be safe. One of the reasons we do this is to keep our families safe. I think that was the horror of what Dorner was capable of."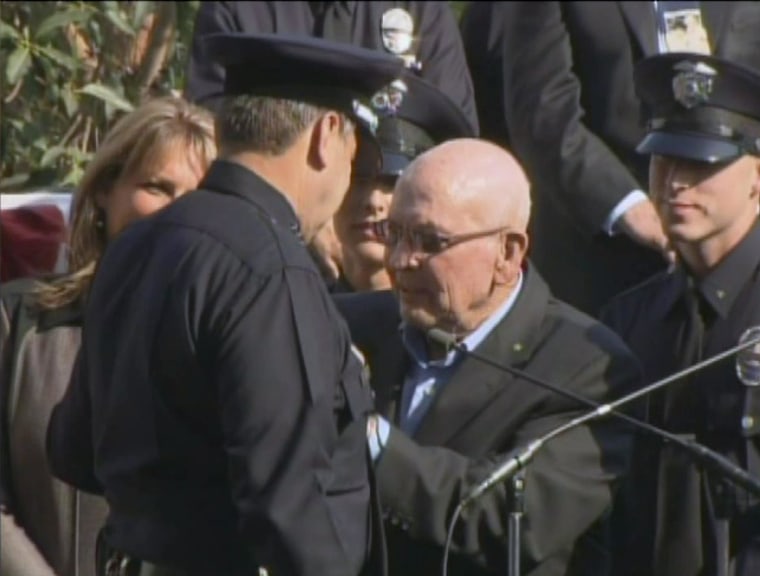 Thursday was the elder Beck's 90th birthday, and Chief Beck took him out to a diner for lunch. He says his dad, a World War II veteran, is "stoic" about being stalked by a mass murderer.
"With all he's been through in his life – he flew 34 missions in a B-29 bomber. He was a veteran of the Los Angeles Police Department for over 30 years. He downplays it."
In Depth
Dorner Died of Self-Inflicted Gunshot Wound to Head
But he thinks his dad would've been traumatized by the death of his dog. "My mom passed several years ago, and he's my dad's companion. His name is Alex and he's a good dog."
Beck's revelations come as the LAPD is set to release an internal report next week that includes recommendations about how to make the department's officer disciplinary process more transparent. The process came under widespread criticism after the Dorner incident. Dorner, who was dismissed from the force amid charges that he had used excessive force, claimed that he was a victim of racism and had been singled out for reporting excessive force by another officer.
Dorner began his campaign of violence by shooting Quan and her fiancé in an underground parking garage on Feb. 3, 2013. He was cornered in a mountain cabin near Big Bear Lake, California on Feb. 12. He shot himself in the head after sheriff's deputies fired incendiary tear gas canisters into the hideout and set it on fire.