Kate Papp has loved horses for as long as she can remember. That's why her decision to become a veterinarian specializing in treating racehorses turned into an agonizing career choice -- one that she says forced her almost daily to wonder if it's possible to do her job and still adhere to her professional oath to protect animals and prevent suffering.
"Every day, I almost quit," she says of her mental debate, which she describes as springing from a culture that forced her to unnecessarily inject horses with painkillers and other medications. "Every day, I decide I don't want to see 2-year-olds that haven't even run yet be euthanized in a dirt pit at the back of the racetrack because somebody trained them too hard, medicated them too much, pushed them too far."
Papp, 31, is part of a growing movement in the horse racing industry that aims to reverse what they and other critics see as an over-reliance on legal therapeutic drugs to keep horses training and racing – a practice that they say puts horses' lives and health at risk.
"Everything that's given to the horse is with the main goal in mind, which is having them run well, win races, pay well to the owners and to the trainers," she said. "And anything that they can give the horses – whether it be legal, illegal, even non-necessary substances – they will do … in an attempt to have a winner or improve their horse."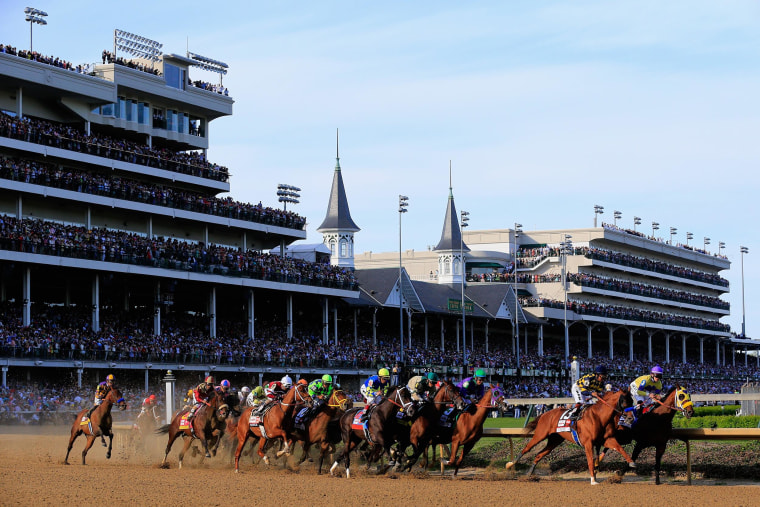 The medication issue has moved to the forefront during this year's Triple Crown, which continues Saturday with the Preakness Stakes at Baltimore's Pimlico Racecourse, as a result of an undercover investigation by People for the Ethical Treatment of Animals (PETA) of top thoroughbred trainer Steve Asmussen.
As first reported in March by the New York Times, videotape shot last year over four months by a PETA investigator who worked as a groom for Asmussen's operation resulted in a series of accusations by the animal rights organization against the trainer, including animal cruelty and the illegal hiring of undocumented workers.
But the footage that aroused the most outrage — and sparked a renewed conversation about medication practices within the industry — showed vets giving numerous joint injections as well as tranquilizers, painkillers and supplements to horses under Asmussen's care.
"These drugs don't appear to be used for genuinely therapeutic purposes — they're used to keep horses going when their legs and lungs are screaming 'Stop!'" PETA says on its website.
(Asmussen, who fired an assistant trainer shown making offensive remarks on the tapes, has denied any conduct that put his horses at risk and noted that PETA did not uncover a single drug violation during its investigation. "It's horribly misleading and untrue," Asmussen said of PETA's allegations in an interview with NBC Sports broadcast May 2. "It is simply false." Investigations of the PETA charges are ongoing in multiple jurisdictions, but no charges have been filed.)
While not commenting specifically on the Asmussen case, Papp said trainers often do bear responsibility for the overmedication of their horses.
"They don't want to spend the money to know what's wrong. They just want you to fix it."
"Basically the trainers fancy themselves to be not only trainers of horses and their fitness but of their overall health regimen," said Papp, who testified before Congress in 2012 in support of central regulation of horse racing and implementation of rules "to deter the overuse and abuse of drugs." "They believe in certain medications because they've been used by … people they know, people they've heard from … (and) they will make the dictation of what medications the horses are to receive."
The problem, she said, is that they fall into the habit of giving the drugs preventively, not to treat a specific ailment.
"They don't want to spend the money to know what's wrong," she said. "They just want you to fix it."
Papp said she encountered that mindset when she started her career as an assistant vet at the Fair Hill training facility in Maryland.
"I'd be required to go to the barn, look at the horse and administer the medications or substances of treatments that were requested by the trainer," she said, adding that those medications most often were pain-killers, anti-bleeding medications and anti-inflammatory drugs, including cortical steroids injected directly into joints.
"It felt awful to waste medication that has potential side effects – bad side effects – and giving it to a horse that we don't even know if we were giving it to the right place or not," Papp said.
In a statement to NBC News, Fair Hill Manager Sally Goswell said, "I am not involved with the in barn care of horses except to make every effort to provide the best track conditions possible on a daily basis for training. The trainers and owners of the horses here, along with their veterinarians, manage the horses care."
Papp said the indiscriminate use of legal therapeutic drugs often "masks" injuries and can lead to fatal breakdowns during training or racing.
She recalled one incident in particular, after she had left Fair Hill and opened her own practice, that she said drove her to re-evaluate that approach.
After she diagnosed a horse with a stress fracture in the hind leg at a racetrack in Pennsylvania, the horse's trainer promised to rest it for three months to allow the injury to heal, she said. But the owner transferred the horse to another trainer, who ignored her advice, gave the horse painkillers and then entered it in a race.
"That horse raced and was pulled up with a broken leg, with his leg dangling, and had to be euthanized on the racetrack," she said. "… It was crushing, because I felt like I had notified people … what was going on with the horse and no one seemed to care. … Nobody cared and that horse died because of it."
Papp said she unwittingly contributed to another bad outcome by injecting the knee of a horse that had one small bone chip with a pain medication. It won its next race, but as a result of that race Papp found the injury was much worse, with numerous bone chips in the knee, when she examined it.
Papp, who rescued the horse and now keeps him as a "pasture ornament" at the farm she rents with her husband, Monti Neal Sims, said she still regrets her decision.
"I feel extremely guilty for medicating him in the first place in order for him to run," she said. "I should have just taken him before he ever ran that race."
Related stories
Derby Winner in Exile: Trainer Rick Dutrow Fights for His Racing Life
Exclusive: Dying Hollywood Mogul Sam Simon Secretly 'Rescues' Racehorse
Papp said those incidents led her to alter her career path and open her own veterinary practice in New Jersey. She still treats racehorses – mostly at Penn National racetrack in addition to pleasure and show horses, but insists on treating injuries as they occur, not prohibitively.
"I had to step aside in order to help myself sleep at night," she said. "I have a good group of clients that want to do things right and are pretty successful and that's what … keeps me working on the racetrack part-time."
Papp is not alone in questioning the current state of affairs in racing and contemplating ways to improve governance of the sport.
The Horseracing Integrity and Safety Act of 2012, versions of which have been introduced in both the House and Senate, would institute for the first time a uniform national drug policy for horse racing and institute other changes, including a ban on race-day medications and the phase-out of use of the anti-bleeding drug commonly known as Lasix. It also would appoint the U.S. Anti-Doping Agency to test horses involved in races simulcast under federal law.
Rep. Joe Pitts, R-Pa., one of 26 co-sponsors of the House bill, said the legislation grew out of frustration.
"For decades, the horseracing industry has promised to better regulate the medications given to horses," he said in a statement to NBC News. "There have been steps forward and back, but little lasting change. I introduced my bill in order to end race day medication and bring horseracing in line with other sports that have a national and uniform testing policy."
Follow NBC News Investigations on Twitter and Facebook.
Ogden Phipps, chairman of the Jockey Club, said in March that the private organization dedicated to the improvement of thoroughbred breeding and racing would reach out to federal lawmakers in August to demand action if state regulators fail to agree to implement a series of medication reforms recommended by an industry science-advisory group.
"With the safety of our horses, the integrity of competition and the general perception of the sport all at risk, we cannot afford to wait any longer," he said in a statement. "Enough is enough."
A number of people working in racing also are championing reform, whether via federal legislation or by the states agreeing on a common, more restrictive approach to medication.
"We need to bring horsemanship and sportsmanship back to racing," said Glenn Thompson, a trainer for more than 30 years and author of the book ""The Tradition of Cheating at the Sport of Kings." "The people that have been in charge of the integrity of racing have and still are letting us all down in a big way. We need a National Horse Racing Commission that can deliver swift justice to the cheaters and insure the integrity of the sport."
Another supporter is Pam Berg, who runs the Glen Ellen Vocational Academy, a nonprofit rehabilitation and retirement facility for racehorses in Northern California.
"There are drugs in other sports: Lance Armstrong, Barry Bonds, people who have made the choice to use the drugs and that is by their own choice," she said. "… The horses don't have that ability. They can't say: Don't put the needle in me, don't make me take this, I don't feel like it, I don't want to. They are the victims and they are the ones without a voice and they're being forced to accept what's being done to them."
The National Thoroughbred Racing Association did not respond to a request by NBC News for comment. But in a letter sent to state horse racing commissions last year, the association's President and CEO Alex Waldrop expressed support for uniform medication recommendations.