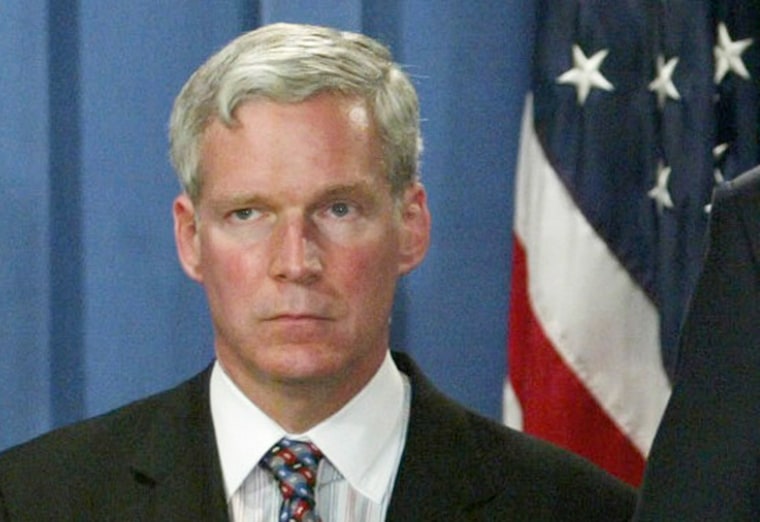 A former IRS commissioner on Monday urged Congress to set up a joint congressional committee to investigate the Internal Revenue Service's targeting of Tea Party and other conservative groups, which he called "very troubling." 
While defending the overall integrity of IRS employees, Mark Everson told NBC NEWS exclusively that an "independent, strong congressional investigation to establish the facts and reassure the American people" is needed and that it can best be done thru a joint, bipartisan select committee of members from the Senate and House – a mechanism used to investigate the Iran-Contra scandal of the 1980s.  
"We don't know everything by far at this point, but what we know is bad enough," Everson said in an interview. "Because the IRS is so central to our government—it touches on so many people—I think it's important Congress speak with one voice."
Everson, who was appointed by President George W. Bush and headed the IRS from 2003 to 2007, says he always believed that IRS employees at all levels did their best to be impartial.
In assessing the agency's current difficulties, Everson said mistakes clearly were made by front-line workers in the tax-exempt unit in Cincinnati, who "lost their minds" in using criteria that targeted Tea Party and other conservative groups for extra scrutiny. He said there also was inadequate supervision by managers, because after problems occurred it took two years to work out neutral criteria for dealing with applications for tax-exempt status by these groups.
Everson saved his strongest words for top IRS officials, whose failure to immediately inform Congress of the targeting he called "absolutely unforgivable."
In March 2012, then IRS Commissioner Doug Shulman rejected complaints that conservative groups had been targeted, telling a congressional committee, "There's absolutely no targeting." Within two months, senior IRS officials were informed that both an internal IRS investigation and a probe by the Inspector General had found conservative groups were singled out for extra scrutiny. But over the next year, that information was never shared with Congress, agency officials now acknowledge.
"It was just tragically wrong to say that there was no targeting and then not to correct the record," Everson said, adding it "was also sort of shocking."
Related story
Report: IRS spent $50 million on employee conferences over three years
Everson says he favors a special joint congressional committee to investigate this matter to ensure Congress gets to the bottom of what happened and in hopes of reducing political partisanship. He also wants to free tax-writing committees to focus on much-needed tax reform. Everson says he does not favor appointment of a special prosecutor at this time.
"I'm very concerned about the damage to the IRS and frankly to the country," he said. "People trust the IRS to do a tough job but to do it fairly and that's what's been undermined here."
He expressed concern that this scandal could have the same corrosive effect on the IRS as the Vietnam War did on the U.S. military if not handled properly.  
Lisa Myers is NBC News senior investigative correspondent; Talesha Reynolds is a producer in NBC News Washington Bureau.
More from Open Channel:
Follow Open Channel from NBCNews.com on Twitter and Facebook