Former New Orleans Saints star and NFL Network commentator Darren Sharper voluntarily surrendered to police late Thursday after they issued an arrest warrant for the alleged rapes of two women last year in the city's Central Business District earlier that day, a source familiar with the case told NBC News.
An acquaintance of Sharper, Erik Nunez, 26, also is facing charges in the rapes of women, which police said occurred in September 2013.
Both men are wanted on two counts of aggravated rape. A conviction of aggravated rape in Louisiana carries a sentence of "life imprisonment at hard labor without benefit of parole, probation or suspension of sentence," the department said.
Earlier this month, Los Angeles County prosecutors charged Sharper, who played 14 seasons as a safety in the NFL for three different teams, with seven felonies in connection with two separate incidents in Los Angeles in which he's accused of drugging and raping women he met at nightclubs. At the time, they stated that Sharper was under investigation for similar assaults in other states. Law enforcement officials and prosecutors say he also is being investigated in connection with crimes in Arizona and Florida.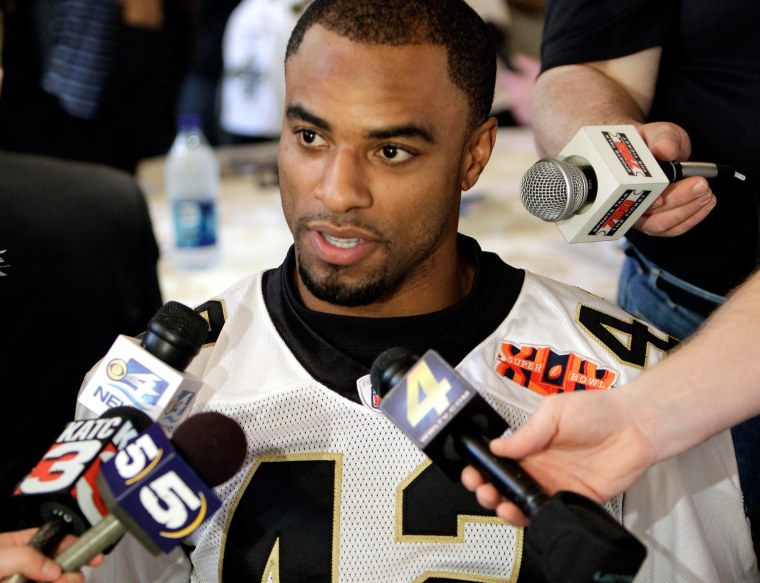 According to court documents filed in Los Angeles, one of the alleged victims in New Orleans met Sharper at a Sept. 22 event for Saints football players and later accompanied him to a bar, where he gave her a drink. Her next memory was around 10 a.m. on Sept. 23, when she woke up to find Sharper "on top of her sexually assaulting her," the documents said.
But in a press release issued Wednesday, police said that investigators subsequently learned that "not one, but two women were allegedly sexually assaulted by Sharper in the same apartment the night of Sept. 23. New information uncovered also indicates that Nunez also allegedly raped both women that night at the same location."
The statement also said that the investigation is continuing and that additional arrests were possible, police said.
Nandi Campbell, a New Orleans attorney for Sharper, who is out on bail on the Los Angeles charges, did not immediately respond to requests for comment.
But Sharper's attorney in Los Angeles, Blair Berk, told NBC News earlier this month: "We are hopeful that Mr. Sharper will be fully exonerated when the true facts are revealed."