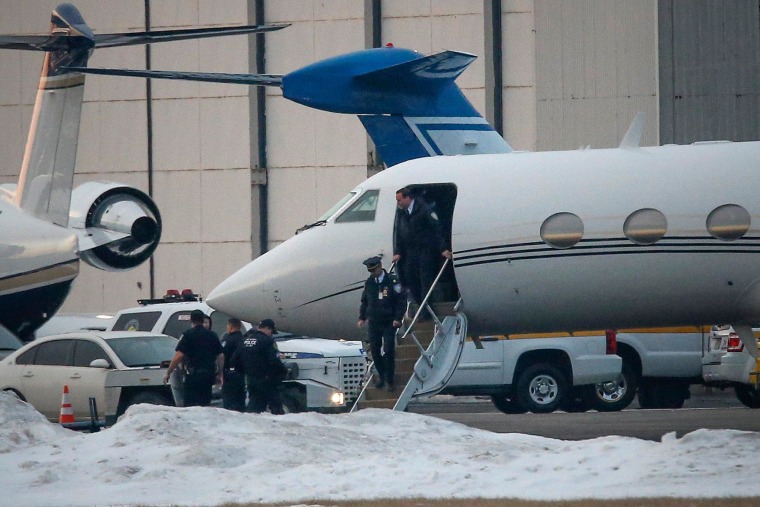 The Federal Aviation Administration said Friday that it is looking into allegations that passengers aboard a Gulfstream jet last week interfered with the flight crew – an episode that NBC News reported involved pop star Justin Bieber and his father.
NBC News obtained an official report that said Bieber and his father were "extremely abusive" to a flight attendant as their private jet flew from Canada to New Jersey on Jan. 31, forcing her to take refuge in the cockpit.
According to multiple law enforcement sources, the leased Gulfstream IV on which the 19-year-old Canadian pop star, his father and 10 friends traveled was so full of marijuana smoke that the pilots were forced to wear oxygen masks.
"The captain of the flight stated that he warned the passengers, including Bieber, on several occasions to stop smoking marijuana," says the official report of the incident. "The captain also stated he needed to request that the passengers stop their harassing behavior toward the flight attendant and after several warnings asked the flight attendant to stay with him near the cockpit to avoid any further abuse."
The FAA statement did not name the passengers on the plane. It said: "The FAA is looking into allegations that passengers on board a Gulfstream GIV aircraft that landed at Teterboro Airport on Friday January 31, 2014 interfered with the flight crew in violation of FAA regulations."
Bieber and his entourage were headed for the New York area to attend the Super Bowl and related parties.
Multiple sources said that authorities found no unsmoked marijuana on board after the jet landed but that it reeked of pot.
Sources said no members of the flight crew were willing to file charges, so Bieber, his father and his friends were allowed to go.
-- Richard Esposito, Tom Winter, Jeff Rossen and Monica Alba