FBI agents are interviewing employees at FEMA in an investigation of unusual changes in federal flood insurance maps that benefited oceanfront condo buildings with a history of flooding, according to sources familiar with the investigation.
The investigation follows a report by NBC News documenting more than 500 instances in which FEMA has remapped waterfront properties from the highest-risk flood zone, saving the owners as much as 97 percent on the premiums they pay into the financially strained National Flood Insurance Program.
FBI agents have conducted interviews in Washington over the past 10 days with employees of the Federal Emergency Management Agency, which oversees the flood insurance program. Others outside the government also have been interviewed and have voluntarily provided documents, according to two people interviewed by the FBI. Employees at contractors that evaluate the map changes for FEMA are also being interviewed.
Sitting in on the FBI interviews are investigators from the Office of the Inspector General at the U.S. Department of Homeland Security, according to the sources. FEMA, which has said it would review the flood map changes identified by NBC, is an agency within the DHS .
Asked about the FBI investigation, a FEMA official referred all questions to the Office of the Inspector General, whose spokesman said, "As a matter of policy, the Office of Inspector General does not discuss investigative matters." The FBI also declined to comment.
Where the McDonald's used to be
NBC News reported on Feb. 18 that FEMA has moved the lines on its flood maps to benefit hundreds of oceanfront condo buildings and million-dollar homes. According to an analysis of federal records by NBC News, the changes shift the financial burden for the next destructive hurricane, tsunami or tropical storm onto the neighbors of these wealthy beach-dwellers — and ultimately onto all American taxpayers.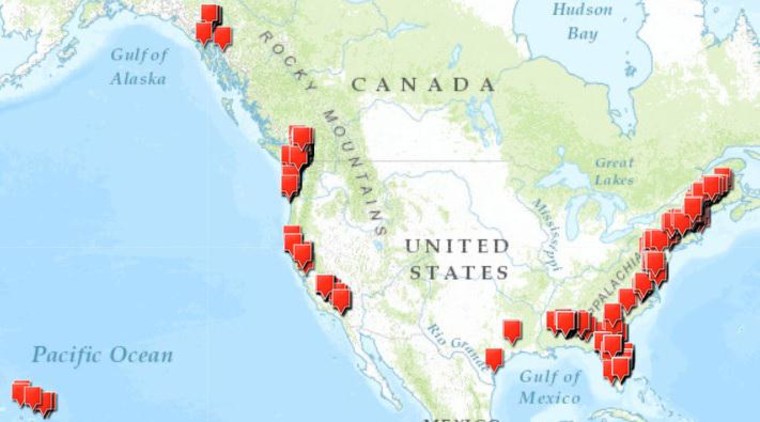 See a map from NBC News linking to public records for the 533 rezoned properties along the U.S. coast.
Examples of map changes were found from the Gulf of Alaska to Bar Harbor, Maine. One hotspot of map changes was on Alabama's Gulf Coast, in the twin resort towns of Gulf Shores and Orange Beach, where 70 coastal buildings have benefited, costing the flood insurance program at least $5 million a year in premiums.
On a single day -– Oct. 25, 2012, as agency officials were closely monitoring Hurricane Sandy as it barreled toward the Atlantic Coast -- FEMA remapped more than a mile of the oceanfront in Gulf Shores, including condos on the spot where a Holiday Inn and a McDonald's were destroyed by Hurricane Ivan in 2004. The document that made that change, issued by a FEMA manager, redrew the lines to exclude 25 condo buildings from the highest-risk flood zone, and was one of just 533 cases found nationwide by NBC News.
Among the buildings excluded was this beachfront condo, the Island Tower, which collected $11,562 for its damage from Katrina in 2005, and more than $250,000 from Ivan.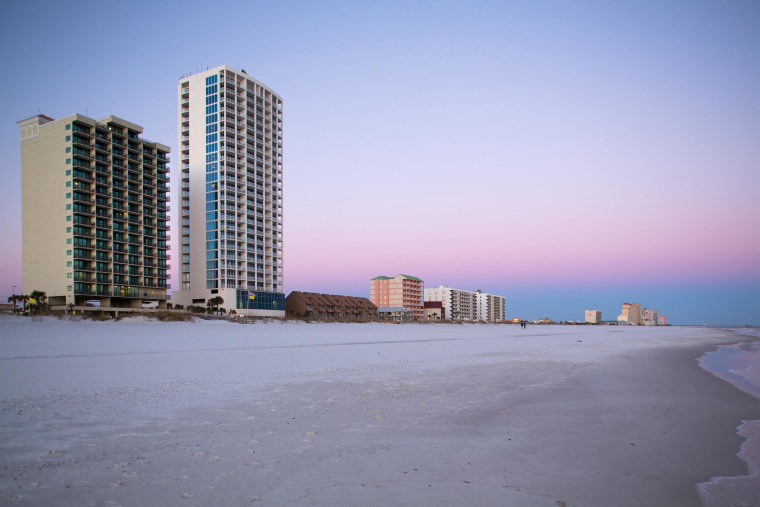 The Island Tower's condo association was paying $143,190 a year into the National Flood Insurance Program. Now that it's been reclassified into a lower-risk flood zone, its premium is $8,457 a year, a saving of 94 percent, according to records examined by NBC News.
Just down the beach is the Royal Palms, which collected $58,230 for damages during Katrina, and $889,730 from Ivan. The Royal Palms was paying $218,484 a year, but after being changed to a lower-risk flood zone, now pays $6,845, saving 97 percent.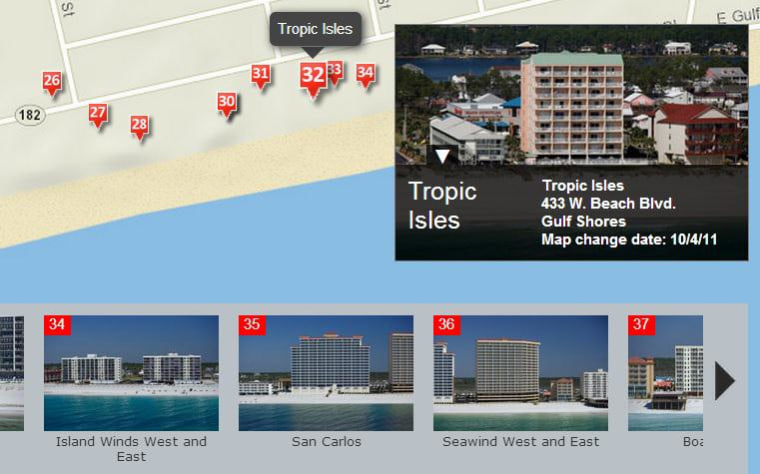 See a map from NBC News with details of the condominium projects in Gulf Shores and Ocean Beach. Some of the condo projects have multiple buildings, making more than 60 buildings in all.
NBC News found that FEMA has redrawn maps even for properties that have repeatedly filed claims for flood losses from previous storms. At least some of the properties are on the secret "repetitive loss list" that FEMA sends to communities to alert them to problem properties. FEMA says that it does not factor in previous losses into its decisions on applications to redraw the flood zones.
And FEMA has given property owners a break even when the changes are opposed by the town hall official in charge of flood control. Although FEMA asks the local official to sign off on the map changes, FEMA officials told NBC that its policy is to consider the applications just the same, even if the local expert opposes the change.
The flood map 'Robin Hood'
In a second report on Feb. 19, NBC News reported that many of the map changes were obtained by a South Florida company called Flood Zone Correction. It filed successful applications for map changes on behalf of more than 100 coastal condo developers in Alabama, Florida, Texas, South Carolina and Georgia, the company president said. The company, in West Palm Beach, works only for commercial real estate companies,not private homeowners.
The company's founder and president, Dan Freudenthal, said this week, "I have not been contacted by the FBI, but I will gladly cooperate with their investigation into the map change cases because all of those cases are legitimate." In an earlier interview, Freudenthal said he was a "Robin Hood," saving property owners money by correcting inaccurate federal flood maps. After the NBC articles included that self-description, Freudenthal issued a press release: "Just yesterday NBC News started a series of investigative stories about flood insurance, where Flood Zone Correction Inc., (FZC) receives a well-deserved 'Robin Hood' title." The release said NBC News had discovered the company's "heroic achievements."
Do you have information on FEMA's changes to flood maps, or the companies that apply for or evaluate these applications? Send an email to investigative reporter Bill Dedman at NBC News.
Read part one, "Why Taxpayers Will Bail Out the Rich When the Next Storm Hits," http://www.nbcnews.com/news/investigations/why-taxpayers-will-bail-out-rich-when-next-storm-hits-n25901
Read part two, "Meet the Flood Insurance 'Robin Hood' Who Saves Condo Owners Millions," http://www.nbcnews.com/news/investigations/meet-flood-insurance-robin-hood-who-saves-condo-owners-millions-n26711
Read part three, "For Average Joes, Fighting FEMA Flood Maps Isn't Easy or Cheap," http://www.nbcnews.com/news/us-news/average-joes-fighting-fema-flood-maps-isnt-easy-or-cheap-n23871