Terrorists who shuttle back and forth to fight in Syria may pose the next big threat to the West, according to U.S., European and Russian intelligence officials.
Intelligence professionals tell NBC News that Islamic militants act almost like vacationers as they travel back and forth to the world's most active conflict zone, where they are being trained to conduct attacks both inside and outside the war-torn country.
Turkey is a favored staging area because it provides the militants with relatively easy access to the battle zone and enables them to come and go almost at will, mixing jihad with R&R in Europe, according to U.S. counterterrorism officials, who briefed NBC News on the threat on condition of anonymity.
While they are in country battling Syrian President Bashar Assad's forces, the officials say, these fighters often are drawn to the most radical elements of the Syrian opposition -– groups like Al Nusrah or the Islamic State of Iraq and the Levant (ISIL), an outgrowth of al Qaeda in Iraq. Those groups are believed to be training radicals at camps near Aleppo in lawless western Syria for operations in that country and elsewhere, they said, adding that the specific nature of the threat is not clear.
Michael Leiter, former director of the National Counter Terrorism Center and now an NBC News analyst, said that some leaders of al Qaeda also are leaving their longtime strongholds in Pakistan and Afghanistan for Syria, in hopes of training the next generation of jihadis.
"The movement of more senior AQ leadership from outside the region is undoubtedly true," he said. "I also think it is undoubtedly true that these folks, in addition to many others with the ISIL, are indeed looking to use Syria as a safe haven to launch attacks outside of Syria."
A new video released last week by the Syrian rebel umbrella group The Islamic Front (Ahrar al-Sham) added new support for that view, showing jihadis training for "special missions." The highly produced video, titled "The Lions of War Training Camp," is being used primarily as a recruiting tool, reports Evan Kohlmann, a terrorism consultant with Flashpoint Partners and an NBC counterterrorism analyst.
While the pattern of training new recruits in an ungoverned land extends back to the al Qaeda training camps in Afghanistan in the late 1990s, there are key differences in Syria that worry counterterrorism officials.
The biggest is the geography. Getting to Afghanistan was difficult. Getting into Syria is much less so. The gateway to the fighting in Syria, the city of Antalya in eastern Turkey, is 2,000 miles closer to Europe than Peshawar in Pakistan, portal to Afghanistan.
Follow NBC News Investigations on Twitter and Facebook
Accommodations in Antalya are also better than those in Peshawar, the officials note, meaning sojourns away from the battlefield are far easier to arrange than, say, booking a vacation in Bora Bora from the Tora Bora mountains of Afghanistan.
Another difference is the culture of the conflicts.
When militants traveled to Afghanistan in the 1970s and 1980s, they were joining something akin to a cult – al Qaeda -- which controlled their lives, said one official. That's not how it works in Syria, where the organizations are less centralized and the militants able to move more freely. Fighters in Syria are now able to cross the border into Turkey, fly back to their home countries, then return to battle again within a few weeks, often with like-minded militants in tow, the official said.
That means a broader cross-section of Muslim militants is taking part in the fighting, said Kohlmann.
"The chaotic nature of the conflict and the geographic proximity to Europe has opened the door to a motley crew of foreign fighters from around the world, many of whom wouldn't have any chance of reaching a traditional al Qaeda fighting zone like the Afghan-Pakistani border," he said. "… They can also be especially hard to track because of the lack of a centralized command or communications structure among al Qaeda factions in Syria."
Related story: Brits Step Up Arrests of Muslims Allegedly Fighting in Syria
Already, U.S. and other Western officials have seen militants drawn to the Syrian civil war from Dagestan in Russia, the large Muslim communities of Europe and the jails that were sprung open during the Arab Spring.
Kohlmann noted that the fresh troops range from hardened veterans of conflicts in Afghanistan, Yemen and elsewhere to the downright eccentric, such as German rapper-turned-jihadist "Deso Dogg." (Rumors earlier this year suggested "Dogg," whose real name is Denis Mamadou Gerhard Cuspert, had vanished and was wounded or dead in Syria, but he later released a statement indicating that he continues to fight Assad's forces in Syria.)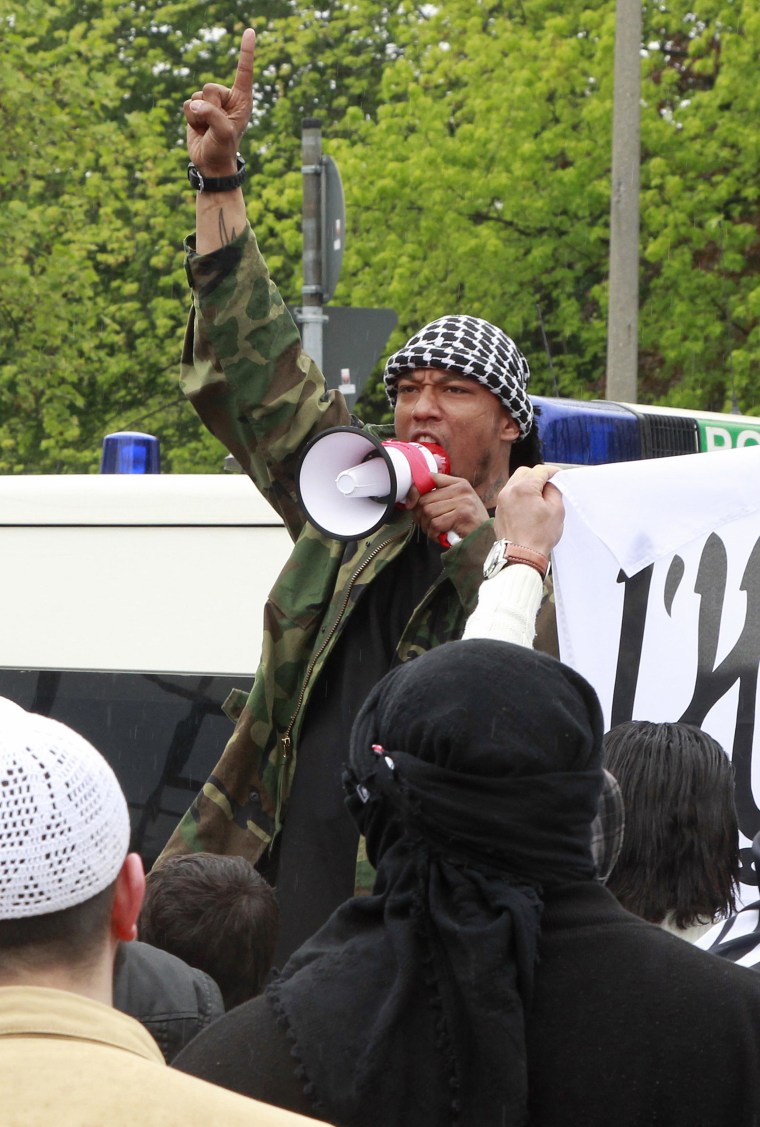 American Muslims are joining the fray as well, but U.S. officials are unwilling to estimate how many have made the journey. They don't minimize the threat of returning terrorists, however.
Kohlman said that is a reflection of the mobility and diversity of the jihadis fighting in Syria.
"The relatively porous condition of Syrian borders -- particularly with Turkey and, until recently, Lebanon -- has allowed foreign militants affiliated with al Qaeda to enter and leave Syria almost at will," he said. "Once in a neighboring country like Lebanon or Turkey, these individuals are a single non-stop flight away from almost anywhere in Western Europe, and even parts of the United States."