LOS ANGELES -- A high-profile California state legislator was charged Friday with two dozen federal corruption counts for allegedly supporting legislation in exchange for tens of thousands of dollars in bribes paid to members of his family and corporate entities they controlled.
The criminal case against state Sen. Ronald Calderon, 56, was announced at a midday news conference by the U.S. Attorney's Office in Los Angeles. Also indicted was Calderon's older brother, Thomas Calderon, 59, a former state assemblyman, who faces seven counts of conspiracy to accept bribes and money laundering.
The charges against Ronald Calderon, a veteran Democratic legislator, stem in part from what authorities described as the largest healthcare and worker's compensation fraud case in state history.
At the same news conference, federal prosecutors announced that the Michael D. Drobot, CEO of Pacific Hospital of Long Beach, had agreed to plead guilty to two counts of conspiracy to violate racketeering, mail fraud and other statutes in connection with that scheme.
According to the indictment, Calderon accepted $30,000 in bribes from Drobot for supporting legislation to "delay or limit changes in California's workers' compensation laws relating to the amount medical care providers are reimbursed for performing spinal surgeries" –- a mainstay of Pacific Hospital's practice.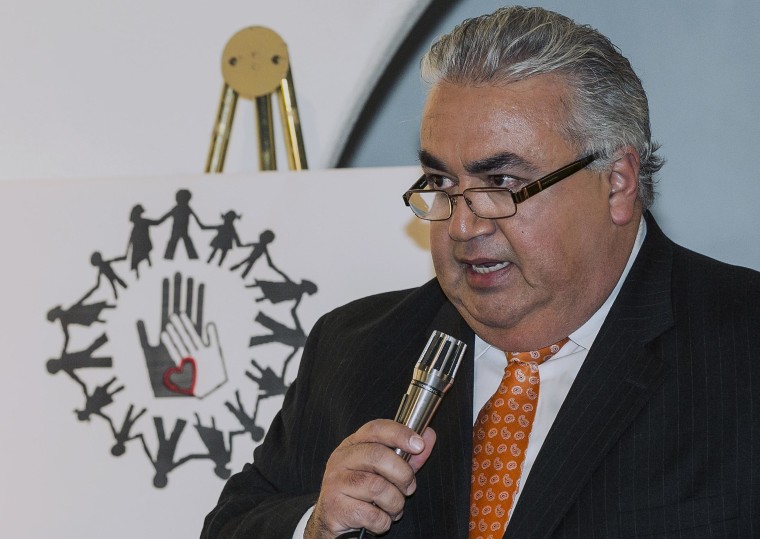 The bribe payments were disguised as payments to Calderon's son, Zachary, a student who worked as a clerk for Drobot during his summer break, according to the indictment. Drobot also paid Thomas Calderon about $10,000 per month as a consultant in connection with spinal surgery legislation.
The indictment also alleges that Calderon accepted a $60,000 bribe from undercover FBI agents posing as a film studio head and his girlfriend in exchange for his support of legislation that would lower the amount of money filmmakers would have to spend on a film to qualify for a California tax credit. Calderon proposed a law that would lower the minimum budget from $1 million to $750,000.
Neither Ronald nor Thomas Calderon, could not immediately be reached for comment on the charges. Mark Geragos, Ronald Calderon's attorney, also did not immediately respond to a call from NBC News seeking comment.
Thomas Calderon was scheduled to be arraigned on Friday afternoon. Authorities said Ronald Calderon would surrender to authorities on Monday prior to his arraignment.
In November, shortly after Calderon's office was raided by the FBI and an affidavit in support of the search warrant was leaked to the media, Calderon's attorney called the allegations in the affidavit "false and defamatory."
In a counter-complaint filed in November, Calderon alleged that his office was raided after he refused to "secretly record conversations " with Sen. Darrell Steinberg, leader of the state Senate's Democratic majority, and Sen. Kevin de Leon in connection with an investigation of the former's financial dealings, including his relationships with political action committees.
It also accused Assistant U.S. Attorney Doug Miller of involvement in "a string of illegal leaks" that stretch back to the Lance Armstrong doping case in 2010 and alleges that the FBI and prosecutors "engaged in a campaign to smear the reputation of Sen. Calderon and convict him in the press and public before a grand jury was assembled and while it was hearing evidence."
After Calderon filed his complaint, Steinberg issued a statement to the Sacramento Bee calling it "pure fantasy."
De Leon issued a separate statement saying that the U.S. Attorney's office had asked him to "assist their investigation as a witness." He said he had done so, and noted that the U.S. Attorney's Office had made it clear "that I am neither a subject or target of the investigation."