A spate of fiery train crashes has spurred regulators to take a closer look at the booming movement of crude oil by rail. But documents obtained by NBC News show regulators have known about issues like overloading and mislabeling that may increase the risk of shipping the oil since as far back as the fall of 2011, a year and a half before the first of the crashes, which killed 47 people in Lac Megantic, Quebec.
Production has boomed in the Bakken, an oil region centered on Western North Dakota, with production increasing more than 1300 percent since 2008 to nearly 1 million barrels a day. An absence of pipeline infrastructure means the bulk of the crude moves by rail, often in mile-long "unit trains" that travel straight through U.S. and Canadian towns.
Some say too little attention has been paid to making sure these "mobile pipelines" are safe. Since the deadly July 2013 crash in Lac Megantic, oil trains have derailed in Alabama, North Dakota and New Brunswick, albeit without serious injury. Almost 1,500 residents of Casselton, N.D., fled the town after the Dec. 30 crash of an oil train produced massive fireballs and spilled more than 400,000 gallons of crude.
"The boom has just created this enormous pressure to use the available rail system because it's convenient and it was ready," said Fred Millar, a consultant to local governments on chemical safety and railroad transportation. "Now the veil has been lifted that we don't have adequate infrastructure, and we don't have adequate regulation."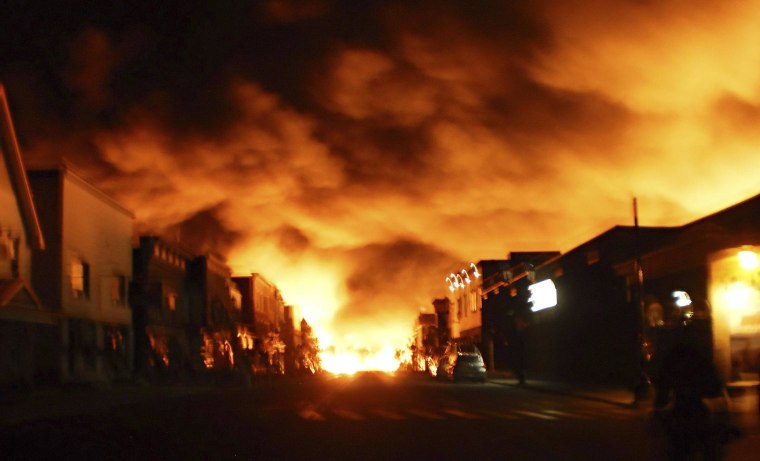 Documents obtained by NBC News through a Freedom of Information request show that regulators had been aware of problems within the industry for some time, including overloading, mislabeling of highly flammable material and the possible use of unsafe tank cars.
In October 2011 and June 2012, as the volume of rail traffic soared, hazardous materials inspectors from the Federal Railroad Administration (FRA) conducted inspections of the growing number of transportation and loading operations in the region.
The resulting report, entitled "North Dakota -- The Next Hazardous Materials Frontier," noted that train cars were being overloaded, and that pressure to move product meant that some cars that were "out of specification" were being sent out on the rails anyway. Companies were also mislabeling the hazard level of oil they were shipping, describing it as less flammable than it actually was.
Read the inspection report here.
In the report, inspectors described a shortage of tank cars as "a major concern." The boom has left a number of companies scrambling for tank cars to move the oil, and the report says that led to several cases in which companies sent cars out that did not meet standards.
"The pressure to ship those cars was more than the risk of failure in transportation or discovery by the FRA," inspectors wrote.
Another "major problem," according to the report, was the overloading of tank cars, which can make them more prone to rupture in an accident. Overloaded cars were discovered only after having traveled hundreds of miles.
In notes from the June 2012 visit, inspectors wrote that some companies appeared to be misclassifying the hazard level of oil in the cars, which has become a key point of discussion in the wake of recent accidents.
Companies handing relatively dangerous crude were shipping it under labels meant for more stable, less flammable crude, inspectors found. Paperwork at the facilities showed the companies were dealing with crude designated as Packing Group I or II, designations for high or moderate risk materials.
Read the NBCNews.com report "Danger on the Tracks."
But inspectors noted the oil was going out as Packing Group III - the lower-risk designation often used for traditional, heavier crude. Inspectors noted that the designation could "affect the selected emergency response and even the type of package required or tank car in this case," regulators wrote.
In at least one case, a company was fined for misclassifying its shipment. A violation report obtained by NBC News shows that in February 2013, an FRA inspector recommended a "strong monetary penalty" against ENSERCO, a company contracted to load crude onto rail cars, after tests showed the crude was more flammable than labeling indicated. The company paid $7,700 in fines that May.
"We take that issue very seriously," said Tom Godbold, general counsel of Twin Eagle Resource Management, ENSERCO's parent company. "It happened, and we think we've got the issues improved upon and fixed. Luckily there's been no accident."
After the disaster in Canada, regulators began to speak publicly about some of the problems discovered a year before. In a July 29 letter from the FRA to the American Petroleum Institute, an industry group, regulators outlined a number of concerns, including overloaded cars and the mislabeling of crude moving by rail. The agency requested current testing and shipping information from companies, adding that the FRA "may consider exercising its authority" to do its own investigations if companies could not show they were following regulations.
In September 2013, it became clear that compliance was an issue that extended beyond ENSERCO after the Transportation Safety Board of Canada revealed that the crude oil on the train that crashed in Lac Megantic, which was loaded in North Dakota, had the qualities of Packing Group II oil but had been shipped as Packing Group III. The crude had in fact been more flammable than labeling indicated, explaining "in part why it ignited so quickly," inspectors wrote.
Early this month regulators at the U.S. Pipeline and Hazardous Materials Administration (PHMSA) released a safety alert warning that oil from the Bakken might be more flammable than traditional crude. PHMSA is currently conducting tests of Bakken oil for its content and flammability.
"We are concerned that perhaps shippers have not been fulfilling their requirements in terms of testing and classifying and knowing what is coming out of the field," PHMSA Administrator Cynthia Quarterman, told Reuters this week. "Whatever is in the crude will determine what our next steps are."
But officials in North Dakota, who have been meeting with regulators in the wake of the Casselton crash, said they want to make sure the system is improved from top to bottom - fewer derailments, better rail cars, and a better understanding of what's going in them.
"We want to make sure that this product is moving as safely as possible and we want to reassure the public that the federal government is doing its job," said Sen. Heidi Heitkamp, D-N.D., who met with regulators last week with her Republican counterpart, Sen. John Hoeven.
Most agree that change is coming. An ongoing rulemaking process will likely change the design of the tank cars most often used to transport crude by rail, the DOT-111s, making them more resilient in a crash. The industry has already made changes to those cars, adding shields and thicker shells, and several rail companies have done widespread maintenance to their tracks in recent years as traffic has surged.
Accidents are statistically rare. More than 99.9 percent of hazardous materials moved by rail in 2010 arrived safely, according to the Association of American Railroads. Earlier this month, the trade group said it was "pleased" that PHMSA had "called for heightened vigilance and attention to the proper labeling of crude oil moving in tank cars."
A spokesperson for the Department of Transportation, which oversees both the FRA and PHMSA, said in a statement Wednesday that rail safety was a "national priority."
"We have been aggressively taking action on multiple fronts to mitigate risks and ensure the safe transportation of HAZMAT by rail," said the statement. "Operation Classification, which has been looking at how crude is sampled, tested, and classified before being shipped, will help inform our next steps. In addition to these efforts, we are updating rail safety regulations, including those that address the DOT-111 tank cars and are working with the industry to identify what they're doing to promote safety when transporting crude oil, especially in the Bakken region."
The American Petroleum Institute, which represents the oil industry, also said in a statement Wednesday that safety was a "top priority."
"The oil and natural gas industry continues to work with regulators and the rail industry to make shipment by rail as safe as possible," said the statement. "Our industry has asked the government repeatedly to improve its rail car regulations, and we voluntarily began several years ago producing and using cars that are safer."
But even with new regulations, hurdles remain to enforcement, according to the 2012 report from the FRA. "Ownership, responsible party, accountability is difficult to determine," inspectors wrote. "Between developers, well owner, subcontractors, marketing companies, distribution companies, trucking concerns, independents, tank farms (product holding companies), track owners, and end users; compliance is challenging."
Some believe it will be the industry, rather than regulators who will shape the future of oil shipping in this domestic boom.
"I think the industry will correct, and we will see far fewer of these incidents," said Ramanan Krishnamoorti, chief energy officer at the University of Houston. "In this business it has to be that the industry polices itself. You just don't have enough regulators do to it."